Home Services Franchises For Sale
More and more Americans are looking to find help when it comes to maintaining there homes as our lives become increasingly busier and more hectic. And with women now comprising almost half the U.S. labor force, the need for help in the home has become greater than ever before. This makes a home services franchise a great investment for those interested in starting their own business. Whether you fancy yourself a "Handy Andy" or not, you can tap into this billion dollar industry by finding the right franchise opportunity in the home services sector today.
See All Home Services Franchises
Homeowner improvements amounted to approximately 192 billion U.S. dollars in 2013
Women are expected to account for 51% of the increase in labor force growth between 2008 & 2018
In 2015, average per owner home improvement spending in the U.S. was approximately $2,800
Types of Home Services
There is no shortage of choices when it comes to staring a home services business. House painting, cleaning services, lawn care, moving services, pest control, handyman services, alarm and security systems... the list goes on and on. And, many home services businesses can be run from home providing lower start-up and overhead costs. You're sure to find a franchise that fits your skills and budget.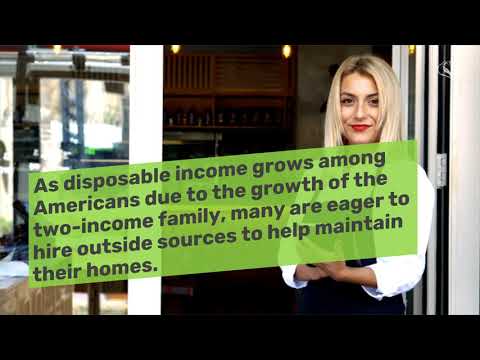 One Hour Heating & Air Conditioning started with a simple premise: take care of the comfort of customers, and they'll trust your business for as long as they live near it. Using this idea, we've grown to more than 375…
75k Minimum Cash Required

At Mister Sparky, we understand that growing an electrical services company can be stressful—we've been helping franchise owners create their success stories since 2006! It's our priority to make owning an electrical…
75k Minimum Cash Required

The Designery brings design to life with its full-service approach and turnkey franchise model. From sourcing and designing to assembly and installation – you'll guide customers through a collaborative journey that…
50k Minimum Cash Required

Mozzie Dome is an innovative mosquito control franchise focused on sustainable processes and treatment options that are good for our customers and good for the planet.
50k Minimum Cash Required

Top Rail Fence is the fastest-growing fencing franchise in the United States. With multiple locations across the country, Top Rail is the go-to fence provider for residential consumers and businesses – Backed by 150+…
50k Minimum Cash Required

Pestmaster is the environmentally friendly pest control franchise the industry is buzzing about. Our family-safe pest management services and proven franchise model give aspiring entrepreneurs like you the opportunity to…
40k Minimum Cash Required