One River School of Art & Design
We are working on developing the first national network of art schools and we truly believe that we are going to transform art education in America. We created a proprietary method for teaching art and design classes and built a prototype facility that is truly unique in the marketplace. Our concept offers amazingly sound economic potential for franchise operators and allows them to work for themselves in a field that is their passion. We have built phenomenal business tools and training to make sure our operators know how to build and operate their business at the highest level.
What Does a
One River School of Art & Design

Franchise

Cost?

To buy a franchise with One River School of Art & Design, you'll need to have at least $100,000 in liquid capital and a minimum net worth of $300,000. Franchisees can expect to make a total investment of $185,300 - $288,000. They also offer a discount for veterans (10%). *
Requirements
Financial requirements for this
franchise

:
Options
Options available to
franchisees

:
| | |
| --- | --- |
| Financing: | Not Available |
| Training: | Available |
| Veteran Discount: | 10% |
Franchisor Details
Facts about this
franchise

:
| | |
| --- | --- |
| Total Units: | 1 |
| Home Office: | Englewood, NJ |
| Year Founded: | 2012 |
| Franchising Since: | 2016 |
About Our Franchise Program
It's truly great to know what you love to do. It's even better to have the chance to do it for your career. One River School of Art & Design has created a franchise opportunity for a select group of people – smart professionals who care about others. We are talking about people who love the Visual Arts, want to improve Creative Education and have the Ambition and Drive to build a Compelling Business in the space.
We have pioneered an innovative, new concept that is going to Change Art Education in America. It has been rigorously tested with students of all ages and all levels and is supported by a Proprietary Product Mix and Curriculum that was written from the ground up. Our founder has also personally developed a strategy to provide the best tools to Support our Franchisees as well. This includes state of the art Training, Operations, Marketing, Enrollment and Educational tools that will help to drive high Customer Satisfaction and Economic success.
If you are interested in pursuing a New Direction in your life that combines your Love for Visual Arts / Education, your interest in Helping People Grow and the prospect of developing Great Financial Success, a One River School Franchise may be right for you!
---
An Inspiring Art Program
How do we know that we have built an inspiring program? There are numerous indicators, but let us point to three areas that allow us to share some tangible insight.
Number one, we are building a team of great people with a personal passion to change arts education. Our innovative concept has allowed us to attract some of the most talented artist educators and they all tell us that working at One River is the most fun job they have ever had. They are inspired by our unique approach and the incredible results that our students are demonstrating. And the good news is that there are thousands of artist educators across America looking for a new and different career path.
Our second point of reference is about our "results". These results show up in many ways: artistic outcomes, improved self-esteem, friendships, personal growth and much more. Depending on what a student wants from us, we can be looked at as a fun place to take a cool class or an experience with life-altering benefits. Most often we are both and we take each outcome as seriously as possible. For the student looking for a fun place to learn and meet people, we are spot on. For the student who is super serious about creative growth, we are inspired to make a difference.
The last point that speaks to our inspiration is the impact we are having on our community. Lets' face it there is a dramatic cultural void creeping into our society. Visual arts and creativity are often under-emphasized but we are changing this first hand! One River School has touched the lives of many thousands of students and their families though our innovative experience and this is helping to improve the quality of life near our homes.
Life is about more than playing sports. It is about experiences that mold your brain, your heart and your soul and our families, our students, our teachers and our staff have connected in a way that has created a beautiful community.
---
Proven Business Model
We have developed an arts-based business that generates financial success. All of our processes have been refined over the last five years and we have built all of the supporting tools and systems to support a network of schools across America. One River School franchise operators will be part of a proprietary system with the most state of the art tools to support our system thrive. Here are just some of the tools and support you will receive:
Our proprietary / innovative educational method that has been built from the ground up to create "a new direction in art education". We have developed the most comprehensive way to teach art, have fun, make it relevant to today's times and generate amazing creative outcomes. This is the cornerstone of One River School.
Hands on training for you and your leadership team in all the required areas: Operations, Education, Marketing, Enrollment, Real Estate and Business Management / Team Leadership. Our training begins the day you start with us via our comprehensive manual. There is compelling classroom training that covers all aspects in depth. Most importantly, we visit you in the field and are onsite to support the launch and development of your school.
Analytical tools and support that help you focus on delivering a quality experience and the bottom line: We have created a proprietary model that drives great margins and we teach the dual requirements of how to drive Enrollment (Revenue) while also providing in depth understanding of how to manage your expenses so that you can maximize profitability.
Our national team is available seven days a week to help troubleshoot basic things but to also provide hands on input into strategic and tactical decisions that will impact your success.
---
Ideal Candidate
We are looking for business savvy professionals who have a love for the arts and a passion to improve art / culture within their own community. These people can build and lead a team, promote and market the school, develop great relationships with customers and community and be the voice for the One River brand in their community. This is a truly unique opportunity.
Interested? Fill out the form today!
Video
►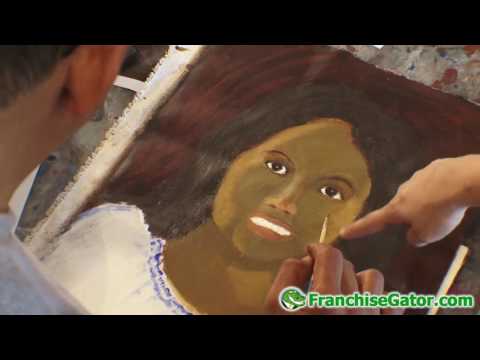 Availability
One River School of Art & Design

is currently accepting inquiries from the following states:

Arizona, California, Colorado, Florida, Georgia, Illinois, Maryland, Michigan, Minnesota, North Carolina, Ohio, Oregon, Pennsylvania, Virginia, Washington

Interested parties should have at least $100,000 in liquid capital to invest.
* This information may have changed since first published. We recommend that you always verify fees, investment amounts, and offers with the business opportunity directly prior to making a decision to invest.
Here are some other suggestions in the same category that you selected
Celebree School is a thought leader for early childhood education. Established in 1994 by a founder with no background in education, we now have 26 corporately owned schools companied with 50 franchise locations throughout…
250k Minimum Cash Required
Owning a SERVPRO Franchise is an opportunity to take advantage of our proven track record while being in business for yourself, but never by yourself. Since 1967, SERVPRO has been helping individuals realize their dreams of…
40k Minimum Cash Required
Pool Scouts embodies a refreshing take on the pool service industry and meets the high demand for a more professional pool cleaning and maintenance solution. Over the last two years, people have been spending more time at…
100k Minimum Cash Required
Our purpose: To Eliminate Chronic Pain, Increase Mobility, Rejuvenate, and Help You Move WellStretching has been shown to decrease muscle and joint pain, improve posture and muscle imbalances, and help prevent injury And the…
30k Minimum Cash Required
Express Employment Professionals is the top staffing franchise in North America. Ranked 1 by Entrepreneur Magazine for nine years in a row, we have 825 awarded locations with an average of more than $6 million in top-line…
150k Minimum Cash Required
Build A Business That Works For You ecomaids is the leading innovator of environmentally responsible, non-toxic residential cleaning services for families throughout the country.
60k Minimum Cash Required
Since our founding in 2004, Dryer Vent Wizard has grown into the North American leader specializingin residential, business and multi-unit dryer vent cleaning, repair and installation. How? We offer thereliable, high-quality…
30k Minimum Cash Required
Keeping the Books is the leading Bookkeeping choice for small business owners. We offer all services needed from start to finish for our clients continued success. Learn more about our growing, proven and recession proof…
50k Minimum Cash Required
Build and own a scalable and profitable Business Coaching Practice or Firm from the comfort of your own home We coach business owners to improve their cash flow, build high-performing teams, and work fewer hours. Our coaches…
50k Minimum Cash Required
By tackling all kinds of pest and wildlife problems, Complete Pest Solutions has become the true one stop shop in the industry. Our diverse services position franchisees for success in any geographic or economic climate.
50k Minimum Cash Required
Experience the joy of watching childrens confidence grow as they learn math skills and pursue their dreams using our proprietary, time-tested teaching method. One of the worlds top franchises, Mathnasium gives you the…
100k Minimum Cash Required
TUTORING WORKS We offer a training program that follows a proven and highly successful business template. Our educator founders have constructed an easily learned and successful business model that allows qualified…
20k Minimum Cash Required