Pathways to Care: Exploring Franchise Opportunities in Healthcare and Senior Living
The healthcare and senior care sectors represent a profound opportunity for aspiring franchisees. As the population ages and the demand for healthcare services continues to grow, franchising in these realms offers a viable pathway to entrepreneurial success. This guide aims to navigate you through the industry, franchise models, and operational aspects to equip you with a comprehensive understanding of the healthcare and senior care franchising landscape.
Industry Overview
Healthcare and senior care franchising encompass a broad range of services designed to meet the diverse needs of individuals. From home healthcare services to senior living facilities, the spectrum is vast and growing.
Market Dynamics
Various factors contribute to the dynamism of the healthcare and senior care franchising market:
Regulatory Environment: The regulatory landscape significantly impacts operations. Compliance with healthcare laws and standards is crucial for maintaining quality of care and avoiding legal repercussions.
Demographic Shifts: The aging population and increasing life expectancy are driving demand for healthcare and senior care services.
Technological Advancements: Technology is revolutionizing the way care is delivered. From telemedicine to advanced care management systems, technology facilitates better care and operational efficiency.
Senior Care Market Statistics:
Franchise Models
Types of Franchises
Healthcare and senior care franchising offer diverse models to cater to different market needs:
Home Healthcare: This model provides medical and non-medical services to individuals in the comfort of their homes. It's an attractive option for seniors who prefer to age in place.
Senior Living Facilities: These franchises offer housing and care services to seniors. They range from independent living to assisted living and memory care facilities.
Specialized Care Centers: These centers provide specialized services such as physical therapy, hospice care, or dementia care, addressing specific health issues and conditions.
Franchise Spotlight: A Place At Home is recognized as a promising franchise opportunity due to its comprehensive senior care solutions, strong franchisee support, and its commitment to improving the lives of seniors in the community.
Investment Requirements
Investing in a healthcare or senior care franchise involves several financial considerations. Besides the upfront costs, franchisees should account for ongoing fees, staffing costs, and operational expenses. It's crucial to thoroughly evaluate the financial commitments and support provided by the franchisor to ensure a sustainable venture.
Operational Aspects
The operational aspect of healthcare and senior care franchising is multifaceted, requiring a blend of medical knowledge, managerial skills, and an understanding of regulatory compliance. Here are some key operational considerations:
Training and Support
Most franchisors provide extensive training and support to ensure franchisees are well-equipped to run their operations. This training often covers areas like:
Compliance Training: Ensuring understanding and adherence to healthcare regulations and standards.
Operational Training: Covering day-to-day operational procedures, staffing, and technology usage.
Marketing Support: Providing strategies and resources for local market engagement and client acquisition.
Staffing
Staffing is a critical aspect of healthcare and senior care franchising:
Hiring Qualified Staff: Employing experienced and certified medical professionals is crucial for delivering quality care.
Continuous Training: Ongoing training is necessary to keep staff updated on the latest medical practices and regulatory requirements.
Retention: Retaining good staff is essential for maintaining consistency in care and building a good reputation in the community.
Technology
The use of technology in healthcare and senior care franchising cannot be overstated:
Care Management Systems: Utilizing advanced care management systems can streamline operations, scheduling, and ensure better care coordination.
Telemedicine: Incorporating telemedicine can extend the reach of services and provide convenient care delivery.
Electronic Health Records (EHR): EHR systems are crucial for maintaining accurate and accessible patient information.
Challenges and Risks
Every business venture comes with its set of challenges and risks, and healthcare and senior care franchising are no exception.
Regulatory Compliance
The healthcare sector is heavily regulated to ensure the quality and safety of care:
Compliance Monitoring: Regular monitoring and audits are essential to ensure compliance with healthcare laws and standards.
Legal Support: Having access to legal support can aid in navigating the complex regulatory landscape.
Market Competition
The healthcare and senior care markets are competitive, yet the growing demand for services provides room for new entrants:
Differentiation: Differentiating your services through quality care, specialized services, or innovative technology can provide a competitive edge.
Community Engagement: Building strong relationships with the local community can aid in establishing a solid client base and referrals.
Future Outlook
The trajectory of healthcare and senior care franchising is largely positive, driven by demographic trends and technological innovations.
Emerging Trends
Several trends are shaping the future of healthcare and senior care franchising:
Telemedicine: The advent of telemedicine is facilitating remote care delivery, making healthcare services more accessible.
Artificial Intelligence (AI) and Machine Learning (ML): AI and ML are enhancing diagnostic accuracy, operational efficiency, and personalized care.
Home Health Technology: Innovations in home health technology are enabling seniors to live independently while ensuring their safety and well-being.
Opportunities
With the evolving landscape, numerous opportunities are emerging for aspiring franchisees:
Diversified Services: Offering a range of services can cater to a broader market and create additional revenue streams.
Technology Integration: Leveraging technology can streamline operations, enhance service delivery, and improve patient outcomes.
Community-Centric Models: Creating community-centric franchise models can foster closer relationships with the local population and build trust.
Franchise Opportunity: Caring Transitions is esteemed as a favorable franchise venture, thanks to its dedicated services in senior relocation, downsizing, and estate sales, coupled with a supportive franchisor-franchisee relationship fostering business growth.
Healthcare and senior care franchising presents a lucrative and fulfilling venture for those looking to make a difference in the lives of individuals while achieving entrepreneurial success. With the right guidance, thorough research, and a solid support system, aspiring franchisees can navigate the complexities of this sector and build a thriving business.
See All Health & Senior Care Franchises
Among Americans over the age of 65, roughly 70% will require long-term care

SOURCE:
SOURCE: IMS Health

In 2014, home health care expenditure surpassed 83 billion dollars in the U.S.

SOURCE:
SOURCE: US Department of Health and Human Services; CMS

The U.S. market for beauty and personal care is expected to reach nearly $84 billion in 2016

SOURCE:
SOURCE: Euromonitor

In 2016, Baby Boomers and Seniors in the United States are projected to spend 214.7 billion

SOURCE:
SOURCE: Mintel; IRI
Types of Health & Senior Care Franchises
There are a variety of home health care franchise opportunities that offer medical and non-medical care including companion care, compassion care, nursing care, senior moving / relocation services, non-medical home care, and personal care services. Some opportunities allow you to run your business from home while others require an office space. There are truly no shortage of opporutnities available to choose from where you can begin to live your dream of owning your own business while helping others.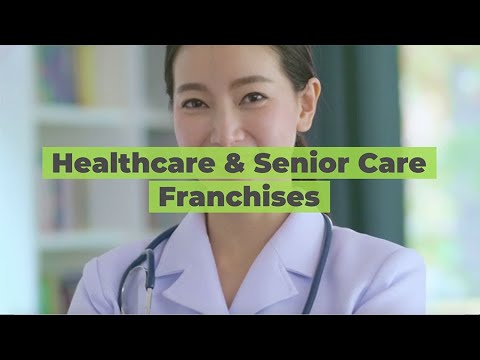 Ready for a unique approach to a rapidly growing industry? A Place At Home offers Senior-Focused Care, Multiple Revenue Streams, and an ultra-scalable pandemic resilient model with large territories still available!
70k Minimum Cash Required

BrightStar Care has proven to be both pandemic and recession resistant by providing skilled and non-skilled in-home health care and medical staffing. Our franchisees improve the health and quality of life for their clients…
100k Minimum Cash Required

Freedom, leadership, helping others or the opportunity to build wealth. Whatever your definition of success, a Comfort Keepers® franchise offers a unique path for personal and business...
100k Minimum Cash Required

You can change lives for a living, starting with yours. Join the fastest growing* home care company in the Nation. SYNERGY HomeCare offers a robust business opportunity for compassionate entrepreneurs. If you are interested…
50k Minimum Cash Required

Prepare to invest in a dynamic unique opportunity that has a niche in the market of senior care. Daycation for Seniors is a social day program (M-F) that doctors recognize as a vital part of a care plan for those with…
100k Minimum Cash Required

Dominate the senior care market in your area with our proven concept. We offer marketing blueprint, large territories, customized systems, & training. Grab your share of the booming senior care market - inquire today…
50k Minimum Cash Required