Pet Franchise Opportunities
Americans love their pets! The increase in pet adoptions and ownership means there is a growing market for products and services aimed at their four-legged family members. Owning a pet franchise is a great way to provide pet owners with the services they need to care for their furry - or scaly or feathered - friends. And if you're an animal lover, this type of business opportunity gives you a rewarding job while providing an amazing, profitable opportunity at the same time.
See All Animal-Related Franchises
In 2015, sales for the pet services of grooming and animal boarding totaled over $5.2 billion

SOURCE:
SOURCE: APPA

In 2016, the U.S. market for pet care is expected to reach around $44.6 billion dollars

SOURCE:
SOURCE: Euromonitor

Revenues of pet care services in the U.S. are projected to reach approximately $4.2 billion in 2016

SOURCE:
SOURCE: Statista; US Census Bureau
Types of Pet Care Franchises
Opportunities abound in the pet franchise industry. From pet food and care products to grooming, boarding and pet sitting services, there are a flock of choices to get you started on the flight to business ownership.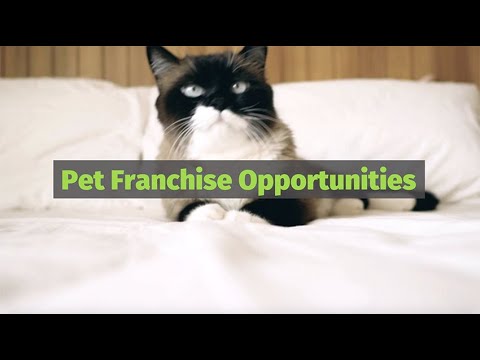 Zoom Room® is an indoor dog training gym emphasizing socialization. Our motto: We don't train dogs. We train the people who love them. The Zoom Room is not a drop-off training facility. We train owners to train their dogs,…
100k Minimum Cash Required

Unleash Your Potential with Central Bark! Today's Pet Industry is a $123 Billion+ industry and growing! If you love dogs and have the entrepreneurial spirit, passion, and business acumen, now is the best time to own a…
200k Minimum Cash Required

Want to bring joy to other pet owners while building a solid, scalable business in the $123 billion pet industry? Aussie Pet Mobile's strong business model and is a lucrative opportunity that delivers professional,…
100,385 Minimum Cash Required

A Unique Franchise Opportunity in the Booming $70 Billion Pet Industry! Now is the perfect time to own and operate your own Scenthound franchise. Scenthound is a wellness-focused, membership-based dog grooming franchise. All…
100k Minimum Cash Required

A simple, low-cost dog training concept with average NET PROFITS of $113,629! Dog Training Elite is America's fastest-growing dog training Franchise!, With 40 years of experience, we specialize in strengthening the…
50k Minimum Cash Required

Love dogs? If so, our dog training franchise may be the perfect fit for you! You'll be trained by the best and you get to set your own schedule, have a home office and do a job that you will love! Very low startup…
40k Minimum Cash Required