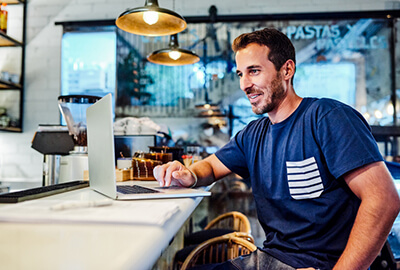 Are you interested in being a franchise owner? If so, you came to the right place! Franchising is a great avenue that has a lot to offer, but if you've never owned a franchise—or a business at all—knowing where to start can be tricky. There are a dizzying number of potential franchises for sale (over 700,000!), as well as a plethora of advice for potential franchisees on which are the best franchises to own. But before you go and make that investment, we think it's important to know which one is going to be best for you.
Depending on what you're looking for, there are a few factors to consider when deciding on your ideal franchise:
Profitability (Which ones are making the most money?)
Affordability (Which has the cheapest startup cost?)
Passivity (Which is best for generating passive income?)
If one or more of those caught your attention, you're in luck. Below we'll take a look at some franchise opportunities that excel in each of these categories, and how that can help drive your decision making. By the time you finish reading this article, you'll be primed to seize the right franchise for you—today.
What Is the Most Profitable Franchise To Own in 2023?
Information on which specific franchises are most profitable varies depending on the source, but in general, the most profitable franchises tend to fall into one of two categories:
Food & Restaurants (McDonald's, Taco Bell, Dunkin, etc.), or
Health & Fitness (Orangetheory, Planet Fitness, Anytime Fitness, etc.)
You probably recognize most of, if not all of, those names. That alone is testament to the brand recognition they bring. The most popular franchises come with a massive network, high brand recognition and a good probability of financial success. In addition to having an established customer base, many of these franchises offer a robust network of support and streamlined operations. Of course, the biggest drawback to them is the upfront cost: franchise fees, initial investments in property, staffing, and more. To give you an idea, the top 5 franchises from Entrepreneur's Franchise 500 require anywhere from $122K to over $5.8 million. That's quite the pretty penny! But, if you're able to make that investment, the payoff can certainly be worth it. People are often drawn to franchising by its potential earnings, and for good reason—especially if you can start one like the options above.
What Are the Best Franchises To Own for Under 25K?
If those price tags above made the hairs on the back of your neck stand up, don't worry—not every franchise requires you to have a ton of capital. Even if money isn't a factor, you may just be looking for a smaller-scale operation. Luckily, there are a wide variety of opportunities with an equally wide range of investment levels, some of which are well under the $25,000 mark. Not only that, but if you want to go even lower (or higher) in price, this search engine will help you find franchises based on your investment range, in the US state of your choice.
As an example, we've listed a few franchises in Indiana that fall below the $25k price threshold (in liquid capital):
That's just a few of the options available, and in one state. There are plenty of opportunities across the country, many of which don't require six figures to get started. Who knows—maybe there's two new franchises in your future?
Maybe your goal with franchising isn't maximum profit nor minimum cost, but a hands-off way of earning money. Many franchises are set up with this in mind, and it's certainly possible to get to a point where you're literally earning money in your sleep. But be aware: this sort of setup will take time, and will not be passive at first. That said, if you're willing to put in a lot of work up front and play the long game, this can be your reality.
What Franchise Is Best for Passive Income?
In short, there is no one franchise that is best for passive income, but there are a few qualities to look out for:
Reliability—in other words, franchises whose products or services will always be in demand and are barely affected by the economy, if at all. This is one of the reasons fast food franchises are so successful.
Scalability—potential for growth, expansion and new franchise locations is key. After all, you don't want to have to keep looking for new business ventures to maintain income—the goal is passivity.
Unspecialized—not to deter you from starting that underwater basket weaving franchise, but just know it's going to require a lot more time investment from you. Franchises built around specialized offerings may require a lot more involvement, from finding staff to ensuring operations run smoothly.
Is It a Good Time To Buy a Franchise for 2023?
We certainly think so! As the saying goes, "the best day to invest was yesterday, and the second best day to invest is today." Now more than ever, it's easier to find the best new franchises out there, and with the right resources at your fingertips, making smart investing decisions is as simple as a few keystrokes. That's where we at Franchise Gator come in. We've got all of the tools to help you figure out which franchise is going to set you up for success. Whether you're wondering "where can I learn more?", "which franchises are at the top?", or even "what franchise can I open with $10,000?" we're here to help you. Visit our website to explore available opportunities and take one step closer to the lifestyle of your dreams. The time is now.
---