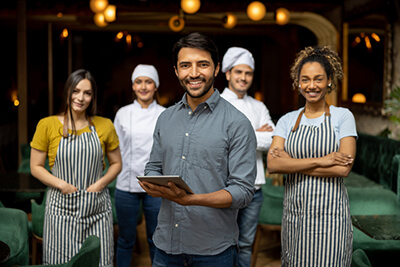 To find franchises for sale in your area, search online directories that organize franchises by location (check one out here). You can also use your favorite search engine to look up "franchises for sale near me."
The nice thing about franchise directories is the way they organize information. For example, let's say you live on the sunny west coast of the U.S. in California. You're tired of being a worker and dream about becoming your own boss—maybe through a franchise! Your ambition and research have led to questions like…
How Do I Find Franchises for Sale Near California?
The best way is to go to an online franchise directory and set the state location to "California." Hundreds of options pop up, so you narrow your search by industry and select "food." Everyone needs food. Maybe you can run one of the top restaurant franchises in The Golden State.
If you're using the Franchise Gator directory, you can easily compare and contrast food franchises that interest you, like the following three restaurants.
1. The Brass Tap – Craft Beer Bar is a premium beer pub with 40-60 craft beers on tap and over 300 different imports.
Cash Required: $250,000
Net Worth Required: $500,000
Total Investment: $791,967 – $1,327,475
2. Toastique sells locally produced, all-natural, nutritious alternatives for health-conscious folks searching for fast, on-the-go food.
Cash Required: $150,000
Net Worth Required: $300,000
Total Investment: $347,250 – $568,700
3. Togo's makes hearty, delicious sandwiches with a focus on high-quality ingredients and friendly service.
Cash Required: $150,000
Net Worth Required: $350,000
Total Investment: $240,500 – $545,700
This is the beauty of using an online directory to research franchises. You can see the highlights of each company arranged in a consistent and uncomplicated way. Look for directories that offer detailed summaries as well, with information like:
Costs
Profit margins
Work-life balance
Investment expectations
Training and support
Marketing
Ideal candidate traits
Current franchisee reviews
Another question you'll want to ask yourself is…
Which Franchise Is Best to Buy in My Area?
Every area will have unique characteristics that serve some franchises better than others. As you decide on the best franchise to pursue in your area, consider these factors:
Territory Rights – If you have exclusive territory rights, you are the only one allowed to offer a franchise's goods and services in a particular area. For example, Age In Place Home Care, an in-home care service for the elderly and physically disabled, offers "large and exclusive territories." This prevents two franchisees from fighting over the same customer base. Make sure you understand your territory rights and their suitability for your area.
Competition – Even if you have territory rights, those will only work against folks within your franchise—you still have external competition to worry about. Explore your area extensively to understand what it already offers (aka a "competitive analysis"). Identify direct and indirect competitors, research what they offer, pinpoint areas to improve, and document your analysis for future decision-making. Ensure that your franchise brings something fresh and desirable to the community.
Market Growth – An area with a growing population will empower a growing franchise. More potential customers means a higher chance of success. If that doesn't describe your area, you could look for home-based franchises that serve customers remotely, like the online tutoring market. Live in a highly residential area? Consider starting a home-focused franchise, like a house inspection or restoration franchise.
Traffic – Any brick-and-mortar franchise will benefit from a steady stream of vehicle and foot traffic. Think about how fast-food restaurants and gas stations position themselves next to interstate entrances and exits. They are making themselves easily accessible to their target customers—hungry drivers who need gas. When choosing an area for your franchise, ask yourself if it's a place your ideal customers can find you.
Is Owning a Franchise Good Money?
Owning a franchise can definitely be good money with the right opportunity. Before you invest, ask what the average franchise profit margin is for other franchisees in your area. You should also factor in your chosen industry, as some have lower average profit margins than others. For example, restaurants usually have a 2-6% profit margin. In comparison, certain branches of the insurance sector have shown profit margins of 23.26%.
Franchises are an excellent money-making alternative for those intimidated by starting a business from scratch. This is because franchise opportunities offer:
An established customer base
Existing brand awareness
Franchisor support for training and marketing
Streamlined options for expansion
Bulk franchise discounts
If you're not sure where to look to buy a franchise in your area, start with your friendly neighborhood Franchise Gator. Click here, select your state from the drop-down menu, and hit go!
---