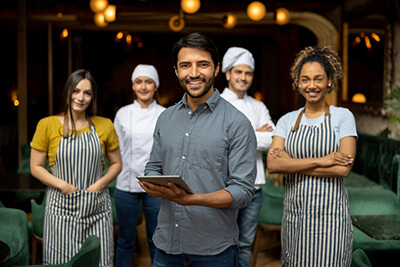 Starting a business or franchise can feel impossible, but it doesn't have to. If you know what resources are available—and which ones provide you the best opportunity— you can easily set yourself up for success. An SBA loan is a great place to look for funding, but there are a lot of options to choose from. How do you know which is right for you? Better yet, which loans do you have the best chance at getting approved for?
At Franchise Gator, we're all about giving new business owners what they need to thrive. In this blog, we're going to cover the basics of SBA loan approval, the types of loans available, and how to decide which one is right for you. We'll explain why franchising is the easier path to starting out as a business owner, particularly with acquiring loans.
Are SBA Loans Hard To Get?
They can be challenging, but don't be discouraged! Getting SBA loans is slightly more challenging than traditional loans, but with a solid business plan and the right resources at your fingertips, funding is within your grasp. Additionally, the SBA has ways to help various minority groups looking to become business owners. It also helps to know what kind of SBA loan is best suited for your business venture.
All SBA loans are organized into three programs:
7(a) is the primary loan program for small businesses, featuring various loan types and amounts
CDC/504 is a long-term, fixed-rate financing option. CDC/504 is typically used for fixed assets, like real estate or equipment
Microloans are smaller loans intended for small businesses and certain non-profit childcare centers
Each of these three lending programs contains its own list of loans. Some loan types are more appropriate for specific ventures. An SBA 504 loan, for example, is typically better suited for franchises, whereas an SBA microloan is best for upgrading an existing business. Doing your research on the loan types will help you find one that's best for you, which also increases your chances of approval.
What Percentage of SBA Loans Get Approved?
The answer varies depending on who is giving the loan and, in some cases, who is applying for it. Here are some statistics on loan approval rates, according to Zippia and the SBA:
SBA loans have a 49% approval rate at small banks, but only see 25% approval at large banks.
Full-service restaurants see the highest volume of SBA business loans—almost 30,000 in 2019.
Rural small businesses are more likely to be approved (51%) than urban businesses (38%).
Almost a third of the SBA 7(a) loans are issued to minority-owned businesses.
In general, lenders want to feel a certain level of confidence in the business venture's growth potential, and they want to see some history of past success—not just in the business, but from the business owner as well. This is one of the reasons why new business owners choose franchising, as franchises offer a proven business model that makes it easier to secure SBA loans.
What Are the Minimum Requirements for a SBA Loan?
SBA loan requirements vary for each lending program, as well as each specific loan in that program. But in general, applicants for SBA loans must:
Have for-profit, registered, and legally operated business.
Operate and base their business in the United States.
Invest their time and money into the business.
Not receive funds from another financial lender.
Meet SBA size requirements (which differ depending on your industry).
There will be more requirements to fulfill depending on the loan type, as well as the type of business you want to run. Franchisees, for example, have to make sure their franchise is listed in the SBA franchise directory.
What Credit Score Is Needed for an SBA Loan?
The short answer is "it depends." The SBA has no business loan credit score requirement to fulfill. That said, there is a general target to shoot for. According to Zippia, having a credit score of 690 or higher gives you good odds, and a score above 720 yields great odds. It's not impossible to get a loan if your credit score is below 690, but it might be a little more challenging. Since SBA loans are usually a large amount of money—around $400,000 on average—lenders want to be confident that they'll get that money back.
Franchise Gator: Business Ownership Is a Click Away
Money can't buy happiness, but it can buy a small business! Unfortunately, many small businesses fail because they struggle to acquire the capital they need. Franchises provide a proven business model that lenders can trust, and Franchise Gator has an extensive directory of potential opportunities for you—many of which will open doors for easier funding.
Don't let funding get in the way of your future. Search our directory today, and take your first step into business ownership.
---