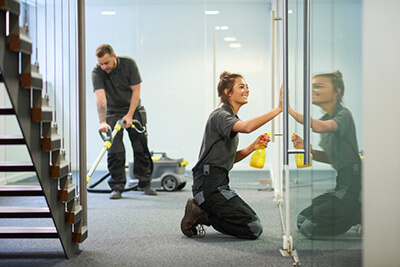 Everyone likes having a clean home, as well as clean grocery stores, offices, hospitals, airports, hotels–you get the idea. But even though everyone likes clean surroundings, around 73% of Americans hate cleaning. 51% said cleaning their homes for holiday guests in particular is one of the most stressful events of the year. Are you someone who actually enjoys cleaning? Then you might be here looking for cleaning franchises for sale.
For those who don't mind the work, a cleaning franchise is an excellent way to meet the needs of busy people or those who need or want a professional.This work comes with the rewards of knowing you are helping others…but how much does a cleaning franchise make in return? And does an owner get to keep all that money? Read on to learn more about the profitability of cleaning franchises and some of the best franchises for sale in the market.
How Much Can You Make Owning a Cleaning Franchise?
According to ZipRecruiter, the average salary for a cleaning franchise owner in the United States is a little over $80,000. However, that is just the salary of the owner. Much more of the revenue from a cleaning franchise will be reinvested into the business through paying employee salaries, buying inventory, marketing (including fees paid to the parent company), and more.
These additional costs are why a better reflection of the profitability of these franchises is their profit margins. A profit margin is the difference between the cost to run your business and the revenue it brings in. If you spend more than you are making, you will have a negative margin. Controlling costs is where choosing a franchise over starting your own cleaning business can be a major competitive advantage. Bulk buying power and the support of an established brand name that customers trust both help you maximize the margin with minimum expense.
Like any small business, a 7-10% cleaning business profit margin is considered healthy. Learn how to calculate profit margins here.
How Much Does it Cost to Buy Into a Cleaning Franchise?
Buying into a cleaning franchise can cost anywhere from $20k to $100k in minimum available cash, plus any additional fees and costs. There are a few variables that affect how much your cleaning business startup costs will be, including whether you want a commercial cleaning franchise or a residential cleaning franchise.
Residential vs Commercial Cleaning Business
How much does a cleaning franchise make? Residential and commercial cleaning businesses can both charge $40 or more an hour for services, and as the business grows, additional cleaners means revenue grows. But what is different is how residential vs commercial cleaning services get paid. Residential cleaners are often paid by the job or day, while commercial cleaners will be on a contract and monthly or annual retainer with their clients. When you own a franchise, it's lucky that the franchisor will have tried-and-tested practices for billing and payment whether you choose residential or commercial.
What Is the Best Cleaning Franchise to Own?
The best cleaning franchise to own is one where you like the products and approach to customer service. Some cleaning franchises handle all kinds of cleaning while others are specialized. Here are just some of the cleaning franchises available.
Explore More Cleaning Franchises for Sale on FranchiseGator.com
These are just some of the cleaning franchises that could be a great fit for you, your community, and your goals. Take a look at our full list of cleaning and maintenance franchises which can be sorted by geography and/or investment level.
---