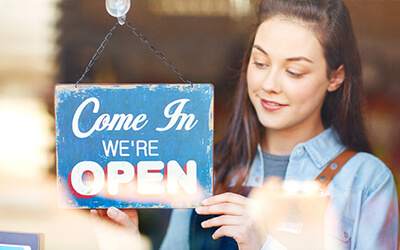 Have you been dreaming of being your own boss lately? You're not alone. One 2022 study by Digital.com found that two in five Americans plan to start their own business in 2023. And with benefits like independence, setting your own schedule, and breaking out on your own, it's easy to understand why. For some would-be entrepreneurs, the idea of coming up with a brand new product is exciting. For others, buying into a franchise and operating under an existing, successful business model sounds better.
If a franchise sounds like what you're looking for, you've likely got a lot of questions. What funding opportunities are there? How do you know what franchises are for sale? What is the cheapest franchise to own? Keep reading to find out more.
How to Buy a Franchise With No Money
Whether you're looking to buy into one of the low-cost franchises we'll discuss in the next section—or any other opportunity that fits your needs—you'll need some amount of liquid capital. Liquid capital refers to the money you have available or could access without a traditional loan. So how do you get started if your funding is low? There are a few options to consider.
Franchisor Funding: Some franchises offer funding solutions, like low-interest loans, to potential franchisees. Even if a franchise you're interested in doesn't offer loans, they may offer assistance in finding and securing funding, so it never hurts to ask.
SBA Loan: Depending upon the type of franchise you're interested in, you may be eligible for a loan through the Small Business Administration (SBA). The SBA's Franchise Directory will let you know what franchises you can open with one of their loans—assuming you meet any additional requirements.
Home Equity Loan: For homeowners, another option to finance the purchase of a franchise is a home equity loan. Essentially, you take out a loan against the amount of equity you have in your home (or the amount you've paid off). Because this type of loan does put your property at risk, it's advisable to speak to a financial advisor before making any decisions.
Partnership: If you've got a friend or family member you're interested in going into business with, you can also split the costs (and revenue) with a partner or two. Before going into business with anyone, keep in mind that you'll be working with this person—to some degree—so a good working relationship is important.
Now that we've discussed some financing options available for you, let's take a look at some lower cost franchises that might fit your budget.
What Is the Cheapest Franchise to Purchase?
The truth is, there are franchises at every price point, from low cost franchises under $10,000 to franchises that cost upwards of $250,000 or more. That means there's something available for truly everyone; you simply need to find the right franchise that fits your budget, needs, and interests.
While you're unlikely to find many—if any at all—free franchise opportunities, we've selected some great low cost franchise opportunities that may just fit the bill.
What Is the Cheapest Franchise to Open with Food?
From offering people on-the-go snacks to powering the restaurant industry, there are all sorts of opportunities available in the food industry. Explore some of the lowest-cost food options below, or check out a full list of food franchises on FranchiseGator.com.
Healthier 4 U Vending: This franchise combines a love of healthy food with the convenience of a vending machine—perfect for franchisees who are interested in food but not necessarily cooking. To buy an opportunity with Healthier 4 U Vending, you'll need $30,000- $53,000 in liquid capital.
Filta Environmental Kitchen Solutions: Love food but don't have much skill in the kitchen? Become an integral part of the food industry with this franchise, where you'll offer active fryer management to repeat customers. To buy into Filta Environmental Kitchen Solutions, you'll need $30,000 in liquid capital.
What Franchises Can You Buy for $10k?
If food isn't your favorite, don't worry. There are plenty of affordable franchise opportunities available in a ton of different industries. Here are just a few of the options for those looking to stick with a budget around $10,000 or less in liquid capital.
Standard Paints Inc. – Wood Defender: Love to be outside? With this franchise, you'll get the training, equipment, and products you need to break into the fence/deck industry. To buy into Standard Paints Inc. – Wood Defender, you'll need $10,000- $150,000 in liquid capital.
CruiseOne / Dream Vacations: If travel is your passion, this might be the franchise for you. Join one of the nation's largest travel franchises and plan vacations to some of the most exciting destinations on earth. To buy into CruiseOne / Dream Vacations, you'll need $9,800 in liquid capital.
Find Your Franchise Fit at FranchiseGator.com
Whether you're looking for the cheapest franchise to open in 2023 or just one that'll fit your budget and interests, look no further than FranchiseGator.com. With our easy-to-use directory, you can search by investment amount, industry, and location to find your perfect fit.
Ready to get started exploring? Head on over to our directory, choose the franchises you're interested in, and request free information to begin your journey.
---