Veteran's Franchise Opportunities
According to the International Franchise Association (IFA), one out of every seven franchises in the United States is owned by a veteran. Many franchisors recognize the fact that veterans typically make great franchise owners and salute them by offering special incentives for buying into their system.
If you've served in the military, thank you for your service. And if you find yourself looking to make a change, a veteran-friendly franchise can get you marching towards business ownership today.
See All Franchises for Vets
Since 2011, over 6,500 veterans have become franchise business owners
More than 650 franchise systems offer serious financial incentives to veterans
Over 238,000 veterans and military spouses work in the franchising as employees or franchisees
Types of Franchises for Veterans
Vet-friendly franchise businesses exist in just about every industry and investment range, typically starting at just $20,000. Opportunities for vets range from home services and retail to fitness, IT and more. As a veteran, you're sure to find a business that fits your interest and skills.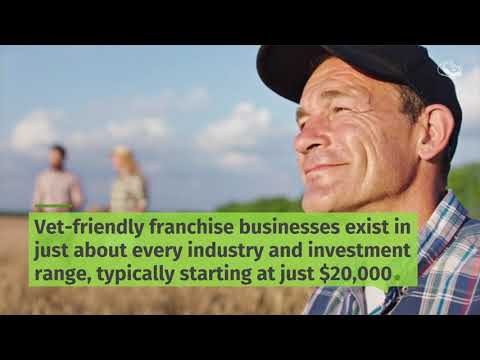 Experience the joy of watching childrens confidence grow as they learn math skills and pursue their dreams using our proprietary, time-tested teaching method. One of the worlds top franchises, Mathnasium gives you the…
100k Minimum Cash Required
A professional company with 23 years of experience offering investors an opportunity building a business in the expanding, worthwhile and respected space of health and wellness offerings. HealthyYOU Vendingblends an…
60k Minimum Cash Required
Own a National Lending & Financial Services Business. Serious Inquiries Only: We are only accepting individuals who have at least $20,000 cash to invest (please note - we do not provide loans or grants) and are ready to get…
20k Minimum Cash Required
Wings Etc. is a sports-themed, family-friendly restaurant and pub with over 30 years of industry-leading experience. With a diverse menu featuring Award-Winning Jumbo Wings, Premium Burgers, Wraps, Salads, Cold Beers, and…
200k Minimum Cash Required
Legacy Business Brokers (LBB) is offering a highly profitable business brokerage opportunity available across the US. Our brokers can recoup their initial investment within the first year of business, with significant profit…
100k Minimum Cash Required
For more than 96 years, Ace Hardware has been America's neighborhood hardware retailer. Ace Hardware is offering a tremendous opportunity for those wanting to build a profitable and lasting business. With financial…
250k Minimum Cash Required
Why a Veteran-Friendly Franchise?
There are many franchisors who offer special incentives, including discounts on franchisee fees and other costs, as well as training for veterans and their spouses. Because veterans understand the importance of following protocol, their skills align well with franchise ownership.