Business Services Franchises
This global Pandemic has altered our daily routines in various ways. Most of our jobs and working styles have changed. That includes business services franchises, too.
Businesses need the right services to help them succeed in these uncertain times. It has become more important than ever to direct one's time and effort into something worthwhile that brings more significant benefits, especially to smaller businesses with limited resources. You can build your success while helping other companies along with you.
See All Business Services Franchises
Staffing and recruiting services provide outstanding career opportunities for 16 million each year.
Computer & office machine repair revenue projected to reach $7.21 billion in 2016
In 2016, business services franchises reached more than 99,000 and are still growing.
Types of Business Services
Even when business opportunities seem to have lessened during these times, this franchise market still offers a lot of options to choose from. Business services sectors range from personnel and staffing, Consider a payroll services franchise, a computer repair franchise, consulting, cleaning and maintenance, personnel and staffing, and there's a business service that's just right for you.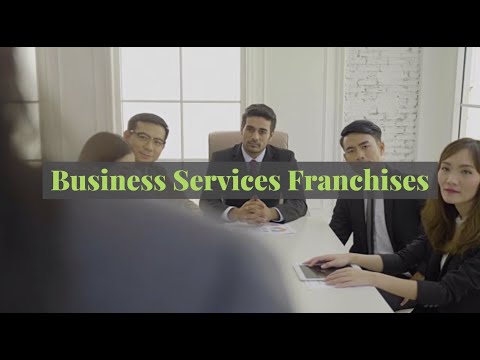 At DFYnow, we believe in the digital revolution and are dedicated to helping businesses establish a strong online presence and reach their full potential. Our team of experienced professionals is driven by creativity and a…
30k Minimum Cash Required

COVID & the Impending RECESSION = Roughly 11 million houses hit the market for pennies on the dollar! Now is the best time to invest since the housing crash of 2008 which created more millionaires than any other time in…
30k Minimum Cash Required

Schooley Mitchell is the largest independent cost reduction consulting firm in North America. Our network of Franchised consulting offices serves as the outsourced expense reduction specialists for business clients from…
50k Minimum Cash Required

Minuteman Press is an essential B2B print & marketing franchise that has remained open through Covid-19. Our customer service driven business model provides digital print, design and promotional services to businesses. Learn…
70k Minimum Cash Required

Explore a recession-proof franchise with the unique benefit of a residual income stream. Brightway produces winning outcomes for franchisees and their customers by offering access to customized insurance solutions from a…
50k Minimum Cash Required

Now more than ever, containment systems are utilized in and even required by medical and educational environments. This is your chance to grow. Your franchise will operate within the growing $120 billion construction…
50k Minimum Cash Required