The Comprehensive Guide to Business Services: Everything You Need to Know
In the realm of entrepreneurship, business services franchising has emerged as a potent vehicle for success. With the backing of established brands and proven business models, franchises in this sector offer a golden opportunity for aspiring entrepreneurs. This comprehensive guide aims to serve as your go-to resource for understanding, evaluating, and entering the world of business services franchising.
What Are Business Services Franchises?
Business services franchises offer specialized functions that help other organizations run efficiently. These could range from marketing and IT services to human resources, financial planning, and beyond. The key difference in franchising is the use of a proven business model and brand recognition, which significantly lowers the risk for new entrants.
The Landscape of Business Services Franchising
Diverse Spectrum of Opportunities
The franchising model in business services provides a broad array of options. Whether it's consultancy, marketing, or tech solutions, there's likely a franchise that aligns with your interests and skills.
Market Growth and Trends
As businesses increasingly outsource specialized tasks, the demand for business services franchises is on the rise. Digital transformations and the shift towards data-driven decision-making are also influencing the sector positively.
Types of Business Services Franchises
Consulting Franchises
Consulting franchises provide expert advice in various fields, filling the expertise gaps many companies face. They offer a broad range of services, from business strategy to IT consulting, making them versatile options for franchisees.
Marketing Franchises
Digital marketing franchises specialize in services like SEO and social media advertising. With businesses increasingly moving online, the demand for these services is skyrocketing.
IT Services Franchises
These franchises manage the tech infrastructure for other businesses, from software development to cybersecurity, making them indispensable in our increasingly digital world.
Human Resources Franchises
HR franchises offer services like recruitment, employee training, and benefits management, allowing other businesses to focus on their core operations.
Business Services Industry Statistics
"An increasing number of businesses typically correlates with greater demand for business services, leading to revenue gains; when the number of businesses declines, the industry's market shrinks. The number of businesses is expected to increase in 2023, representing a potential opportunity to the industry."
The market size, measured by revenue, of the Business Service Centers industry was $15.0bn in 2022.
The market size of the Business Service Centers industry in the US has grown 5.0% per year on average between 2017 and 2022.
The market size of the Business Service Centers industry in the US increased faster than the economy overall.
Advantages of Business Services Franchising
Lower Risk of Failure
With a proven business model and brand recognition, franchising reduces the startup risk, making success more likely.
Comprehensive Support and Training
Franchisors often provide extensive training and ongoing operational support, helping you to start strong even without prior business services experience.
Economies of Scale and Buying Power
Joining a franchise network gives you the benefit of collective purchasing and shared marketing strategies, reducing operational costs.
Faster Time to Market
Much of the groundwork is already done in a franchise, allowing you to get your business up and running much faster than a traditional startup.
Community and Networking
Being part of a franchise offers networking opportunities with other franchisees, providing peer support and best practice sharing.
Example: Minuteman Press, a well-established name in the print and marketing industry, offers a franchise model with comprehensive training and support, making it an appealing option for those interested in business services franchising.
Example: Brightway Insurance offers a franchise model that provides extensive training and support, along with access to multiple insurance carriers, making it a compelling choice for entrepreneurs interested in the insurance and business services sector.
How to Choose the Right Business Services Franchise
Choosing a franchise requires due diligence. You should assess the brand's reputation, the level of support offered, and the total investment required. Always ask for and contact existing franchisee references and, if possible, visit existing franchise locations to get a firsthand look at the operations.
Risks and Challenges
Like any business, franchising in the business services sector comes with risks. These could include high initial investments, ongoing royalty fees, and limited control over business decisions. However, many of these risks can be mitigated through careful planning and by choosing the right franchise.
Future Outlook
The future of business services franchising looks promising with the advent of new technologies like AI, machine learning, and data analytics. These innovations offer opportunities for new services and greater efficiency, making this a continually evolving field.
Example: Assisted Living Locators offers a rewarding franchise opportunity in the growing senior care market, providing comprehensive training and ongoing support to help franchisees succeed.
Actionable Tips for Aspiring Franchisees
Do Your Homework: Comprehensive research into potential franchisors is a must.
Consult a Legal Advisor: Always review the Franchise Disclosure Document and consult with a legal advisor before signing any contracts.
Have a Financial Plan: Prepare a detailed business plan including revenue projections, expenses, and profitability analyses.
Frequently Asked Questions (FAQ)
How much can I earn from a business services franchise?
Earnings can vary widely based on the brand, location, and your ability to operate the business effectively.
Are there any low-cost business services franchises?
Yes, there are options available for those who wish to start with a smaller investment.
Is previous experience in the sector necessary?
While beneficial, most franchisors offer comprehensive training, making it possible for newcomers to succeed.
Conclusion
Business services franchising offers a compelling route to entrepreneurship, combining the independence of running your own business with the support of a tried-and-tested model. With various options to choose from and a growing market, now is an excellent time to consider stepping into this lucrative field.
See All Business Services Franchises
Staffing and recruiting services provide outstanding career opportunities for 16 million each year.

SOURCE:
SOURCE: American Staffing Associations

Computer & office machine repair revenue projected to reach $7.21 billion in 2016

SOURCE:
SOURCE: Statista; US Census Bureau

In 2016, business services franchises reached more than 99,000 and are still growing.

SOURCE:
SOURCE: International Franchise Association; IHS Global Insight
Types of Business Services
Even when business opportunities seem to have lessened during these times, this franchise market still offers a lot of options to choose from. Business services sectors range from personnel and staffing, Consider a payroll services franchise, a computer repair franchise, consulting, cleaning and maintenance, personnel and staffing, and there's a business service that's just right for you.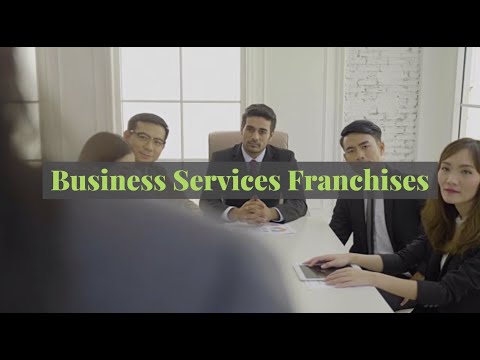 Did you know you could partner with a company to build out your entire e-commerce store, from product research to inventory acquisition to marketing? Yep! You can easily make 6-7 figures in passive income when we build your…
30k Minimum Cash Required

American Business Systems (ABS) is the fastest way to start your own medical billing business. 100% Money-Back Guarantee. Profit from ABS' 25 years as America's leader in Medical Billing and get Live Online…
28.9k Minimum Cash Required

Own your own diversified finance business approving what banks decline and offering more competitive solutions on what banks approve. Six to Seven figure income potential. True recession resistant modal. Not a Franchise.…
20k Minimum Cash Required

Own and operate your own shipping company with Postal Annex+! Our marketing strategies, site selection, management assistance and other support programs take out the guesswork, allowing you to make more money. Contact us…
40k Minimum Cash Required

Why Medical/Dental Billing is the business for you... No Experience Needed! Great Income Potential! Flexibility to work at home, on the road, basically anywhere you have Internet access. ClaimTek is the most trusted…
20k Minimum Cash Required

Spherion's locally owned and operated offices match job seekers and employers so each can achieve their goals. Ranked in the top 15% of Entrepreneur's Franchise 500 list, our average franchise grossed $7.4 million in…
150k Minimum Cash Required