Education Franchises For Sale
Do you enjoy making a difference? Maybe you're a teacher looking for a change, or maybe you're just looking to build a business that has a positive impact on the lives of others. Whatever the case may be, owning an education franchise lets you realize your dream of becoming your own boss while helping children and individuals excel. If you have a love for children and/or a passion for education, a franchise built around education and helping a people grow may be the perfect investment for you.
See All Educational Franchises
An estimated 2.8 million households used a tutoring service in 2015
More than 50% of 3 to 4 year olds in the U.S. were enrolled in preprimary school programs as of 2013
Child education revenue is expected to reach $2.1 billion by 2019
Types of Franchises in Education
Educational franchises encompass a wide range of focus including tutoring programs and test preparation for school age children, as well as programs that combine entertainment and learning for pre-school age children. Other education-based opportunities include career training, business training and consulting, and assisting those with special learning needs.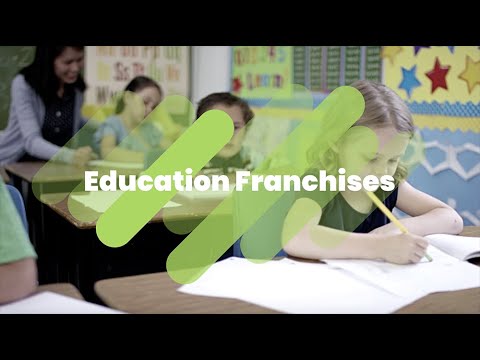 Tutor Doctor is one of the fastest-growing education franchises in the industry. We provide individualized learning solutions at home or online. Franchisees can work from home to fit with their lifestyle and feel good about…
70k Minimum Cash Required
Experience the joy of watching childrens confidence grow as they learn math skills and pursue their dreams using our proprietary, time-tested teaching method. One of the worlds top franchises, Mathnasium gives you the…
100k Minimum Cash Required
Do you dream of owning a business that is both profitable and rewarding? Then Kiddie Academy is the opportunity you've been waiting for Our strong support system, training program, and proven business model will help…
250k Minimum Cash Required
For more than two decades, School of Rock has been teaching kids and adults how to channel their inner rock stars using a revolutionary performance-based approach to music education. Even if youre not familiar with the…
130k Minimum Cash Required
Celebree School is a thought leader for early childhood education. Established in 1994 by a founder with no background in education, we now have 26 corporately owned schools companied with 50 franchise locations throughout…
250k Minimum Cash Required
N-Compass TV has created a network of community-based entrepreneurs who have a business in Indoor Digital Billboards. Screens are placed inside popular places of business in a protected territory. Advertising is then sold to…
30k Minimum Cash Required
Why Consider an Educational Franchise?
Education is one of the fastest growing sectors of the franchise industry. With the huge success of franchises like Kumon, the industry has seen a burst of new business opportunities in recent years. As stretched school budgets allow for less individualized attention and resources for children, this industry growth is anticipated to continue in the forseeable future. Desperate parents, realizing the importance of helping their children succeed in school and college preparation, are looking more and more to outside services to fill in educational gaps.