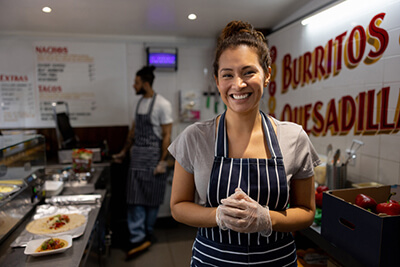 It's estimated by the CDC that each day, one in three Americans will eat fast food. That's 84 million customers per day, and your fast food franchise could become their next obsession. But food franchises for sale often have a high cost of entry. What is the cheapest franchise to own in the fast food industry? We're listing the brands you know and love and others you have not yet heard about in this blog.
What Is The Cheapest Fast Food Franchise to Open?
Among the best-known national fast food brands in the United States, there are several where the initial franchise fee is between $15,000-$25,000. These include, but are not limited to, the following:
Subway: $15,000 in initial average franchise fees, $100,000-$260,000 in total investment.
Jersey Mikes: $18,500 in initial average franchise fees, $100,000-$150,000 in total investment.
Checkers/Rallys: $20,000 in initial average franchise fees, $400,000-$600,000 in total investment.
As you can see, the total investment to launch a food franchise goes beyond the initial franchise fees. Initial fees include the cost to license the business, access to the business plan and training, marketing materials, and other resources as described in your franchise agreement. After these, there are the costs for real estate, inventory, marketing, staffing, and more to consider. Fast food is cheap and easy for the consumer, but launching and managing these businesses can actually be expensive and complex!
Which Fast Food Chain Has the Highest Profit Margin?
McDonald's and Chick-fil-A are two of the fast food chains with the highest profit margins. These operate with very different business models, which is why both deserve a mention.
What defines the profit margin vs the profits? The profit margin is what is left after you subtract operating expenses like payroll, food, marketing, and more. The actual profit margin can vary widely from location to location, even with a tried and tested fast food brand.
McDonald's restaurants cost upwards of $1M to open, and franchisees are allowed to own more than one location. Chick-Fil-A, on the other hand, is significantly cheaper to open, but you are only allowed one location as it is expected you will be closely involved in the day-to-day. Still, both restaurants pull in upwards of $4M per location each year, easily.
Inexpensive Restaurant Franchises
Here are some examples of inexpensive restaurant franchises for less than $50,000 in franchise fees. We will start with some of the rare options at the very low end of the investment spectrum.
Cheap Food Franchises Under $5,000
There are simply not that many fast food franchises under $10K! While some may have a franchise fee of $5,000 or less, the overall required investment is still often much higher by the time the doors open. If you're truly looking for a low-cost franchise opportunity, you might consider other industries.
We did find one fun restaurant business opportunity that is less than $5,000. Wheelys Cafe is a self-powered bike cafe. For your initial investment of around $5,000, you receive the bike cafe itself and a hookup on the "world's kindest coffee." Other than that, it is up to you what to sell at the cafe provided it is 60% fair-trade, organic, or direct-trade. If you want to take the idea of a self-powered restaurant business very literally, this could be a great option for you!
Food Franchises Under $10K
Food franchise startup costs usually end up being much more than $10,000 when all is said and done. For instance, you might be surprised to learn that the Chick-fil-A franchise fee is only $10,000. However, the parent company receives a substantial portion of the profits from the location in exchange for this low cost. And, the franchisor is incredibly selective about the owners they partner with. Still, if you can make it through the selection process, you will have a lifelong business.
Food Franchises Under $50K
There are substantially more food franchises available for owners who are able to invest at least $50,000. Here are some of the options:
If none of these sound like the right fit, we have many other food franchises listed in the Franchise Gator directory! It's easy to compare and contrast different opportunities and request information from multiple restaurants at once. Check out all our available food franchises, including fast food, sit-down restaurants, catering franchises, and more.
---