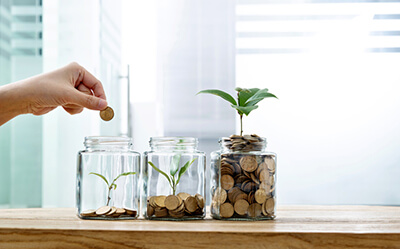 How much you spend on a franchise is up to you—as long as it's within your budget. No matter what kind of industry you're looking to get into, you're bound to find franchises for sale that are within your budget. Whether you're searching for "What is the cheapest franchise to own?" or "What is the most profitable franchise to own?," you should understand the costs associated with buying a franchise, such as franchise fees and royalty fees. That way you'll know how much you can afford to spend. We've created this guide to answer some of the most common questions related to franchise costs.
How Much Does a Franchise Cost?
There is no straight answer to this question because it depends on the franchise. You might find one under $10,000 or one worth more than $1,000,000. However, the number listed may only reflect the amount of liquid capital you need to open that franchise. Liquid capital is the amount of cash you need to buy the rights to own and operate a franchise location. Typically, you have to have this amount on hand. You can't take out a loan or use another funding source to acquire liquid capital.
Other costs associated with buying a franchise include:
A franchise fee
Total investment
Franchise percentage
Net worth
Let's take a closer look at each of these.
What Is a Franchise Fee?
A franchise fee is how much you have to pay to a parent company (franchisor) to use their brand and strategies and to receive training from them. The average initial franchise fee ranges from $20,000-$50,000, although they may cost $100,000 or more if you choose a bigger franchise.
Is a Franchise Fee a One-time Payment?
Yes, a franchise fee is a one-time payment. With that being said, there are other fees that will have to be paid to the franchisor along the way, such as the franchise percentage (we'll touch on this one later) and marketing fees. Marketing fees require you to pay a percentage of your gross revenue towards marketing efforts by the parent company that will benefit your location as well. Not all franchisors require a marketing fee, but those that do typically want 1-4% of your gross revenue each month.
Are Franchise Fees Negotiable?
No, typically the initial franchise fee is non-negotiable, however other terms of your franchise agreement like your territory may be negotiable. If you don't like how much the franchise fee is, you might consider investing in a different franchise instead. Do note that some franchises will offer a discount on the initial franchise fee to veterans.
What Is Total Investment?
Total investment is an estimate of how much you'll have to spend to run your own franchise. This includes costs associated with:
Renting or buying a space to run your location if it's not home-based
Hiring and training staff members, if necessary
Buying any and all materials you'll need, such as inventory, office supplies, and uniforms
You don't have to pay the total investment right off the bat, and you can use the profits you make to help pay for some of these costs. You can also take out a loan or pin down another source of funding to help cover these costs. Some franchisors offer funding options through them to help you with your total investment.
What Is a Franchise Percentage?
Also called royalties or royalty fees for a franchise, the franchise percentage is how much of the money you earn running your franchise that goes to the parent company. You have to pay a percentage of your gross revenue to the franchisor on a monthly basis. This royalty is required since the franchisor invests in you and provides you with necessary training and business plans to help you run your location.
What Is a Fair Franchise Percentage?
A franchise percentage may range from 4-12% or more, although the typical franchise fee percentage is 5-6%.
What Is Net Worth?
Net worth is the amount of capital you have after subtracting your total amount of your debts and liabilities from the total value of your assets (such as your cash, savings, and property). While your net worth isn't something you have to pay to the franchisor, some franchisors do require a certain net worth to make sure you will be a successful investor. Not all franchises require a net worth, though, so don't let that scare you off.
Find a Franchise to Fit Your Budget at Franchise Gator
Now that you understand some of the costs associated with starting your own franchise, it's time to start looking for one. Franchise Gator has you covered. We have lists of available franchises based on investment level, location, and industry—so you're sure to find something that meets your budget and interests. If you want to know what funding options are available to you based on your financial needs, check out our free assessment. Or start browsing our complete list of franchise opportunities.
---