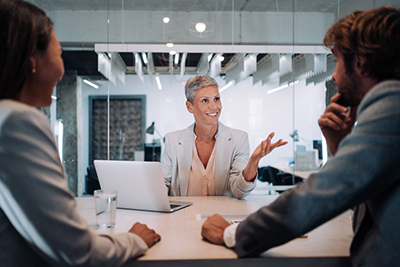 If you're reading this blog, there's a good chance you're familiar with the advantages of a franchise. You probably already know about the ability to be your own boss, the level of business support you can receive, the benefits of an established brand and customer base, and so on.
You may have even already begun browsing franchises for sale in industries you're interested in.
It's no secret that franchise ownership comes with some upfront costs as well as ongoing expenses. This leads many would-be franchisees to ask questions like "What is the cheapest franchise to own?" without taking the bigger picture into account. Especially as you consider the various forms of funding described in this blog, it should become clear that you have a number possibilities within your reach.
In this blog, we're going to help address some of the most common questions about franchise financing, like:
How much money do you need to start a franchise?
Can you open a franchise with a business loan?
How Much Money Do You Need to Purchase a Franchise?
This is a bit of a loaded question, so we'll break it down. First, what are the various types of expenses or costs associated with a franchise? Among the biggest expenses you should plan for are:
Startup costs, a category that can include

Employee training
Equipment or fixtures for the business
Franchise fees, which can average anywhere between $20,000 and $50,000
Furniture and decor
Inventory
Marketing
Purchasing a location and/or paying rent
Signage
Software costs, such as point-of-sale (POS) software

Royalty fees that are paid to the franchisor, on a monthly basis, based on a percentage of incoming revenue (often between 4% and 12%).
Operating (working) capital , which represents the funding you need to have on hand, readily available to cover daily operating costs.
What Kind of Down Payment Do You Have to Put Down to Acquire a Franchise?
There are no hard and fast rules here, but many of the most common funding sources you might leverage likely require down payments within the ballpark of 10% to 20% of the total loan amount. Learn more about how to start a franchise with little or no money.
What Are the Most Likely Sources of Funding for a Franchise?
Aspiring franchise owners have a wide range of funding options available to them, each with their own advantages and disadvantages. You may also be able to combine different sources of funds, for example:
Franchisor-provided financing options
Conventional banks and credit unions
Business partners
Home equities
Friends or family members
Retirement plans
Stock assets
Crowdsourcing
You can learn more about each of these in our Top 10 Funding Sources For Your Franchise Venture article.
How Much Can I Borrow for a Franchise?
It will vary depending on the resource or program. For example, if you wanted to use an SBA loan to buy an existing business, you might consider an SBA 7(a) or SBA CDC/504 loan. Each of these loan types offers funding up to $5 million with repayment terms ranging from 10 to 25 years.
You can use an SBA 7(a) loan for a wide variety of purposes, including franchise startup costs.
The SBA CDC/504 loan, meanwhile, is meant for large, fixed assets—like purchasing or improving buildings/facilities, major equipment, and so on.
Qualifying for these loans generally requires:
Good credit
Multiple years in business
Solid financial standing
In order to secure an SBA loan, the franchise also needs to be listed in the SBA Franchise Directory.
What Steps Should I Take Today?
At FranchiseGator.com, you can browse a wealth of resources covering all things franchising.
Find Low-Cost, High-Return Franchises at FranchiseGator.com
If you're still not sure exactly which franchise best suits your interests and goals, FranchiseGator.com is also home to a massive directory of current franchise opportunities.
---