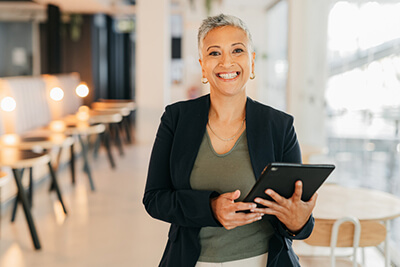 Food and fashion and finance, oh my! Anyone who has been scrolling through seemingly endless lists of franchises for sale knows there is a lot to choose from. The sheer amount of options can often be overwhelming and discouraging. Thankfully, blindly Googling "franchises for sale near me" and hoping for the best isn't your only option.
Franchise Gator is here to help you find the best franchise business opportunities available! In the sections below we'll provide advice for choosing a franchise and list several examples of high-quality franchises that are worth the investment.
How To Find the Right Franchise
Understanding which franchise is best to buy takes a lot of research and can be a fairly time-consuming process. With that in mind, we created this checklist of things to consider when selecting a franchise.
Easy Communication | As you shop around, you're bound to have some questions. If the franchise you're inquiring about does not respond quickly, is disorganized, or does not provide helpful answers then they might not be the best choice for you. Franchising is all about partnership. If a company can't meet you halfway from the beginning, then it might be best to pass them by.
Robust Training Programs | A worthy franchise will offer training to help set you up for success. This includes general business training to go over basic operational best practices, and onboarding that is specific to the franchise itself.
Strong Marketing | One of the main benefits of buying a franchise is they come with established brands and marketing strategies. When reviewing a franchise, be sure to investigate their marketing practices and learn how the franchise supports its franchisees in spreading awareness.
Fair Policies | Here, you will have to carefully review the franchise disclosure document (FDD). This legal document outlines the franchisor's history, provides important details regarding business plans, and lists all of the agreements you, as the franchisee, need to sign. When reviewing any FDD, it's best to enlist the help of a lawyer to ensure that you understand everything that is expected of you.
Sturdy Economic Foundation | One of the most effective ways of determining a franchise's economic stability is to review the audited financial statements included in their FDD. You might want to enlist the help of an accountant here if you are inexperienced in this area.
Of course, this checklist isn't fully comprehensive. If you're looking for more information about the franchise buying process, check out our resources for beginners.
Food Franchise Opportunities
If you have past experience in the restaurant industry, or simply a passion for cuisine, then you're likely in the market for a food franchise for sale. Food franchising is one of the most successful and popular avenues to explore. Here are two of the most profitable food franchises listed on Franchise Gator.
Wings Etc.
With over 30 years of industry experience, Wings Etc. is the perfect place to grab a bite with the whole family! Wings Etc's diverse menu and fun sports theme give its brand a unique neighborhood friendly feel. Wings Etc. also treats its franchisees well and provides extensive support to its franchisees from initial training, through opening, and beyond.
Click here to learn more.
Toastique
If you're passionate about healthy food and quality ingredients, then Toastique is the perfect franchise for you. Toastique''s nutritious locally sourced quick bites are a unique and delicious approach to traditional health food. In addition to low start-up costs, they offer training courses, ongoing support, supplemental field support, and marketing materials. With exceptional leadership and a healthful mission, Toastique is a wonderful franchise opportunity.
Click here to learn more.
Low Cost Franchises With High Profit
Even if you're on a lower budget, there are still plenty of affordable franchise opportunities outta here that are worth the investment. Here are two of the most affordable and successful low cost franchises listed on Franchise Gator.
Tutoring Works
If you have past experience in education, or are simply passionate about helping young people learn, a tutoring franchise could be a fulfilling and affordable option for you to explore! Tutoring Works was founded by experienced educators who wanted to find a way to improve young people's lives. With no upfront fees, royalties, or overhead, Tutoring Works offers maximum rewards for a minimal investment.
Click here to learn more.
Healthier4U Vending
Because of their minimal investment and self-sustaining nature, vending machine operations are some of the best franchises to own for beginners. Healthier4U vending is on a mission to give people the choice to eat healthy. While traditional vending machines are filled with high calorie junk food, Healthier4U decided to take a new approach and make affordable snacks and drinks more accessible.
Click here to learn more
Discover the Perfect Franchise Business Opportunity With Franchise Gator
Still on the hunt for your dream franchise? We're here to help make your franchise search as easy and enjoyable as possible! Our simple search interface allows you to easily filter your search results by industry, location, and investment. Each of our franchise profiles deliver all of the information you need to know about an opportunity and make it easy for you to reach out and ask for more details.
Start exploring today. Opportunity awaits.
---