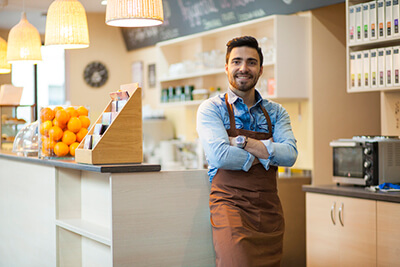 As someone looking to start a franchise, you might be wondering, "Do you need a certain credit score to start a business?" The good news is that securing a loan for starting a business doesn't have a minimum industry standard. Therefore, you may have the ability to find funding, even if your credit score isn't the best. Small business loans are incredibly beneficial for start-ups and franchisees to offset costs during low-income periods or when you need to replace equipment—among other things. So where do you begin? And what credit score do you actually need to secure funding? We'll explore credit scores for start-up business loans and what you should expect.
What Credit Score Do I Need for a Start-Up Business Loan?
For franchise business financing, there is no standard minimum credit score needed to receive a loan. It's also important to note that your credit score can impact the terms of your business loan, including the loan amount, annual percentage rate (APR), repayment terms, and other factors.
A higher credit score usually qualifies you for financing with better terms. Even though there is no standardized minimum credit score needed for a business start-up loan, a better credit score reassures the lender that you don't pose a big credit risk as a borrower. Generally speaking, larger loans may also be subject to higher credit criteria. If you want to borrow money that is close to the maximum amount the lender will consider you for, you'll need to speak with a representative to find out if you qualify based on the requirements.
The majority of lenders will consider your credit score when deciding whether to work with you, even if certain loans do not involve a credit check. With a lower credit score, it can be more challenging for you to get approved for a franchise business loan, and even if you are, the interest rates and loan terms will probably be less desirable.
While there is no minimum business loan credit score requirement set as an industry standard, most lenders prefer a score of at least 640—a "fair" credit score. However, if your score is below 670—a "good" credit score—you will also need to be in business for a certain period of time and have a minimum amount of annual revenue. For example, many SBA loans typically require two years in business and $100,000 in annual revenue.
Before you apply for a franchise business loan, you should be aware of your credit standing:
800 to 850: Excellent
740 to 799: Very good
670 to 739: Good
580 to 669: Fair
300 to 579: Poor
There are several ways to check your credit score for free, using platforms like Credit Karma, Experian, or Equifax, so you can have a general idea of where you stand and what loans you qualify for.
Ultimately, the better your personal credit score, the easier it will be to secure a business loan.
Can I Get a Business Loan with a 500 Credit Score?
It is possible to get a loan with a FICO credit score of 500, but it will most likely affect your loan amount and the loan terms, like APR. Most lenders base their approval on three things: the age of the business, the yearly revenue, and the borrower's personal credit score. According to Investopedia, a minimum credit score of 500, at least six months of business operation, and more than $30,000 in annual revenue are common requirements from lenders. But overall, the financial health of your business is more important than your personal credit score.
However, it's important to note that many of the lenders who offer loans to borrowers with a credit score of 500 are typically offered online as a line of credit or short-term loan. Having a short-term loan means you have to pay back the money faster, with a higher interest rate, which could place more financial strain on your franchise business, depending on your situation
How Can I Get a Loan with Bad Credit to Open a Business?
Your greatest chance of being approved for a franchise loan if you have poor credit is to use one of the Small Business Administration's loan programs. A portion of SBA loans are guaranteed by the government, lowering the risk of loss for lenders. This method is often preferred by lenders, especially if a person has poor credit. To get started, look at the terms, conditions, and eligibility for SBA loans to determine if you qualify for funding. You should also look through the SBA franchise directory for more information.
Build Your Business Future with Franchise Gator
Starting a franchise is a great investment, but sometimes you might need help keeping the ball rolling. That's okay! At Franchise Gator, we are here to help you get started with a selection of top franchises. That means more brand recognition, loyal customers, and secure income. We know there's a lot to learn about franchising and how to get started, but with Franchise Gator, you can rest assured that you'll get the best opportunities available. Visit our website to learn more about franchises in your location, budget, and industry of choice!
---