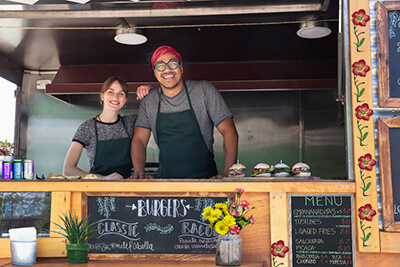 When you think of franchises, chances are you think of food. Whether it's that first sip of coffee after stopping by Starbucks on your way to work, the irresistible smell of a Five Guys burger, or a cold, refreshing ice cream cone from your local Bruster's Real Ice Cream, people love to buy food and beverages from names they recognize. It's no wonder why Forbes rates quick-service restaurants as the top industry to open a franchise in. After all, food is not only a necessity, it's also a foundation of social interaction. Customers also care about convenience, and quick-service restaurant franchises bundle all of the essentials into one business:
Customers know what to expect from your business based on your already established brand
Customers can grab a quick bite to eat when they're on the go
Friends and families can gather to share a delicious meal
With these qualities, restaurants are a typical starting point when potential franchisees search for franchises for sale. But while restaurants are popular for customers, aspiring business owners also need to know:
Are food franchises profitable?
Can I afford to start a food franchise?
In this guide, we'll explore these questions and more to help you answer the most important question: "What are the best franchises for sale near me?" Let's get cooking.
Is Owning a Food Franchise Profitable?
The average net profit is 3.9% for quick-service restaurant franchises and 5.8% for full-service restaurants according to Forbes. However, it's important to note that net profits in the food industry vary greatly from one franchise to the next. To get an idea of different margins within the industry, consider the following restaurant profits as reported by CHRON:
McDonald's: 22.8%
Applebee's: 15%
Burger King: 6%
Wendy's: 0.3%
To give some context to these numbers, the same Forbes article mentioned above also lists profit margins for some other common industries:
Gas Stations with Convenience Stores: 2.7%
New Car Dealers: 1.5%
Beauty Salons: 4.6%
Janitorial Services: 5.9%
Fitness and Recreational Sports Centers: 0.6%
With food franchises, you can likely earn a healthy profit. But how much does it cost to get started?
What Franchise Has the Lowest Franchise Fee?
Starting a franchise involves paying a franchise fee and having access to the required amount of capital, which can be as low as $0 for franchising fees and $55,000 in required capital. Franchise fees are an upfront cost for using the franchise's branding and business processes. Required capital is the amount of money you need to prove you have access to show that you'll be able to cover starting costs like franchise fees, equipment, and inventory.
For example, you can open a vending machine franchise for under $60K. Healthy YOU Vending gives owners a low-cost option to start a business, and once it's set up, it requires little maintenance to keep running and turning a profit. There are no franchise fees or royalties to cut into your profits, and you can gain control over your schedule because you only need to worry about keeping your vending machines stocked.
When it comes to searching for the cheapest franchise to own, fastfood franchises are often a good choice. Depending on your budget, the following food franchises could be the right option for you:
DonutNV: With $100,000 in liquid capital, a net worth of $200,000, and a total investment ranging from $174,575 to $243,024, you can open your very own donut food truck that caters to corporate events and private family parties. This franchise is ideal for those looking to serve up smiles and have opportunities for future growth.
Nekter Juice Bar: Becoming a Nekter Juice Bar franchisee requires you to have $100,000 in liquid capital and a net worth of $400,000. As a business that provides options for quick, healthy food, you can work toward joining the top 20% of earners who exceed $1 million in annual sales.
Toastique: With $150,000 in liquid capital, a net worth of $300,000, and a total investment of $347,250 to $568,700, you can open a fast food restaurant that helps create healthier communities. As an added bonus, the average Toastique location sees an average profit of $173,192.
With these options, you can bring delicious, convenient, and healthy food options to your community. And you can earn a profit while gaining control over your schedule in the process.
What Is the Best Food Franchise To Open?
When choosing to start a small business, the best food franchise to open is one that allows you to accomplish your goals. Most aspiring franchisees choose this path for some or all of the following three reasons:
To gain financial freedom
To be their own boss and control their own time
To leave a legacy for their family
Different franchises are better suited for accomplishing specific goals. For example, if your main concern is increasing your earning potential, then you'll want to open a highly profitable franchise. If you want control over your time, then you'll want a franchise that requires little managerial involvement. And if you want to build a legacy for your children, you'll want a franchise that has opportunities to open multiple locations.
How To Start a Food Franchise
Starting a food franchise begins with exploring your opportunities, and that's exactly why we created Franchise Gator: to make it easier than ever to see what opportunities are available in your area and budget. Viewing your options is as simple as selecting your desired industry, location, and price range. Then you can scroll through your options, read descriptions, compare starting costs, and request free information. Next steps include reviewing franchise disclosure documents, securing financing, and getting down to business!
Find out what the future holds. Start your search at franchisegator.com.
---