InstaHealthy
We're simply playing a different and higher level game then anyone else in the vending space, healthy or not. Our business model is proprietary, it's our "secret sauce" which allows us to deliver great businesses to our Partners. We are Real, We are Raw, We are Relevant and We are Committed to Ruthless Results. The InstaHealthy Core 4 is; 1) The most reliable state-of-the-art equipment 2) The BEST locations for your machines 3) Guaranteed lowest cost-of-goods and 4) And tireless support.
What Does a
InstaHealthy

Opportunity

Cost?

To buy an opportunity with InstaHealthy, you'll need to have at least $30,000 in liquid capital and a minimum net worth of $50,000. Owners can expect to make a total investment of at least $50,000. They also offer financing via 3rd party as well as a discount for veterans ($12,500 Franchise Fee). *
Requirements
Financial requirements for this
opportunity

:
Options
Options available to
owners

:
| | |
| --- | --- |
| Financing: | Via 3rd party |
| Training: | Available |
| Veteran Discount: | $12,500 Franchise Fee |
Company Details
Facts about this
opportunity

:
| | |
| --- | --- |
| Total Units: | 50 |
| Home Office: | San Diego, CA |
| Year Founded: | 2015 |
160 Million Overweight or Obese Americans – InstaHealthy –
The Driving Change
Forget everything you know about the vending industry because InstaHealthy is breaking the 4 decade old mold that is "traditional vending." Junk Food – Forget it. Poor Servicing – Nope. Out-of-Date Technology – Not here. Customer Complaints – Not a chance. Carbon Footprint – Almost non-existent.
InstaHealthy offers a proprietary business model that is unmatched in the vending or healthy vending industry. Because of this, we can deliver what others cannot, unparalleled success driven by purpose. Our commitment to each InstaPartner is to deliver ruthless results in all aspects of our business model; 1) The most reliable equipment 2) The best locations 3) The lowest cost of goods and 4) Tireless support.
---
About Us – Declaring War on Traditional Vending
Healthy Vending – Schools, Hospitals, YMCA's, Sports Complexes, etc.
Americans, old and young, are out of shape, overweight and tired. Resources for convenient, healthier alternatives just do not exist as the vending industry just has not evolved like the rest of the food and beverage industry. 160 millions Americans and over 1/3 of our children are considered overweight or obese and vending is far behind the curve. Other "healthy vending" companies in this space are not offering anything much different from that of traditional vending. Most are offering the same old junk-food products in machines branded "healthy." All backed by old school practices and techniques. You won't find these same tired, or deceiving, practices at InstaHealthy. InstaHealthy is fresh, passionate, innovative and we do business like top companies in the world do business today, not how business was done 5, 10 or 20 years ago.
Micro Markets – Business and Corporate Environments
Overweight, absent, low-productive employees is an absolute revenue killer for US Corporations. To the tune of $4 billion dollars just for overweight employees missing work! Convenient snacks, beverages, food and meals is not something readily available to employees at most companies. Offering a huge variety (up to 800 items) of products from snacks, drinks and even full meals for breakfast, lunch and dinner, the flexibility of a Micro Market is countless. Micro Markets offer a user-friendly kiosk that serves as a self-checkout center for consumers surrounded by wall shelving, product racks, coolers, freezers, and other options. Essentially, it is a mini cafeteria for business/corporate environments ranging from 150 employees to 5,000 or more!
Location Procurement – 100% Guaranteed
We've developed a proprietary process, part of which educate the public on, and part of which we don't. It's our "secret sauce" that allows us to deliver results that no other vending company, healthy or not, can match. We plan to keep it proprietary so you will need to inquire with us in order to learn more about these proprietary practices and stratgies.
---
Our Ideal InstaPartner
An InstaPartner is someone who aligns with our Core Values and Mission, first and foremost. A team player who has a vision for success and whose goals are also in line with ours here at InstaHealthy.
Do you simply want to "hit the ground running"? Are you willing to learn all the details behind what it takes to secure quality locations? If so, at InstaHealthy we have the tools to educate and empower our partners so that they can be successful.
Can you get behind a mission and business model which drives change for the 160 million Americans who are either overweight or obese? Can you devote part or full time to a flexible and scalable business model? Are you liquid for at least $30,000 and have the ability to make a decision within 30-45 days?
Does this sound like you? Do you want to learn more? If so, then simply inquire in order to begin our education process where you will learn everything you require in order to make the most informed decision about your entrepreneurial future.
Video
►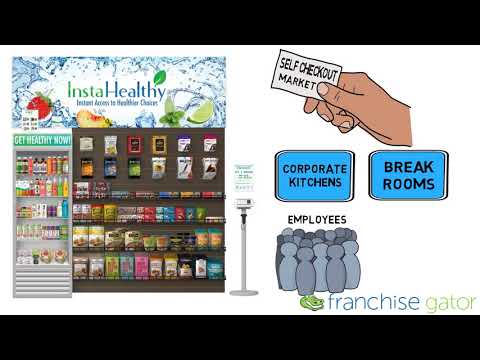 Availability
InstaHealthy

is currently accepting inquiries from the following states:

Alaska, Alabama, Arkansas, Arizona, California, Colorado, Connecticut, District Of Columbia, Delaware, Florida, Georgia, Hawaii, Iowa, Idaho, Illinois, Indiana, Kansas, Kentucky, Louisiana, Massachusetts, Maryland, Maine, Michigan, Minnesota, Missouri, Mississippi, Montana, North Carolina, North Dakota, Nebraska, New Hampshire, New Jersey, New Mexico, Nevada, New York, Ohio, Oklahoma, Oregon, Pennsylvania, Rhode Island, South Carolina, South Dakota, Tennessee, Texas, Utah, Virginia, Vermont, Washington, Wisconsin, West Virginia, Wyoming

Interested parties should have at least $30,000 in liquid capital to invest.
* This information may have changed since first published. We recommend that you always verify fees, investment amounts, and offers with the business opportunity directly prior to making a decision to invest.
Here are some other suggestions in the same category that you selected
The Brass Tap is an upscale beer bar that offers 40-60 different craft beers on tap, more than 300 varieties of imports, and local craft beers. We are constantly searching for the best beers from all regions around the world,…
250k Minimum Cash Required
Over the years, millions of happy consumers have enjoyed the TCBY and Mrs. Fields brands, earning both iconicstatus. So, for us, joining the two brands makes perfect sense. Leverage the power of two of the countrys most…
100k Minimum Cash Required
A professional company with 23 years of experience offering investors an opportunity building a business in the expanding, worthwhile and respected space of health and wellness offerings. HealthyYOU Vendingblends an…
50k Minimum Cash Required
· Top 100 Pizza Companies in the U.S. Pizza Today · Top 400 U.S. Franchise Systems Franchise Times · Top 500 U.S. Restaurants Nations Restaurant News. Make the wise choice and learn more about this piping…
100k Minimum Cash Required
Mama's Meatball is an exciting opportunity for those looking to break into the food industry through authentic, Italian cuisine. Their family-oriented restaurants paired with unbeatable hospitality makes Mama's…
200k Minimum Cash Required
With a nationally recognized brand, comprehensive training, ongoing support and a product that is loved by people of all ages, it's easy to see why owning a Bruster's Real Ice Cream franchise can be the best…
100k Minimum Cash Required
Rocky Mountain Chocolate Factory is a unique candy shop franchise opportunity, because at RMCF, it's always been about more than just chocolate, it's about the EXPERIENCE. We value our guests and the best way we do…
70k Minimum Cash Required
Are you passionate about owning your own business? Are you interested in giving people the choice to eat healthy? If the answer is yes, then you have found the right partner to build you a successful healthy vending business.…
30k Minimum Cash Required
At the heart of every Beef franchise is a commitment to the community, a commitment that sets our franchise apart from other models. From local little leagues to adult recreational leagues, Beef 'O' Brady's is…
250k Minimum Cash Required
A West Coast originalTogos offers big, fresh, meaty sandwiches and one-on-one service. We look for people who will be involved in the business, managing their restaurant or providing oversight for restaurant managers to…
150k Minimum Cash Required
Cru Hemp Lounge is the ultimate lifestyle lounge. Over ten years in business and rapidly expanding in markets all over the United States
80k Minimum Cash Required
Graze Craze Charcuterie Boards and Boxes believes in offering healthier food options for take-out, delivery or catering - all with eco-friendly packaging. Beautifully displayed meats and cheeses are sourced from all over the…
50k Minimum Cash Required