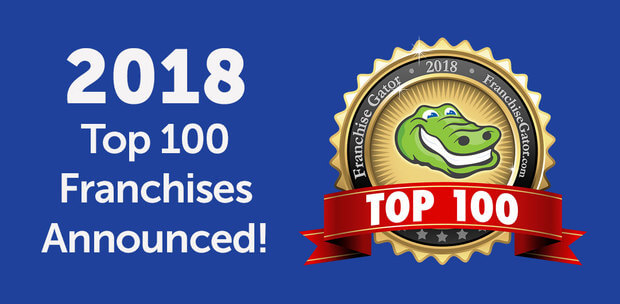 ROSWELL, GA – January 29, 2018 – Franchise Gator announced the release of its annual Top 100 list which ranks the top expanding franchise systems considered to be a solid investment for those looking to buy a franchise. Mathnasium ranks #1 overall in 2018, the first time it has held that spot in the list's 5 year history.
Franchise Gator has been assisting potential business owners in exploring franchise opportunities since 2002. The Top 100 list was created to offer yet another tool to assist in sorting through the hundreds of opportunities available to explore.
The Top 100 list is generated from a review of hundreds of Franchise Disclosure Documents and a formula developed with the assistance of Rick Bisio, author of The Educated Franchisee.
"In our research we identified company traits that prospective franchisees should look for if they seek to minimize risk when exploring franchise opportunities," said Eric Bell, General Manager at Franchise Gator. "With this data we decided that we were going to evaluate opportunities that generally fell in the investment range that is fitting of most Franchise Gator visitors . We have been compiling the Top 100 for 5 years now, and each year it continues to be leaned on by our audience. We're very proud of that."
The rest of the top 10 consists of 2) FASTSIGNS, 3) Checkers Drive-In Restaurants, 4) BrightStar Franchising, 5) Sport Clips, 6) Tropical Smoothie Cafe, 7) MaidPro, 8) Zoup!, 9) Marco's Pizza, and 10) Wild Birds Unlimited.
'The goal of the Top 100 list is to bring attention to these thriving but lesser-known opportunities to hopefully make franchise ownership possible for a larger population who may not have previously thought it was feasible.'
The complete list of Top 100 franchises for 2017 can be viewed here.
About Franchise Gator
Franchise Gator, a unit of Landmark Interactive, a division of Dominion Enterprises, is the leading destination for those seeking to invest in a franchise opportunity. Since 2002 Franchise Gator and its network of sites have offered information on hundreds of business and franchise opportunities available in more than 100 industries. Franchise Gator provides franchisors with a quality, cost-effective mode of franchise marketing.
---