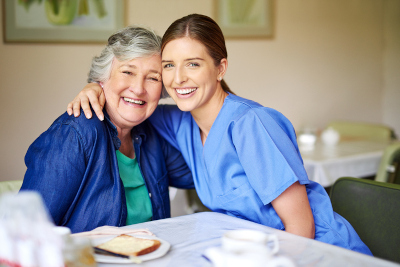 California, known for its stunning landscapes, diverse communities, and a bustling economy, isn't just a land of opportunity for tech giants; it's also a promising frontier for healthcare and senior care franchising. 
In this blog post, we'll delve into the world of senior care franchising in the Golden State, shedding light on the factors that make it a prime destination for potential franchisees. Whether you're an experienced entrepreneur or new to franchising, California's senior care market offers a vibrant and dynamic landscape worth exploring.
Market Dynamics
California's senior care market is vast and varied, reflecting the state's diverse demographics. With 5,900 senior care facilities and an average time on page of 1 minute and 14 seconds on our website's Healthcare and Senior Care pages, it's evident that the demand is substantial. 
However, the 100% bounce rate may suggest that although there's interest, potential franchisees may need additional incentives to take the next step. This paints a picture of a lively market that requires franchisees to act swiftly to establish their foothold while there is space still available.
California's Unique Appeal
California's allure extends beyond its sunny climate. The state's cultural richness, ethnic diversity, and urban landscapes create a unique senior care market. Franchisees have the opportunity to tailor their services to a wide-ranging clientele with varying cultural backgrounds and preferences, offering a chance to provide truly personalized care.
Opportunities and Challenges
The sheer size of California's senior care market provides ample opportunities for potential franchisees. "California's senior population is entering a period of rapid growth. By 2030, as the Baby Boom generation reaches retirement age, the over-65 population will grow by four million people." 
However, the state's market competition means that differentiation is essential. Franchisees can stand out by offering specialized care services, embracing technology for efficiency, and actively participating in local communities to establish strong connections.
Establishing Your Franchise in California
Launching a senior care franchise in California requires a strategic approach. Location is a key factor, and selecting areas with higher concentrations of seniors can be advantageous. Additionally, building strong partnerships with local healthcare providers, senior centers, and community organizations can help establish a robust presence.
Franchise Opportunity
Visiting Angels Living Assistance Services, with its emphasis on personalized in-home care and a well-established reputation, may be an excellent choice for potential franchisees in California. Its commitment to matching caregivers with clients' specific needs aligns with the diverse preferences and requirements of California's senior population, making it a rewarding franchise option in the Golden State.
Conclusion
California's healthcare and senior care franchising sector offer a mix of opportunities and challenges. While competition is fierce, the demand for quality care remains substantial. As you contemplate entering this dynamic market, understanding the unique dynamics of California's senior care landscape can be the key to success. Acting swiftly, innovating, and fostering connections within the community can pave the way for a thriving franchise in the Golden State.
---