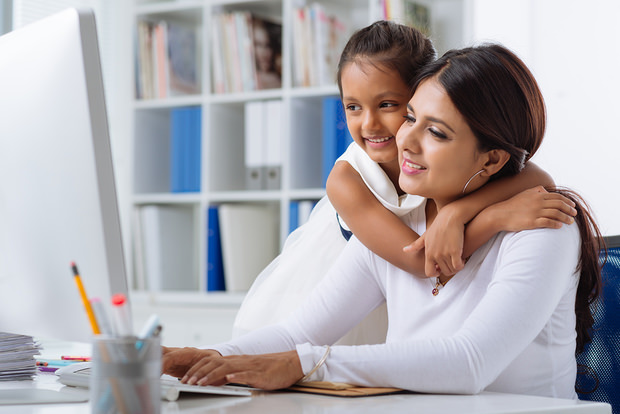 When parents consider becoming franchisees, they may want to combine work with raising their kids to benefit both the franchise and the children. Instead of dad owning a franchise and spending most of his time at work, he may want to involve the whole family in the franchise and may choose a franchise that will meet the particular needs of the family.
Some franchisees who are parents want to balance work and home life.
A growing flexibility is needed by parent franchisees as they seek to be an active part of both their business and their home. In looking for a franchise that will meet their needs, there are some that will fit the bill better than others.
Flexibility is a Top Need
Parenthood requires a lot of time and energy. In today's world, most families have two working parents, both of whom must split the duties of parenthood and balance them with their need to work and support the family. Between kids getting sick, school functions that parents are expected to attend, and driving kids to activities like sports and extra classes, a flexible schedule is a top need of parents who are franchisees.
Franchises that offer services like tutoring, music lessons, or interior decorating can offer flexibility in the form of being able to set your appointment schedule, which can help when you need to go to parent teacher conferences or drive carpool to karate class. A flexible franchise is most likely to work for parents who want to balance the needs of work and home.
Work Location and Environment
Increasingly, franchises can offer parents the ability to work from home some or all of the time, which can help them spend more time with their kids and even keep young kids out of day care. Although working at home requires firm boundaries and the ability to juggle multiple priorities, for some families it is a good alternative to being separated from their kids for long periods of time while they work.
Franchises such as tax preparation, financial services, web design, or child care may offer the scheduling opportunities busy parents need. Sometimes franchises can be partly home-based with some client meetings being held at the office or in their homes.
A third option for balancing work and child rearing is a flexible workplace where children can be present at least some of the time. Growing up in a positive business environment can be a positive for kids' development and teach them many skills they can use as they get older, as long as their other needs are being met.
Leaving a Legacy
Many franchisees now look at franchising in a similar way to starting their own business, and parents may look at it as starting a family business that they can later pass on to their children when they are old enough.
Finding tasks children can do to help the franchise run may begin to prepare them for a future of running the franchise, as well as give them some structured activities to do and a little pocket money. Building a sense of teamwork is important for family bonding and a family-oriented franchise is one way to accomplish this while modeling the skills they will need later in life.
Franchise Gator offers thousands of franchise opportunities including many for parents who have unique needs.
---