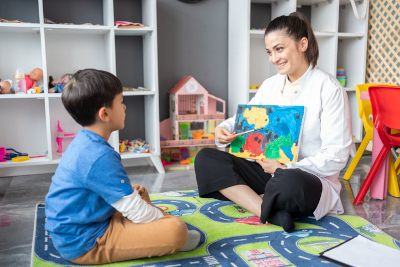 In the realm where innovation intertwines with imagination, children's franchises stand as portals to entrepreneurial success and transformative change. Now, envision this realm flourishing against the vast tapestry of the Texan landscape—a canvas of boundless dreams. This article embarks on an odyssey into the universe of children's franchising, unearthing the captivating synergy between the spirit of Texas and the ambitions of franchise visionaries. Amidst these horizons, a fertile ground emerges, ripe for cultivating thriving and influential franchise endeavors.
A Tapestry of Possibility: Texas's Role in Fostering Franchise Success
Within the sprawling horizons, diverse communities and spirited culture of Texas lies an untamed frontier for businesses to prosper. A state celebrated for its rich heritage, Texas serves as the perfect backdrop for children's franchises to resonate with a diverse array of young minds. From inventive programs that honor local traditions to entertainment experiences that encapsulate the essence of the state, franchises find fertile ground in Texas's dynamic foundation. Here, a franchise morphs into more than a venture—it becomes a conduit for enriching young lives and embracing cultural diversity.
Navigating the Children's Franchise Terrain amidst Texan Horizons
The children's franchise landscape spans an array of industries, from education to entertainment. Texas's expansive canvas and vibrant communities provide fertile soil for franchises targeting families in search of quality experiences for their children. From imaginative after-school initiatives that mirror Texan creativity to fitness ventures that align with the state's active spirit, innovation thrives. In this dynamic environment, children's franchises flourish, reshaping childhood experiences and seamlessly integrating into the fabric of the state.
Within the dynamic landscape of economic progress, Texas shines as a beacon of strength, consistently at the forefront of a nationwide resurgence. Its robust economy sets a standard that reverberates across the nation. "Texas continues to lead the nation in an economic resurgence and remains one of the strongest and most diverse economies in the nation." According to the U.S. Bureau of Economic Analysis, "Texas had the fastest GDP growth in the U.S. for the first quarter of 2023 with a 3% growth rate, growing faster than the nation as a whole for the fourth quarter in a row." 
Empirical Insights: Illuminating Franchise Avenues
The state of Texas, marked by its varied demographics and expansive geographical expanse, displays substantial enthusiasm for children's franchises. Interestingly, Texas presents an intriguing scenario with a relatively higher bounce rate and a lower average time spent on our Children's pages, potentially indicating an untapped avenue where prospective franchisees might be hesitating in their journey. This could potentially signal a less saturated market environment, offering an opportune moment for franchisees to make their mark before the tides of the landscape change. The dynamic landscape of Texas calls for strategic actions to fully harness the potential of its nearly 30 million-strong population, making it a compelling destination for ambitious franchisees ready to make their mark.
Texan Advantage: Elevating Children's Franchises
Children's franchises offer a distinctive proposition within the franchise sphere, tapping into parents' aspirations to provide enriching experiences while capitalizing on established business models and recognized branding. This allure takes on new dimensions in Texas, a state known for its welcoming hospitality, economic vitality and cultural richness. The fusion of Texan values and the appeal of children's ventures create an environment ripe for growth and expansion.
Success Stories:
Amidst the Texan landscape brimming with franchise prospects, Celebree School emerges as a beacon of promise, offering a well-established business model that resonates deeply with the Lone Star State's values. With a history of success and a commitment to holistic child development, Celebree School aligns seamlessly with Texas's emphasis on quality education and nurturing environments. As an acclaimed franchise, Celebree School encapsulates the essence of childhood education while delivering a proven model that franchisees can confidently embrace. In a state where excellence in education is paramount, and where communities seek enriching experiences for their children, Celebree School stands as a testament to the Texan advantage—bridging entrepreneurial ambition with the commitment to shaping future generations.
As the demand for specialized children's grooming experiences continues to rise, an exciting franchise opportunity emerges—Snip-its Hair Cuts For Kids. With a dynamic and child-centric approach to grooming, Snip-its stands at the forefront of this trend, offering a vibrant platform for franchisees to embrace. Amidst a landscape where families seek exceptional experiences for their children, Snip-its takes center stage, inviting entrepreneurs to be part of its growing success story. By joining the Snip-its family, aspiring franchise owners not only step into a tried and true business model but also position themselves to ride the wave of opportunity, shaping the landscape of children's grooming experiences across the Lone Star State.
Seizing the Frontier: Propelling Franchise Visions in Texas
As our expedition reaches its end, the resonance between Texas and children's franchises becomes pronounced—an invitation to forge lasting impact. The blend of cultural heritage, Texan vitality and an unwavering commitment to education positions the state as a nurturing ground for children's franchises to flourish. The time is ripe to shape the narrative of childhood experiences, education and entertainment. Seize this pivotal moment; amidst Texas's sprawling vistas, your franchise dream will take flight, soaring to unprecedented heights and leaving an indelible mark on young lives, perpetuating significance for generations to come.
---