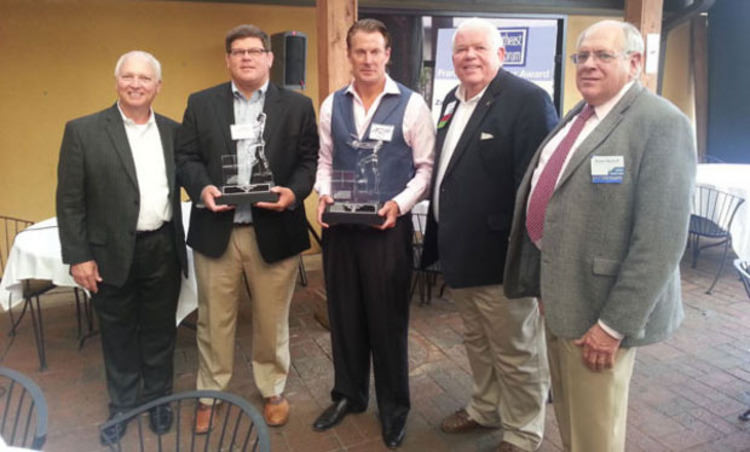 Franchise Gator was proud to sponsor a recent event hosted by the Southeast Franchise Forum's (SEFF) Supplier Advisory Council, where Zaxby's founds and childhood friends Zach McLeroy and Tony Townley received the 2014 Franchise Founders Award. The award "was established to recognize individuals who have made significant contributions to the franchise community in the Southeast", according to the SEFF website.
McLeroy and Townley conceptualized Zaxby's in the 90's while playing backyard basketball. While neither had significant restaurant experience at the time, they nonetheless have grown the chain to over 600 units in 15 states.
The event was held at the 5 Seasons Brewery in Sandy Springs. "It was an honor for the Supplier Advisory Council to host the inaugural Franchise Founder Award sponsored by the Southeast Franchise Forum," said Dexter Manning, Partner at Grant Thornton, LLP. "The Southeast consistently leads the way for franchising in large part due the leadership of the franchise community and the support of dynamic franchise suppliers. Our Franchise Founder Award recipients exemplify the best attributes of franchising."
"We are proud to be a part of this event," added Eric Bell, General Manager at Franchise Gator. "Zaxby's is an exemplary brand in the Southeast, and Zach McLeroy and Tony Townley couldn't be more deserving of the inaugural award."
---
About the author:
Stephan Baldwin received his B.A. from Lock Haven University of Pennsylvania in Interactive Design. He went on to start Traffic Media, a successful online consulting firm specializing in website design and marketing for real estate professionals in South Florida. Looking for a change in scenery, Stephan accepted the position of Marketing Director with Franchise Gator and moved to Atlanta where he currently resides. Stephan brings over 10 years of experience in UI design, SEM, SEO, email & affiliate marketing to Franchise Gator.
---