The initial startup expenses for a clothing store franchise typically range from $100,000 to $500,000. This amount covers items like the franchise fee, royalty fees, inventory, supplies, and store space—all the essentials to get your fashionable venture up and running!
Whether you're eyeing cozy boutiques brimming with personality or retail franchises you can run from home, keep reading this handy guide to retail franchising finances. We'll cover how clothing franchises work, how to fund your clothing franchise dream, and how profitable this venture can be.
What Is a Clothing Franchise?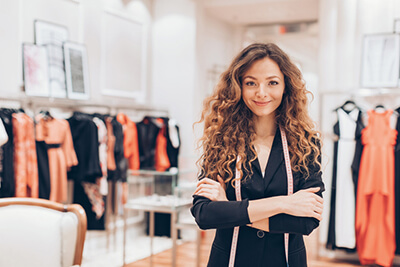 A clothing franchise is a business model where an individual (the franchisee) buys the rights to operate a clothing store under an established brand (the franchisor). This setup means you get to leverage the popularity and reputation of an existing clothing brand, which can be a significant advantage.
The cool thing about a clothing franchise is that you get to ride on the wave of an already famous clothing brand. Once you become part of the franchise, you gain access to a well-structured and proven business model. You won't have to waste time and effort figuring out the nitty-gritty details of running a clothing store—it's all laid out for you. The franchisor has already done the trial and error, so you can hit the ground running with a tried-and-tested approach to success.
Plus, the franchisor typically offers marketing support to help you promote your clothing store. They'll hook you up with marketing materials, strategies, and tips on how to attract your target audience and make those sales skyrocket. This assistance can be a game-changer for those who may not have a background in marketing or advertising, as it eases the burden of building brand awareness and attracting customers.
How to Get Money to Start a Clothing Business
Starting a clothing business is an exciting venture, but the question of funding can be a bit of a hurdle. Luckily, there are several options worth exploring:
Personal Savings: Many entrepreneurs dip into their personal savings to fund their clothing franchises. If you've been saving up for this venture, it can be a great way to avoid taking on debt or sharing ownership with others.
Bank Loans: Traditional bank loans are a tried-and-true method for financing a franchise. To increase your chances of approval, prepare a solid business plan and demonstrate your commitment to making the venture successful.
Franchisor Financing: Some clothing franchisors offer financing options to help potential franchisees. This financing can be in the form of loans or payment plans for the initial franchise fee.
Investors: If funding the franchise independently is not feasible, seeking investors who believe in your business idea can be a viable option. Convincing investors of your vision's potential is crucial to secure the necessary capital.
Small Business Administration (SBA) Loans: The SBA offers loans specifically designed to support small businesses, including franchises. These loans often come with favorable terms and interest rates.
Crowdfunding: In the digital age, crowdfunding platforms are great for those wondering how to start a clothing store with no money. Create a compelling campaign to showcase your brand and attract backers who are excited about your vision. You can do this by highlighting the community impact of your franchise or offering rewards to backers at various contribution levels, like limited-edition merchandise or a store discount.
No matter which funding route you choose, remember that careful financial planning is vital. Take the time to create a detailed budget, including all the startup costs, ongoing expenses, and a buffer for unexpected challenges.
Now for perhaps the most important question: do clothing stores make good money?
Is It Profitable to Own a Clothing Store?
Whether or not a clothing store is profitable depends on various factors, including your location, target market, competition, and management skills. While there are no guarantees in business, a clothing franchise with a strong brand and a proven track record can give you a competitive edge. Here are some other factors that can influence the profitability of your clothing franchise:
Brand Recognition: Joining a well-established clothing franchise means you're already ahead in terms of brand recognition. One study even notes that 46% of consumers would pay more for a brand name they know and trust.
Location: The importance of a prime location cannot be overstated. A well-placed store in a high-traffic area can significantly impact sales.
Target Market: Understanding your target market is incredibly important. Shopify even points out that catering to a niche provides a competitive advantage by allowing you to focus on a specific part of the market versus competing with established players in a crowded product category.
Marketing and Customer Service: Effective marketing strategies and excellent customer service can boost customer loyalty and drive repeat business.
Inventory Management: Properly managing your inventory is incredibly important to make sure you don't end up with a ton of stuff you can't sell or, on the other hand, run out of the stuff that everyone loves and wants to buy.
E-commerce Presence: If you're wondering, "How profitable are online clothing stores?" the answer looks promising. According to Statista, the online fashion retail industry has the potential to generate sales exceeding $300 billion in the coming years. By having an online presence for your clothing franchise, you can take advantage of this growing market and expand your reach.
So while starting a clothing franchise involves significant financial considerations, owning a clothing store can indeed be profitable and personally rewarding. Before taking the plunge, consider using the Franchise Gator directory to learn more about all the clothing franchises out there.
Find Your Perfect Fit Today With Franchise Gator
Within the Franchise Gator directory, you'll find detailed information about each franchise, including startup costs, ongoing fees, support offered by the franchisors, and success stories from existing franchisees. Armed with this valuable data, you can make informed decisions and choose the clothing franchise that suits your passion and financial goals. Start browsing today and get one step closer to being your own boss!
---