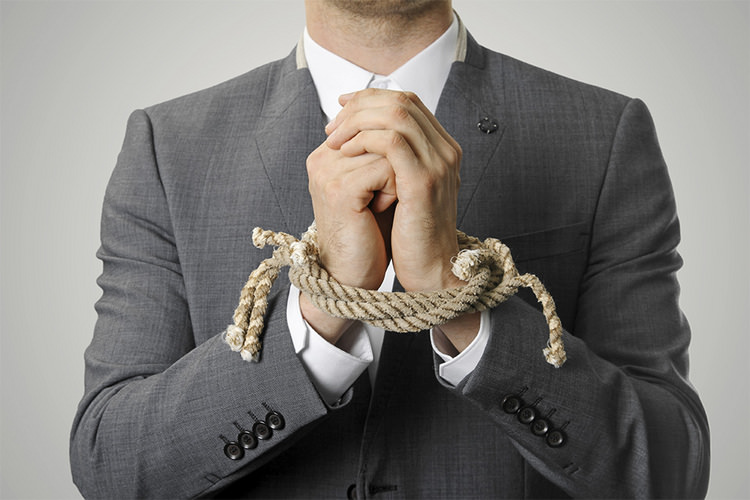 You've probably heard this a thousand times: "Go to school, get an education, find a job, show up on time, put in your 40 hours each week, and you'll secure a good retirement for yourself".
We were led to believe a myth – to expect 3%-5% annual wage increases, some form of job security from employers, a nice pension, and probably a few promotions and a title change or two along the way. But today's economy doesn't even come close; we have instead become modern day slaves.
A Slave to the Paycheck
Most professionals put in far more than 40 hours a week. Today, being 'salaried' simply means you don't get paid for overtime. In our connected world, we're tethered to our phones – always an email or phone call away! With the 'streamlining' of America these days, one position is now responsible for the output of 4 workers. While America has always been a leader in productivity, we're now taking that to the extreme next level. With children, a mortgage, and car payments, many workers cannot survive without a regular paycheck. These employees dare not object to the added responsibility or that extra assignment which will cut into their already-dwindling family time and rest.
Despite steady job growth, wage growth hasn't kept up the pace, remaining instead at historically low levels according to a research study conducted by CNN Money. Fed Chair Janet Yellen cited stagnant wage growth as a sign of continued problems in the labor market. Fear currently drives employment, and unfortunately, employers use the ability to easily replace a worker to secure more productivity at historically lower rates of compensation. According to Right Management, a Business Management Consultancy in Florida, the average manager or senior-level employee only retain their job for a mere 3.7 years.
And yet, most readers will still wake up early every day, tackle a hideous commute to the office and repeat – day in, day out – hoping that one day they will have enough money in their nest egg to retire.
Break Free and Become Your Own Master
But it doesn't have to be like this. In fact, for many entrepreneurs, life is what they make of it. Yes, they have taken risks and most would say that they actually work longer hours. Yet if you ask most successful, self-employed professionals if they wanted to go back to 'employment', most would laugh at you and politely decline.
Many entrepreneurs have hedged their risks by investing in a franchise business. The franchise model isn't for everyone, but in most cases it does provide today's entrepreneur a proven business model that can smooth out some rough entrepreneurial edges. For instance:
Not a whiz at marketing and advertising? Most franchising models come complete with a proven promotional plan.
Not comfortable selling? Some franchises don't require proactive sales skills.
Not sure about the best location for a store? Quality franchisors will assist you in this area.
Don't want to give up to position as a slave in corporate America? Some franchise formats allow you to run the business through managers.
In short, franchising is much broader and flexible than most people understand. If you want to own your own business and you are willing to follow a proven system, franchising can be predictable way to transition from employee to owner. A franchise coach can help you identify and research alternatives to traditional employment. Done correctly, you will evolve your thinking and eventually you will begin to make money the old fashion way – having other people make it for you. Once you learn this skill, you too can free yourself from the ongoing bondage of paycheck slavery.
---
About the author:
With over 2 decades in franchising as a franchise company executive, franchisee and senior franchise coach, Rick Bisio is a best-selling author and speaker on the subject of franchising.  Mr. Bisio has established himself as a franchise coach/consultant to individuals who are considering purchasing a franchise.  To learn more, go to www.afranchisecoach.com or purchase his book – The Educated Franchisee or The Franchise Workbook
The Educated Franchisee project is dedicated to franchise education through the sharing of franchise information and strives "To create educated franchise buyers that have clearly defined objectives and are able to recognize the right, or wrong, franchise when they see it." To get more franchise information visit any of our websites including, www.educatedfranchisee.com, www.fddexchange.com, www.franchiseglossary.com, www.afranchisecoach.com, or contact us at rbisio@educatedfranchisee.com.
---