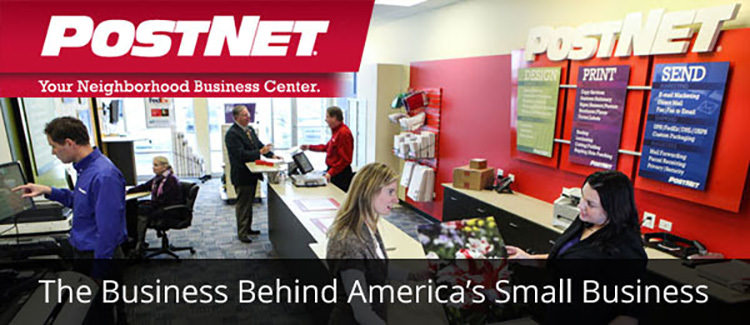 Entrepreneur magazine includes the premier B2B franchise on annual list that measures franchise systems poised for growth
The results are in. Entrepreneur recently published its prestigious "Franchise 500" list of the top franchise opportunities, and PostNet is on it for the 23rd consecutive year.
The Franchise 500 list is the most comprehensive franchise ranking system. Nearly 1,000 brands registered for ranking in 2016, and of those, only 500 brands were determined to be in the top tier. Entrepreneur compiles a massive amount of data to determine which brands make the cut, which becomes significant when considering that the metrics used to winnow the list are those that determine which brands have staying power and proven business models and are poised for nationwide growth:
"All companies are judged by the same criteria: objective, quantifiable measures of a franchise operation," Entrepreneur states. "The most important factors include financial strength and stability, growth rate and size of the system. We also consider the number of years a company has been in business and the length of time it's been franchising, startup costs, litigation, percentage of terminations and whether the company provides financing. Financial data is analyzed by an independent CPA."
Click here to learn more about the PostNet franchise opportunity.
Entrepreneur's inclusion of PostNet for the 23rd consecutive year is especially significant; PostNet has been named a top franchise opportunity for every single year that PostNet has been in business.
"We're very honored to have been named a Top Franchise Opportunity byEntrepreneur," says Steve Greenbaum, CEO and co-founder of PostNet. "The role of a franchisor comes with significant responsibility. People come into this organization every day from around the world. Our job is to help them be successful and ensure that their experience and relationships with the PostNet franchise family add value on all levels. As co-founder and CEO and the person who drives the strategic vision, making sure that our franchisees succeed is of paramount importance to me. Our franchisees invest real money, real heart and real soul — some of them leave careers — in the desire to improve their lives. We truly care about everyone and everything the PostNet brand touches."
Click here to learn more about PostNet's proven business model.
What makes PostNet a Top Franchise Opportunity?
The demand for new PostNet locations is bigger than ever before; economic trends show that entrepreneurs and independent contractors are on the rise in the American economy. There are 27.9 million small businesses in the U.S., and their spending is part of what generates the $380 billion annually that goes to printing, shipping and online marketing. PostNet is the only brand capable of serving those millions of small business owners — providing them with the tools and expertise to compete for customers.
The full menu of services includes graphic design, full-service digital printing, direct mail, signage, document binding and finishing, and ancillary business services, like private mailbox rental and more. Unlike traditional postal and mailbox franchises, PostNet has strategic partnerships with all of the major logistics companies — UPS, FedEx, U.S. Postal Service and DHL — offering a multi-carrier selection coupled with in-center professional packaging services to meet the individual shipping needs of its customers. PostNet franchises have a physical storefront and an Online Print Center, offering customers the benefits of fast online transactions and traditional face-to-face service.
"At the end of the day, we are in business to help other businesses succeed," Steve says. "The reality is, most small business owners have a lot on their plate, and that's where we come in. Our franchisees provide a full range of back-office solutions — from design to distribution — that support their customers' business and marketing objectives."
Click here to learn more about the comprehensive solutions that PostNet franchisees provide.
PostNet continues to rapidly expand at home and abroad
As PostNet rapidly emerges as the frontrunner in the B2B franchise segment, the success of the business model has garnered acclaim and fostered worldwide expansion. One of the key metrics in determining Entrepreneur's Franchise 500 list is a brand's capacity for continued expansion. In 2016, PostNet continues to rapidly expand in 10 countries, but the premier B2B franchise continues to make waves in the U.S.
In 2015, PostNet opened 15 new locations across the country, including several in the bustling urban cities of Atlanta, Miami, Austin, Washington D.C., Dallas, Minneapolis and San Diego, and one on the West Virginia University campus, bringing the total number of U.S. locations to more than 260. The brand also expanded its network of international centers to nearly 400 locations.
With momentum behind the brand, PostNet is scheduled to open eight new centers in the first quarter of 2016, one of which will mark the brand's first location in the state of Connecticut. In 2016, PostNet will continue executing its strategic growth plan, with plans to expand the brand into untapped and existing markets both domestically and overseas.
"Our continued franchise growth in 2015 and impressive number of new centers scheduled to open in the first quarter of 2016 demonstrates the strong demand for our customized, business-enhancing services," Steve says. "Innovation has, and will always, drive our company strategy, making us well-positioned to develop products and services that meet the changing needs of consumers and businesses. We will be growing for years to come."
To learn more about the momentum behind the PostNet shipping franchise, click here to read a recent, in-depth interview with Steve Greenbaum.
Learn more about starting a PostNet Franchise
Ready to learn more about PostNet franchise opportunities? You can read interviews with PostNet franchise owners on our blog and learn more about our business model by reading over our research pages. To request even more information, download our free franchise report. The Report Includes:
Franchisee reviews of PostNet
Information about PostNet's competitive advantages
Item 7 of our Franchise Disclosure Document, outlining our startup costs
PostNet management team bios
Available territories and our target growth markets
We'll email you a report and follow up with a short conversation to answer any questions you have. Thank you in advance for your interest in owning a PostNet franchise!
Download the report here:
http://postnet.com/request-
franchise-information/
For detailed information, contact:
PostNet Development
(800) 841-7171
---