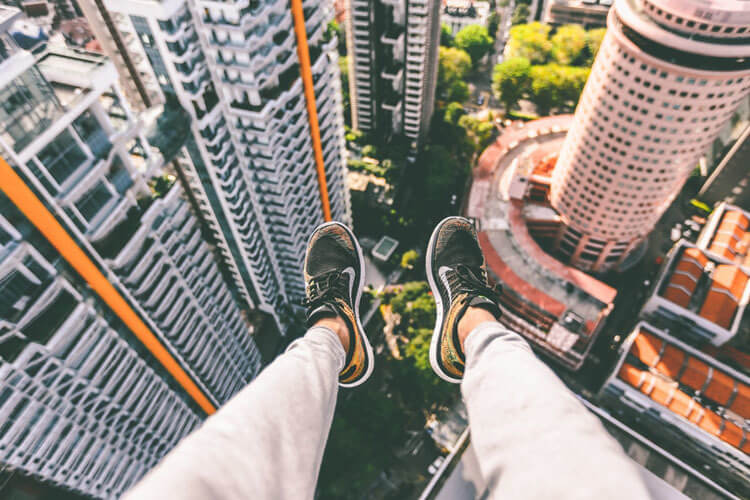 Oh…fear. It is true. Fear, anxiety and the unknown stops all of us sometimes. But properly
harnessed, fear can also motivate us. You need to learn how to leverage fear.
How do you use fear? Get educated.
Fear is driven by the unknown,
so change the unknown into a known. Know
the risks. What's the worst that could
happen? Can you live with that? What happens if you choose to do
nothing? Can you live with that?
Starting any business involves risk and with risk comes fear. But joining a high quality, proven franchise system is inherently less risky than going out on your own. This article will arm you with the information to move beyond your fear and realize your dream to be our own boss!
Let's use diving as an example. Imagine you've never been to a pool with a diving board but one day you ride your bike to the new pool and there it is…the high dive. But, the pool is closed. So all you can do is stare at the diving board and wonder 'Why on earth would anyone jump off that thing and if they did, would they survive? For one hour, you stare at the board and wonder. Are you now more afraid or less afraid? Most of us are now MORE afraid. We've have engaged our imagination and thought about all the things that could happen without gaining any knowledge about what might really happen.
Now several people arrive at the pool. You watch and the first thing they do is head to the top of the diving board and jump off laughing. They seem to be enjoying is and do it over and over again, safely. You then interview them to confirm what you are seeing and gain advice about how to do it right. There's a lifeguard there and he tells you of very few people getting hurt and the likelihood of success is very high.You take a class on how to jump off the high dive. Feeling better? Of course, knowledge is power. You are still scared because you have not do it yet, but you are feeling better and should you jump off the high dive, you are more likely to jump correctly.
Take it one step farther… you have now done the jump 20 times. Do you have more or less fear the 21st time? That's right you barely remember being afraid, you know have knowledge and experience. Now you are laughing and enjoying it.
Many people believe successful people are driven by an overwhelming need to succeed. However most people succeed out of sheer desire not to fail! Successful people work hard every day to make sure they are doing the right things to … NOT FAIL. Fear is one of the most powerful and basic emotions we have. Properly harnessed, fear can be a power motivator of success.
An increase in knowledge will decrease fear and increase the probability of success. As a franchise coach I would suggest you ask yourself a simple question– 'What would I do if I wasn't afraid?' What a powerful question. Ask yourself this question one day and you might be amazed at the answer!
This series will help you get that knowledge on franchising and how to pick a winning franchise for you – one you will be passionate about and find success with at the same time.
---
About the author:
With over 2 decades in franchising as a franchise company executive, franchisee and senior franchise coach, Rick Bisio is a best-selling author and speaker on the subject of franchising.  Mr. Bisio has established himself as a franchise coach/consultant to individuals who are considering purchasing a franchise.  To learn more, go to www.afranchisecoach.com or purchase his book – The Educated Franchisee or The Franchise Workbook
The Educated Franchisee project is dedicated to franchise education through the sharing of franchise information and strives "To create educated franchise buyers that have clearly defined objectives and are able to recognize the right, or wrong, franchise when they see it." To get more franchise information visit any of our websites including, www.educatedfranchisee.com, www.fddexchange.com, www.franchiseglossary.com, www.afranchisecoach.com, or contact us at rbisio@educatedfranchisee.com.
---