The business of cleaning and maintenance is one that transcends seasonal trends and economic shifts. After all, cleanliness and upkeep are non-negotiables in both residential and commercial settings. Aspiring entrepreneurs may find that this industry offers a stable and rewarding business venture. But where should one consider setting up shop? Enter New York—a state that stands out for its highly engaged and ready-to-act market.
New York's Unique Franchise Landscape
When we talk about franchise opportunities in New York, we're talking about a market that sets itself apart in remarkable ways. On our website's Cleaning and Maintenance category pages, the state has recorded a zero percent bounce rate and an average time spent on page of 2 minutes and 1 second—the highest of any state. These metrics indicate an audience that is not just casually interested but is deeply engaged and committed to exploring opportunities in cleaning and maintenance franchising. Act fast—these eye-popping metrics suggest that opportunities in this hot market may not last long!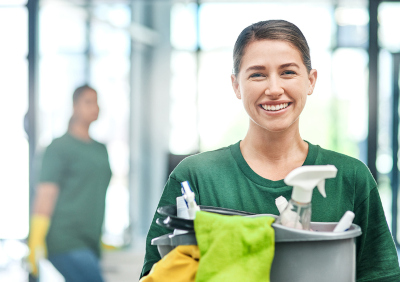 Why New York is the Ideal State
New York offers a unique combination of densely populated urban areas and sprawling suburban communities, each with its own set of cleaning and maintenance needs. The high level of engagement suggests a market that is ripe for new and innovative cleaning and maintenance services. From office buildings in Manhattan requiring daily janitorial services to suburban homes in need of seasonal deep cleaning, the opportunities are abundant.
Commercial vs. Consumer Cleaning
New York is a hub for businesses, ranging from small start-ups to multinational corporations. These organizations require regular and specialized cleaning services to maintain a professional work environment. On the consumer side, New York's diverse residential landscape—from compact apartments in Manhattan to spacious suburban homes—offers its own set of opportunities.
"A commercial cleaning business handles spaces like offices, hospitals, schools, retail storefronts and other large spaces where businesses operate. This service is basically providing janitors to large businesses that need to keep everything clean and in order so people can move through the spaces easily. Consumer cleaning entails working in people's homes or residential spaces. You'll likely get more direction from your client because it's their personal space, and they might even have different specifications week by week."
Given the diversity and engagement level of the New York market, entrepreneurs have the flexibility to consider offering both commercial and consumer cleaning services. Whether you specialize in one or decide to offer a broader range of services, the New York market is primed for new entrants in both segments.
Key Advantages of Starting Your Franchise in New York
Diverse Needs: New York's varied landscape and building types offer a wide range of niche markets to serve.
Quick Market Entry: The high level of interest and readiness to act can lead to a faster transition from franchise acquisition to operational profitability.
Franchise Opportunity: The Maids is a franchise that has gained recognition for its high-quality cleaning services, making it a fitting choice for New York's engaged and fast-paced market.
Conclusion: Seize the New York Opportunity
The cleaning and maintenance franchise market in New York isn't just heating up—it's sizzling. With unmatched levels of engagement and a diverse range of potential clientele, now is the ideal time for entrepreneurs to take action. If you've ever considered entering the world of cleaning and maintenance franchising, there's no better place to start than New York.
---