Are you a fashion enthusiast who is looking for a dynamic career? You may be interested in becoming the owner of a clothing retail franchise! As a franchisee, you'll jump into a dynamic industry where you can craft an immersive experience with visual merchandise and personalized service. You'll get to witness customers' confidence soar as they find that perfect denim jacket for their next concert experience or a power suit for an important business meeting. Of course, before you get started, there's a lot to learn! We've got you covered with this brief intro to retail franchises. Let's get started!
Can a Clothing Brand Be a Franchise?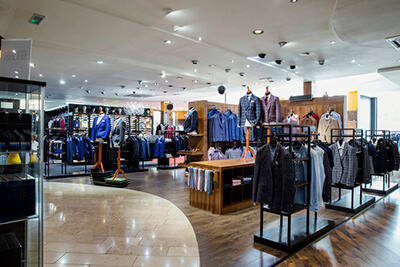 Yes, a clothing brand can be turned into a franchise. In fact, many successful clothing brands have chosen to expand their business using this model. Franchising allows clothing brands to rapidly expand their presence in different locations without bearing the brunt of the financial and operational responsibilities. It also allows business-minded folks the opportunity to tap into a well-established brand and business framework, increasing their chances of success compared to starting a brand-new clothing store from scratch.
What Is a Clothing Franchise?
A clothing franchise is a business model where successful clothing brands grant the rights to independent operators (like you!) to run their own branch of the brand's store. Think of it as a partnership—the clothing brand provides you with their established name, a proven business strategy, and trendy threads that everyone is clamoring for. It's a win-win: you get to run your own fashion hotspot while benefiting from the brand's reputation and resources.
Clothing franchises come in all shapes and sizes, from high-end designer boutiques to budget-friendly fast fashion havens. So, whether you dream of dressing people in sophisticated suits or comfortable casuals, there's likely a clothing franchise out there that aligns with your fashion vision. If you're ready to step into the exciting world of retail with a proven playbook and a recognizable brand by your side, a clothing franchise may be the right fit for you.
How Much Does a Clothing Store Franchise Cost?
The cost of a clothing store franchise varies widely depending on several factors, including the brand, location, size of the store, and the level of support offered by the franchisor. Franchise fees can range from a few thousand dollars to several hundred thousand dollars (or more!). All of these details will be outlined in your franchise agreement. In general, the types of costs you may encounter when starting and running a clothing store franchise are:
Initial Franchise Fee
This is the upfront fee you pay to the franchisor for the right to use their brand, business model, and/or receive training and support.
Build-Out and Inventory
You may need to design, construct, and outfit the physical store space. Once your space is ready, next you need to stock your store with clothing and accessories. The cost will depend on the type of clothing you plan to sell and the size of your inventory.
Operational Expenses
This includes ongoing costs like rent, utilities, employee salaries, marketing, and insurance.
Royalty Fees
Most franchisors require franchisees to pay royalty fees based on a percentage of their sales. Be sure to consult the Franchise Disclosure Document to see what the fee structure is and how much you'll be required to pay.
It's important to note that these are general categories, and the actual costs can vary significantly depending on the specific franchise you are interested in.
What Is an Example of a Clothing Franchise?
You may be familiar with the clothing franchise Plato's Closet. This popular retail-resale franchise is a hot spot for teens and young adults to find new-to-you styles at a discounted price. The store works with a "buy-sell-trade" model, first purchasing gently used clothing, shoes, and accessories from customers. Then, customers can browse through the store's selection and purchase pre-owned items at significantly lower prices than buying new. In addition to buying and selling, Plato's Closet also allows customers to trade in their gently used items for store credit, which they can use towards purchasing other items in the store.
If you're interested in this franchise concept, you'll need to have a liquid capital of $142,210- $293,630 to get started. Find more information about this opportunity on FranchiseGator.com!
Which Clothing Brands Are Available to Franchise?
There are many clothing brands available to franchise, ranging from sports apparel to children's clothing and more. One popular category, due to the market size, is women's clothing franchise opportunities. At FranchiseGator.com, you'll find unique women's clothing franchises like:
Where Can I Find the Best Clothing Franchises? FranchiseGator.com!
At FranchiseGator.com, you'll find a centralized hub for exploring fashion franchise opportunities, comparing costs, and understanding business models. You'll be able to access comprehensive information and make informed decisions, making your journey towards becoming a fabulous fashionista franchisee a breeze! Get started today!
---