Russo's New York Pizzeria & Italian Kitchen
Russo's New York Pizzeria & Italian Kitchen is leading the industry with fresh, high-quality gourmet New York style pizzas and authentic Italian food. Our chef-inspired concept, founded by Chef Anthony Russo, incorporates 100-year-old Italian family recipes. Russo's Restaurants is a national and international franchisor of the casual dining brand Russo's New York Pizzeria & Italian Kitchen. Based in Houston, Russo's Restaurants is composed of a mix of corporate and franchised locations across Texas, Oklahoma, California, and Florida. Russo's has entered international markets as well, with locations in Dubai, Abu Dhabi and Sharjah, in the United Arab Emirates.
What Does a
Russo's New York Pizzeria & Italian Kitchen

Franchise

Cost?

To buy a franchise with Russo's New York Pizzeria & Italian Kitchen, you'll need to have at least $300,000 in liquid capital and a minimum net worth of $750,000. Franchisees can expect to make a total investment of $450,000 - $950,000. Russo's New York Pizzeria & Italian Kitchen charges a franchise fee of $35,000. They also offer financing via 3rd party as well as a discount for veterans (10%). *
Requirements
Financial requirements for this
franchise

:
Options
Options available to
franchisees

:
| | |
| --- | --- |
| Financing: | Via 3rd party |
| Training: | Available |
| Veteran Discount: | 10% |
Franchisor Details
Facts about this
franchise

:
| | |
| --- | --- |
| Total Units: | 52 |
| Home Office: | Houston, TX |
| Year Founded: | 1992 |
| Franchising Since: | 1998 |
It all Started in the Russo Family Kitchen
The son of first-generation Italian immigrants, Chef Anthony Russo grew up in a New Jersey home where the kitchen was the center of family life. There was always cooking and baking at home, and many of the ingredients came from the family garden, just as his Grandpa and Nona Russo did back in Avellino, Italy. 
These experiences stuck with young Anthony long after his family moved to Galveston, Texas, in 1978. His father opened Russo's Italian Restaurant, which quickly became a local favorite. Just like that, Anthony found a second home in the restaurant kitchen. By the age of 12, he was learning family recipes from relatives who flew in from Naples and Sicily each summer. Making pizza and squachatta (calzones) became a passion.
Using the family recipe for hand-tossed dough, sauce made from fresh-crushed California vine-ripened tomatoes, and imported Italian cheese blends, Anthony became the sole owner and chef of his first restaurant Russo's Pizza in the early 80's. A few years later, he created Anthony's Pizzeria, located in Clear Lake, Texas, and with a move to Houston allowed him to grow his small family-style restaurant concept. 
---
Unique Menu Items
What's our secret? Simple. We use fresh, quality ingredients.
With quality sources from around the world, our recipes come from family kitchen traditions like getting fresh ingredients from the family garden, hand-tossing fresh made dough with all-natural flour, and creating made-from-scratch sauces just as Grandpa and Nonna Russo did back in Avellino, Italy.
That's what Russo's has been all about for more than 30 ye ars. Our family recipes, which are over 100 years old, with their custom blend of spices and proprietary ingredients, will leave your competitors far behind. 
Our mission is to serve fresh-to-order meals that reflect the integrity of our original family recipes—in a fast-casual environment. From fresh ingredients to authentic techniques, each Russo's franchise family will master the skills it takes to deliver a delicious, quality Italian meal for our guests—every time. "If it isn't fresh, don't serve it." -The Russo's Family Promise
---
Upscale Casual Pizza Franchise
Every Russo's answers the needs of its community. It becomes what it needs to become, depending on which services are most in demand — counter service, dine-in, delivery, takeout, and catering. Under your guidance and with our support, your business will reflect what your customers are all about, and will take shape around the neighborhood's particular demographic. 
Space ranging from 1,500 to 3,500 sq ft
Strip and lifestyle centers
Urban/downtown locations
Conversions of existing restaurants
Enclosed mall/food court locations
University or office locations
Airport or other non-traditional locations
Fast-Casual Dining
---
New York Style Pizza
Russo's New York Pizzeria & Italian Kitchen is designed for the lunch guest on-the-go, featuring fast-paced counter service and sit-down service, where a slice and salad can be delivered in under seven minutes. The menu features our award-winning pizza, with an ample selection of appetizers, salads, and pasta dishes for guests who prefer to dine-in.
Our overall approach is reminiscent of some of the first authentic pizzerias where everything was made from scratch with hand-picked ingredients, in a traditional Italian style.
Our flexible floor plan development, with an open kitchen concept, is set up to transition from counter to dine-in style service as needed. With an option for a craft beer & wine bar. Domestic Russo's New York Pizzeria & Italian Kitchens serve beer and wine as a complement to a menu mix that averages between 5 percent and 10 percent of total sales.
---
4 Revenue Opportunities
Growing the bottom line comes easy with our unique revenue formula. With decades of experience in the pizza and Italian food industry, we deliver an opportunity for higher-than-average ticket sales and lower food costs while maintaining higher margins. 
1. Dine-in
Our classic pizzeria & Italian kitchens allow guests to experience traditional atmospheres while enjoying fresh, made-to-order pizza, pasta, and salads.
2. Delivery
Home delivery is on the rise now more than ever. Our stores allow customers to call in or, increasingly, place their order online for delivery.
3. Take Out
Approximately 20%–45% of our customers prefer takeout, making this service the most popular and profitable, while offering the same quick convenience as delivery.
4. Catering
Large family is what we do best. Bringing our recipes to our guest's large or small event, whether corporate or private, allows us to bring a piece of our family to theirs.
---
Why Russo's?
What separates us from the other pizza chains? When you buy into our franchise, you're benefiting from decades of experience. Most franchises in today's marketplace don't make their own pizza dough, pizza or pasta sauce, or fresh pasta anymore. We have confidence in our legacy of Old Country cooking and don't need to dress it up with a lot of overpriced "foodie" artifice and excess. We put our money where our mouth is, in fresh flavor and a fresh approach to the pizzeria & Italian kitchen business.
Italian food provides comfort to those who are learning to enjoy takeout and the world's eating habits are changing, so we're helping that happen in a healthy, comforting, and appetizing way. Keeping ahead of, or on track with, the latest trends can be a huge factor in whether or not some guests choose to dine with us. Therefore, our menu has expanded to offer gluten-free, halal, and vegan options as well as an updated wine and beer lists.
---
An Exciting Opportunity You Don't Want To Miss!
We're looking for franchise owners who are outgoing and have sales, marketing, and/or management experience, and who are results oriented. A person who can build relationships, lead a team, and who has the motivation to excel! We're also looking for candidates to purchase 3-unit deals. For the first unit, the fee is $35,000, while the other two are only $25,000. You must have a minimum of $300,000 in liquid capital, and be ready to make a full-time commitment.
Fill out the form and get more information about Russo's today!
---
Declaimer: The following data involves historic performance information for Restaurants owned by us or our affiliates and Restaurants operating under effective Franchise Agreements that were open for 12 months or longer as of December 31, 2018. There were a total of 51 franchised Russo's New York Pizzeria Restaurants operating under effective Franchise Agreements as of that date, 20 of which had been open for 12 months or longer in the United States, and there were a total of six Russo's New York Pizzeria Restaurants owned by us or our affiliates, all of which had been open for 12 months or longer as of December 31, 2018. The following results include (a) the average Gross Sales for company-owned Russo's New York Pizzeria Restaurants for the fiscal year ending December 31, 2018, and (b) the cash flows for company-owned Russo's New York Pizzeria Restaurants only for the fiscal year ended December 31, 2018. Because we do not maintain the accounting records of our franchisees, we are unable to make any representation with respect to the reliability of the expense data of franchised Restaurants.
Video
►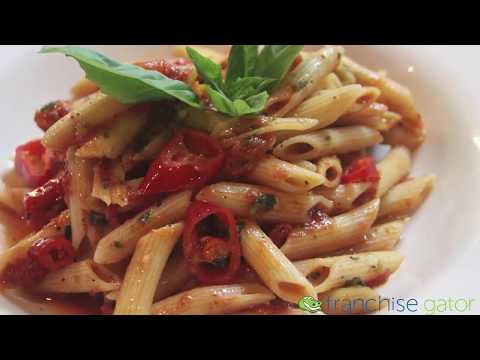 Awards
Russo's New York Pizzeria & Italian Kitchen

has received the following awards and acknowledgements:

Entrepreneur 500, Inc. 5000, Franchise Times Top 200+, QSR, Pizza Today
Availability
Russo's New York Pizzeria & Italian Kitchen

is currently accepting inquiries from the following states:

Alaska, Alabama, Arkansas, Arizona, Colorado, District Of Columbia, Delaware, Florida, Georgia, Iowa, Idaho, Kansas, Kentucky, Louisiana, Massachusetts, Maine, Minnesota, Missouri, Mississippi, Montana, North Carolina, Nebraska, New Hampshire, New Jersey, New Mexico, Nevada, Ohio, Oklahoma, Oregon, Pennsylvania, South Carolina, Tennessee, Texas, Utah, Vermont, West Virginia, Wyoming,

Interested parties should have at least $300,000 in liquid capital to invest.
* This information may have changed since first published. We recommend that you always verify fees, investment amounts, and offers with the business opportunity directly prior to making a decision to invest.