An online franchise can make some serious money because it takes advantage of the internet's global reach and keeps costs low without having a physical store. Ultimately, how well an online franchise does boils down to the business model, how you run things, and how much people want your products or services.
Statistically speaking, online retail franchises are becoming more and more popular due to their profitability. According to MarketWatch, the ecommerce delivery franchise market alone is expected to grow at a compound annual growth rate of over 19% from 2023 to 2030. It's no surprise that entrepreneurs are turning to online franchises as exciting ways to enter the ecommerce market and work from home.
Let's dive into the details to see if owning an online franchise could be your path to becoming your own boss!
How Profitable Is Owning a Franchise Online?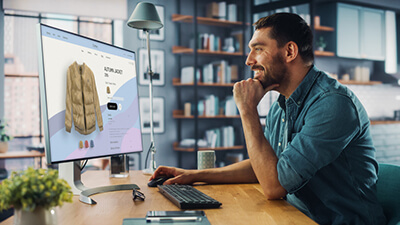 In the context of a franchise business, profitability often hinges on the gross franchise profit margin. This benchmark is the percentage of revenue remaining after subtracting the direct costs linked to operating the franchise.
The primary advantage of online franchising is its inherently lower overhead costs. With no physical store to maintain, substantial expenses such as rent, utilities, and staff salaries are eliminated, resulting in a more streamlined business model. The impact is a rise in the gross profit margin and, consequently, higher profits.
But what constitutes a solid gross profit margin in the world of online retail? According to NYU Stern School of Business, a figure around 42.78% hits the mark. To get within reach of this, devising a carefully thought-out pricing strategy for your business is key.
Consider Done For You Ecommerce's business model as a good example. This online franchising business opportunity offers a unique model that neatly sidesteps many traditional business hurdles. For an upfront investment of $10,000, they'll help set up your online store, enabling you to dive headfirst into the growing ecommerce market.
With the traditional franchise model, you might encounter high investment costs, high risk, substantial overheads, the need for a physical location, and employee costs, among other constraints. Done For You Ecommerce, however, defies this narrative by offering a business model with low investment, low risk, minimal overheads, and the freedom to operate from anywhere.
Do Franchise Owners Make Good Money?
In a word—yes! The earnings of a franchise owner depend on several factors, including the industry, the franchise's business model, and the owner's skill in running the business. An online franchise can be particularly lucrative due to the global reach of the internet and the ability to operate 24/7.
Take the E-Commerce Future USA franchise as an example. It offers an enticing opportunity to dip your toes into the ever-expanding world of online retail. This partner program lets you operate hands-off Amazon stores that generate passive income every month. You'll be cashing in on Amazon's $1.5 trillion marketplace without the hassle of handling logistics like packaging, payment processing, shipping, and customer service. Plus, you can offer big brand names that are already in high demand on the platform. Some franchisees have even built six to seven-figure businesses with E-Commerce Future USA!
How Does an Online Franchise Work?
The beauty of an online franchise lies in its simple yet effective operation. As an online franchise owner, you hold the license to operate under a well-established brand's name, utilize their tried-and-true business model, and leverage their marketing system. Here's a quick rundown of the advantages:
Established Branding: You're purchasing a known brand, earning instant trust from customers. These customers already recognize the brand and are more likely to buy its products or services. You skip the challenging stage of building brand trust from scratch, giving you a head start in your franchise journey.
Proven Business Model: When it comes to starting a business, one of the biggest challenges is the uncertainty. That's where an online franchise shines. Instead of stepping into the unknown, you enter a realm where the path to success has already been charted. By investing in an online franchise, you get access to a business model that's been tested, tweaked, and proven effective.
Training and Support: With a franchise, you get extensive training and support from the franchisor, so you're never going it alone. Instead of facing the trials and tribulations of entrepreneurship solo, you become part of a wider network. From initial setup to day-to-day operations, franchisors offer comprehensive training programs tailored to their specific business model.
Marketing Powerhouse: As part of a franchise, you tap into established marketing strategies, freeing you to focus more on operations. These can include anything from national advertising campaigns to social media strategies.
Find the Perfect Online Franchise with Franchise Gator
So, is an online franchise the key to your future success? That's for you to decide. But if you're looking to explore more, your first stop should be Franchise Gator.
Franchise Gator is your gateway to a universe of online franchise opportunities. Here's how Franchise Gator can be your trusty companion in your journey to entrepreneurship:
Comprehensive Database: A plethora of franchise opportunities at your fingertips, from retail franchises to home-based franchises under 10k.
Easy Search: Simple and efficient search functions let you find the perfect franchise opportunity that matches your budget, interests, and desired location.
Detailed Insider Information: Comprehensive details about each franchise, including the initial investment required, training provided, and the type of support you can expect.
So what are you waiting for? Explore, discover, and embark on your business ownership journey with Franchise Gator today!
---