If you've been thinking about starting your own online franchise but aren't sure whether you can afford the startup costs, you're not alone. That being said, a new franchise opens in America roughly every 8 minutes…So, if nothing else, this should be a compelling reason to believe that you can do it!
Retail franchises are generally a positive investment, especially online franchises. Exactly how much money do you need to open up a franchise, though? The short answer is that it depends on a range of variables. With that in mind, this blog will explore the question from a few different angles, including topics like:
How much it costs to start a franchise
How much you should expect to put down
How much you can expect to make
How to find an affordable online franchise to invest in
What Is the Average Cost of Starting a Franchise?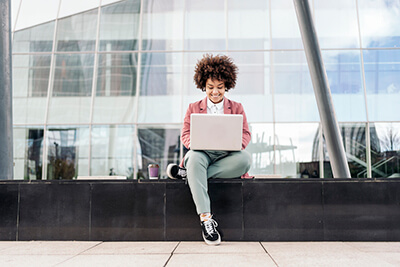 One of the factors that makes franchising such an attractive business prospect is that there are franchises available to fit virtually every budget. ADP notes that a majority of franchises' investment costs fall "between $100,000 and $300,000." The reality, however, is that you can often find low-cost franchises for under $10,000, higher-cost franchises for several million dollars, and plenty of opportunities between those extremes.
To better put the cost into perspective, let's explore what all falls under the category of franchise startup costs.
What Do Franchise Startup Costs Include?
Franchise startup costs will vary from one franchise to the next based on a number of factors including (but not limited to) the franchise category, location (including brick-and-mortar vs. virtual or online storefronts), and so on. In other words, as noted by Investopedia, "all businesses are different, so they require different types of startup costs."
Starting an online franchise often comes with reduced startup costs. This is primarily because you won't really need to account for expenses like purchasing real estate, funding property improvements, or shopping for furnishings and fixtures.
Additional franchise startup costs include, but are not limited to:
Equipment, Supplies, and Product Inventory | Even if you're starting an online franchise that's geared more toward providing services than selling products, you'll still need some supplies to run the business. For retail-oriented franchises, of course, you'll need to keep plenty of product inventory stocked and ready to sell!
Employee Recruitment and Training | Even if you're running a small, online franchise operation, you'll likely need to recruit and train at least a few employees to help out.
Insurance Coverage | Depending on the nature of your franchise business, you may need workers' compensation insurance, property and casualty insurance, or even auto insurance for mobile franchises.
Advertising and Marketing | One of the main advantages of franchising is that the franchisee gains access to an established brand and customer base, which significantly reduces how much the franchisee will need to spend to advertise and market their business. Typically, franchisees will pay a monthly fee to the franchisor for advertising and marketing, which is usually based on monthly revenue. On average, these fees fall between 1-4%, according to Franchise Specialists.
Working Capital | As you're getting your franchise off the ground, it's important to understand that you may not turn a profit immediately. You'll want to have some money set aside to potentially cover at least a few months' worth of living expenses and operating costs.
Franchise Fee and Down Payment | A franchise fee (typically between $20,000 and $50,000) will be required when you sign a franchise agreement. This is, quite literally, your license to operate a franchise under the parent company's branding. Most franchisors will expect aspiring franchisees to make a down payment as an initial investment in the business (which the franchise fee counts toward).
How Much Should I Put Down for a Franchise?
It depends on the franchise. As we noted above, you'll need to be able to pay (or secure financing for) the franchise fee—and there are franchises available for an exceptionally wide range of investment levels. When it comes to financing a franchise, ADP notes that "franchise lenders, on average, expect investors to put 20% down."
At FranchiseGator.com, you can find franchises to fit any budget, so you won't find yourself in over your head when it comes time to pay your startup costs and franchise fee.
Do Franchise Owners Make Good Money?
While virtually nothing in life is guaranteed, the fact that franchising has steadily maintained popularity over the years serves as proof that franchise owners make enough money to make their investment worthwhile. While it may be difficult to turn a significant profit right out the gate, when a franchisee can successfully make it through what's considered their "startup period" (typically 2 years), "those franchisees make an average annual income of $118,792," according to Entrepreneur. Not bad, huh?
What Franchises Are Best to Own in 2023 and Beyond?
The last thing you want, especially if you're looking into franchising for the first time, is to pull together all of the required funds to invest in the franchise… only to find that there's not enough market demand to keep the business afloat. Especially as we continue to recover from the COVID-19 pandemic, online franchises offer a modern take on traditional brick-and-mortar retailers. By opening an online franchise, you can offer something that customers find timeless: a quick and convenient way to engage with—and buy from—your business!
Browse Today's Best Franchises to Own at Franchise Gator
FranchiseGator.com's Top 100 Franchises list provides a quick guide to the best opportunities to consider for 2023 and beyond, including plenty of low-cost franchises with high profit potential. There is a wealth of variety throughout the list, but if you're looking to zero in on the most advantageous categories, you might consider services-oriented franchises such as auto repair, cleaning, or technology services.
---