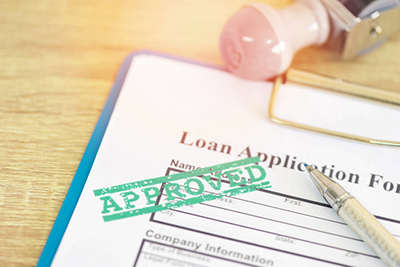 You might choose to start a franchise for many reasons, one of which could be to earn a good chunk of change. How are you supposed to get started without money on hand, though? For anyone starting a business, taking out a loan is often the best option. It may be a bank loan, credit union loan, SBA loan, or some other form of alternative financing. For this blog specifically, we focus on SBA loans and what requirements you need to meet to qualify, particularly when it comes to how much money you already have. Let's dive in.
What Is an SBA Loan?
An SBA loan is a loan that banks, credit unions, or other lenders give to small businesses that are partly guaranteed by the U.S. Small Business Administration (SBA). A common misconception is that the U.S. Small Business Administration (SBA) provides loans themselves. They don't unless you're a business or homeowner recovering from a declared disaster. However, they will assist small businesses find a lender that will provide them with a government-backed loan. Applicants wanting an SBA loan for their new business will apply for SBA-backed funding from approved lenders. It works like this:
You answer a few questions about your business through the SBA's Lender Match.
Based on the information you provide, lenders interested in offering you a loan will email you.
You talk to each interested lender so that you can compare rates, loan amounts, etc.
You apply for a loan.
The SBA backs three primary types of loans you can apply for:
What Are the Minimum Requirements for an SBA Loan?
SBA loan requirements will vary depending on the type of loan you apply for and lender guidelines. With that said, there are a few common requirements for each of them:
Your business is for-profit, is registered, and legally operates.
You operate your business from the U.S., and it's located in the U.S.
You have invested your time and/or money into the business.
You don't receive funds from any other financial lender.
Your business meets the SBA's size requirements, which varies from industry to industry.
An additional requirement for you as a franchisee is that your franchise is included in the SBA franchise directory. If the franchisor has too big a part in the day-to-day operations of the franchise, as outlined in the franchise agreement, it would also disqualify you from receiving an SBA loan.
What Disqualifies You From Getting an SBA Loan?
Aside from not meeting the requirements listed above, there are a few other reasons that you may get denied an SBA loan:
You don't have a high enough credit score. There aren't set SBA loan requirements for your credit score, whether business or personal. However, you have a much better shot of getting approved if you have a credit score in the 600s or higher.
You have previously defaulted on a government loan in the past. It may indicate to the SBA and lenders that you create too much of a financial risk for them.
You have a criminal record. SBA-backed lenders will decide whether you qualify for a loan based on the type of crime you committed. For example, they typically deny loans for applicants who have committed violent or financially dishonest crimes.
You don't have enough revenue to pay back your loan. We'll talk more about that next.
What Is the Minimum Revenue for an SBA Loan?
The minimum amount of revenue required for an SBA loan will vary from lender to lender. It is nearly impossible, though, to acquire startup business loans with no revenue. Typically, lenders want you to show proof of earning at least $100,000 in revenue a year after being in business for at least two years. They have this requirement in place because they don't want to loan money to those who can't repay it. After all, 20% of businesses fail within the first two years. Making enough annual revenue is a good indication as to how capable you are of making your payments.
Owning your own franchise location can work in your favor in terms of proving that you are financially sound. Because franchises have proven success and work in other locations, it can make lenders feel more confident in your prospects. You just have to make sure that the franchise you choose has a sound business plan and that there's a need or desire for its offerings where you're planning on opening it.
Discover Franchises at Franchise Gator
Finding the right franchise for your location could mean the difference between getting accepted for an SBA loan or getting denied one. Luckily, you have lots of options to choose from. To begin, simply follow these steps:
Think about what you're passionate about.
Research the need for businesses in your area related to those interests.
Get on Franchise Gator to find your right fit.
You can sort by state, investment level, and industry to find what's right for you. Check out our directory to get started.
---