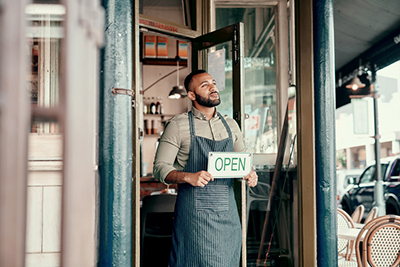 Pursuing a franchise opportunity has become the most popular method for starting a business. In fact, the U.S. Census reported that 11.4% of all businesses in the U.S. are franchises. But which franchise opportunities are the hottest commodities right now? Currently, the top money making businesses in the franchise realm include:
Quick-service restaurants
Pack-and-ship stores
Transportation
Fitness
Service businesses (lawn mowing, cleaning services, etc)
DIY experiences (wine and canvas, kids crafting activities, etc)
Personal wellness
According to Entrepreneur, food reigns supreme as one of the largest and most popular franchise categories. As of 2022, more than a quarter of the 1,000+ companies that apply for the Entrepreneur Franchise 500 ranking are restaurants and other food-based franchises.
But what other options are out there? And how do you know a franchise is the right fit? Let's find out.
What Is the Most Well-Known Franchise in the World?
The most profitable franchise in the world is McDonald's—surprise, surprise. With thousands of locations in hundreds of countries, McDonald's is quite the franchise superpower. However, popularity comes at a price. The estimated initial investment for owning one of these franchises ranges from $1 million to $2.2 million. Even though joining the McDonald's empire is out of reach for most, there are tons of affordable franchises that offer great returns.
What Is the Most Affordable Franchise?
Although all franchise opportunities require a fairly large investment, there are plenty of reasonably priced franchises to choose from. At Franchise Gator, you can easily find low-cost franchise opportunities starting at $10,000.
One of the most popular affordable franchises is Tutoring Works. With a $20,000 franchise fee, Tutoring Works gives its franchisees the opportunity to help struggling students and maintain a stable income. Due to the ongoing effects of COVID-19, many students have fallen behind, which means the need for high-quality tutors has never been greater. Additionally, tutoring businesses are notoriously stable during recessions and other less-than-ideal economic conditions.
If tutoring isn't for you, don't fret! Explore more affordable franchise options here.
What Is the Most Successful Franchise To Own?
The most successful franchising opportunity is one that best aligns with your ambitions. For example, you shouldn't pursue a restaurant franchise if you aren't interested in food service—even if they are the most popular options.
One of the main appeals of becoming a franchisee is that you have so many brands to choose from. As you weigh your options, remember to consider your skills and passions. Staying motivated is half the battle when running a business, and you're unlikely to remain inspired if you choose an industry that doesn't interest you.
Okay, going with your passions and previous experience narrows things down a bit, but how can you tell if a franchisor will be a good partner? Here's a checklist to help you weigh your options.
What You Should Look For in a Franchise
They Offer Support to Their Franchisees | Your franchisor should provide you with plenty of resources as you hit the ground running. This can include on-site training, brand standard guidelines, marketing materials, site selection assistance, development assistance, and access to a field consultant.

They Have a Good Reputation | This requires some detective work, but it's worth it. For example, you can check reviews on message boards and explore Franchise Business Review awards to see if your franchisor has been recognized for anything. You should also connect with other franchisees on LinkedIn to gain their perspective.

They Are a Profitable Business | Here, you'll need to carefully assess the franchise disclosure document (FDD). The information included in your franchisor's FDD should include three important metrics.
1) The percentage of new franchises that are successful after one year in business
2) The number of new locations opened in the past couple of years
3) The average amount of collective sales per unit
They Encourage Growth | It should be clear from the beginning that your franchisor cares about your growth and success within the organization. To gain some insight, look into how the franchisor rewards good work and see if they can connect you to workshops, conferences, and other networking events.

They Set Clear Expectations | Working with your franchisor is a long-term partnership. To succeed in the long term, your potential franchisor should clearly outline what they expect of you and what working with their brand entails. Without straightforward expectations, it's impossible to determine if the deal is a good fit.
And there you have it! Feeling energized and ready to begin your new career? Take the first step and start exploring your options at FranchiseGator.com.
---