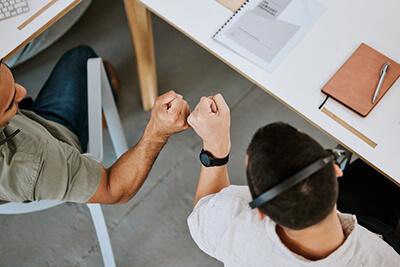 When it comes to starting a business, there's no time like the present. While the latest economic trends may scare many off from pursuing a new business opportunity, some industries continue to boom (but more on that later. Plus, recent big business layoffs mean more employees looking for new opportunities. What's more, when you open a franchise, you can expect a higher chance of success than if you were to start your own business from scratch.
How do you decide what kind of franchise to open, though? FranchiseGator created this blog to help guide your decision. Here, we will talk about what makes a business successful, highlight some of the most successful small business ideas, and cover some of the top money making businesses in different industries. From there, you can decide what kind of franchise works best for you. Let's get started!
What Small Businesses Succeed?
The franchises and small businesses with the highest success rate are ones that continue to stay ahead of the competition while treating both customers and employees well. Let's break each of these concepts down a little further.
Staying Competitive
To stay ahead of their competition, small business owners and franchisees both need to do their research. That means looking into industry trends, exploring what their competitors do and don't do well, and pinpointing their target audience's wants and needs. A franchisee won't have to worry about offering the right products or services to customers since the franchisor provides those, but a franchisee can attract customers in other ways. Creativity plays a big role in attracting customers. For example, discovering new methods to advertise,or launching brand awareness events can show customers how a franchise stands out from the competition.
Attracting Business
To attract customers, businesses have to keep their needs top of mind. For example, a franchisee can meet customer needs through customer service. Because franchisees are supported by their parent company (the franchisor), customers already know what the franchise has to offer. Therefore, the key differentiator here is the customer experience. Quality service, responsiveness to questions and concerns, and clean facilities all assist in keeping customers happy.
Retaining Quality Employees
High-quality, satisfied employees will create the kind of franchise location that will meet customer needs. To keep employees happy, business owners need to have good communication with employees. Set clear expectations from the beginning, and provide proper training for success. Be open to feedback, as well. Constructive criticism from both ends can lead to business decisions that improve operations and make a location a good place to work.
What Businesses Are in Demand?
According to Indeed, a few of the fastest-growing industries in the U.S. right now are:
What Businesses Are Most Profitable?
According to Small Business Trends, some of the most profitable small businesses are:
No matter what you think successful businesses look like—whether they're businesses with the highest profit margin, those that best meet customer needs, or something else—you can find what you're looking for at Franchise Gator.
Find a Successful Franchise Using Franchise Gator
You will find better success with a franchise when it has something to do with your interests and aligns with your career goals. Whatever those are, you can find the franchise that best fits at Franchise Gator. Browse by industry, location, investment amount, and more. Check out our directory to get started.
---