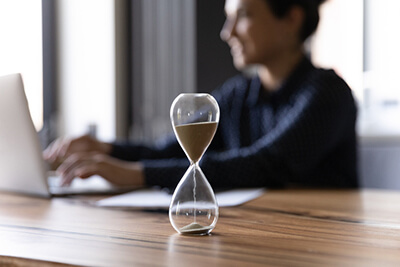 Starting a business can be a long process if you start from scratch. However, if you look at the top money-making businesses, you'll find many of them are franchises—like restaurants, gyms, or even construction and renovation companies. Opening a franchise can not only be faster, but you don't have to worry about building your brand or developing operations manuals. So if you're saying, "I want to start a business, but have no ideas," we have great news! You have hundreds of options to choose from when it comes to starting your own franchise. In this blog, we'll look at how quickly you can start your own business and share a few examples of franchises you can own.
How Can I Start a Business Immediately?
Depending on how immediately you'd like to start your business, you should be prepared to spend several months getting your documents and materials ready. The process can take quite a while if you're starting from scratch. In fact, Entrepreneur states it can take anywhere from six months to a year to get all of the necessary requirements completed before you open up shop. On top of that, it can take two to three years—or even four—to become profitable as a business. That means after a year of planning and completing the necessary steps to open your business, it can still take multiple years before you reach success.
In contrast, according to the US Small Business Administration (SBA), if you invest in a home-based franchise opportunity, you can open your doors about two months after completing and submitting the paperwork. With non-home-based franchises, the process can take a little bit longer, but not by much. LegalZoom says that can take anywhere from three to four months, on average.
This time difference is, in part, due to the business plans set up by franchisors. Because planning is already completed, you can focus on finding the right franchise to meet your wants and needs. From training to marketing, you don't have to worry about doing it yourself. And that's why starting a business immediately is easiest when investing in a franchise.
What Is the Fastest Business to Start?
Beyond opening an individual business like consulting or freelancing, the fastest business to start is a franchise. With business format franchises, you'll have access to all of the operational materials you need to hit the ground running. That means you don't have to worry about developing training techniques, marketing, or sourcing inventory on your own. You'll still need to fill out paperwork like the franchise disclosure agreement (FDD) and the franchise agreement itself.
Once the paperwork is complete, your franchisor will give you an operations manual. Some franchisors also help you find ideal locations—including in certain territories if they have limitations or preferences. However, after the paperwork is submitted, you should expect to be in business within three or four months. This timeline can depend on case-by-case development, like construction or renovation.
One way to avoid the more intricate location details is to start a home-based franchise. These franchises allow you to set up shop in your own home, so you don't have to worry about storefronts or the spending that comes with physical locations. That means you can begin shortly after the paperwork is completed.
What Are Hot New Business Ideas to Start Right Away?
Franchise Gator offers hundreds of different franchises you can choose from to start right away. Here are a few examples of 3 unique business ideas you can invest in right now:
Crazy King Burrito is a restaurant franchise that focuses on authentic Mexican burritos, burrito bowls, beverages, and desserts—with sauces and seasonings made in-house. CKB offers an initial investment totaling between $116,800–$232,100. If you're "genuinely friendly and outgoing yet professional with high integrity standards," then you are the right fit as a potential franchisee! Franchisees get immediate access to marketing support that has been expertly crafted, such as print to digital campaigns, help with social media, in-store advertising, and public relations. If you're passionate about providing customers with delicious, authentic food, then CKB is a great franchise to consider.
Brightway Insurance provides comprehensive back office and marketing assistance along with access to specialized insurance solutions from a number of insurers. Brightway offers tailored franchise plans, whether you want to operate a small agency or scale it with multiple sales agents. You'll need liquid capital of $50,000 to get started. If you're an "honest, patient, and focused business professional who places importance on building and maintaining an excellent reputation in their community," then Brightway is a good fit. The professionals at Brightway offer assistance in all important areas of your business:

Training
Marketing and communications
Agency support
Agency development consultants
Carrier relations and appointments.

Your CBD Store is the "largest network of CBD brick and mortar stores" with over 500 stores nationwide. Only the highest-grade hemp products grown in the United States are harvested by Your CBD Store, which upholds rigorous standards for consistency and quality. You're the perfect franchisee for this business if "you display a resourcefulness to integrate into your community and provide ideal customer service." Join this rapidly growing franchise for a total investment of $69,800–$90,300.
What Is the Easiest Business to Start from Home?
If you're looking for easy businesses to start from home or independent home businesses in general, Franchise Gator has a list of home-based businesses you can start. However, the number one home business franchise you can start quickly is Phoenix Ecom. By automating all inventory management tasks, from account health monitoring to around-the-clock customer care, Phoenix Ecom helps its e-commerce clients develop and grow their Amazon companies. Their proprietary automation process can help you gain huge returns on investment (ROI) percentages and scale your business to six figures a month! To invest in a Phoenix Ecom franchise, you'll need $40,000 of liquid capital.
Get Started on Your Franchise Business ASAP
If you're looking to start your own franchise, Franchise Gator has hundreds of franchises in its directory. You can find franchises in any industry, location, and investment amount to meet your needs as a business owner. Get started today and use Franchise Gator to begin your franchise search and discover opportunities for a better future.
---