When it comes to the world of franchising in the cleaning and maintenance sector, Texas shines as a beacon of opportunity and innovation. The Lone Star State not only boasts a robust economy and diverse population, but it also holds a unique position within the franchise landscape. In this blog, we delve into the distinct characteristics that make Texas an appealing destination for entrepreneurs looking to make their mark in the cleaning and maintenance franchise industry.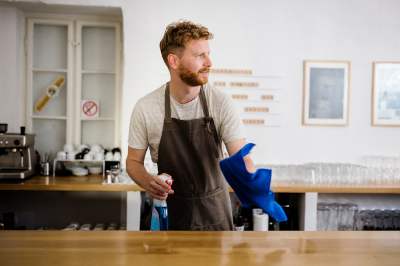 Understanding the Data
Our website data paints a vivid picture of the franchise market in Texas. With the highest percentage of page views originating from the state, it's evident that there is a strong interest in franchise opportunities. 
However, the 100% bounce rate raises intriguing questions about whether the state's high interest rate is actually being converted into new franchises. On average, visitors spend about 1 minute and 23 seconds on the page—a window that hints at a fairly high level of interest. If you want to open a new franchise in Texas, act now before you miss your chance at this budding market.
The Texas Advantage
So, why is Texas such a promising landscape for cleaning and maintenance franchises? One of the key factors is its vast and varied economy. From bustling urban centers to sprawling suburbs and rural communities, Texas offers a diverse range of environments that can benefit from reliable and professional cleaning and maintenance services. Whether it's residential, commercial, or industrial, the demand for such services remains consistently high across the state.
Furthermore, Texas's entrepreneurial spirit and business-friendly environment create an ideal atmosphere for franchise growth. The state's economic stability, coupled with a population that's constantly on the move, presents an audience that seeks convenience and quality in their daily lives. This demand aligns perfectly with what a well-structured cleaning and maintenance franchise can offer.
The Advantages of Franchising
Embarking on a journey in the cleaning and maintenance industry through franchising offers a spectrum of benefits that can redefine your path to prosperity. Whether you're a seasoned entrepreneur or a newcomer with a vision, exploring these nuanced advantages will illuminate the path to triumph in the dynamic world of franchising.
Unveiling a Proven Business Ecosystem
Franchising grants you access to a battle-tested business ecosystem that has weathered market storms and emerged victorious. Rather than starting from scratch, you'll be stepping into a meticulously crafted blueprint of operational excellence, honed strategies, and victorious practices. This elevates your venture by mitigating the risks inherent in launching a new enterprise, exponentially increasing your chances of achieving profitability.
Unleashing the Power of Scalability
Franchising acts as a turbocharger for the growth of your business, propelling it forward at unprecedented speed and efficiency. With each successful franchise location, you're unlocking doors to untapped markets and diverse demographics. This innate scalability accelerates the return on your investment, amplifying your business's upward trajectory.
Navigating the Tapestry of Resources
Franchise networks are rich reservoirs of established partnerships with suppliers, vendors, and service providers. This treasure trove empowers you with bulk purchasing prowess, cost efficiencies, and streamlined supply chains. Your access to this tapestry of resources ensures that your service delivery remains efficient and top-notch.
Franchising Opportunity
For aspiring entrepreneurs in Texas, the Chem-Dry Carpet Cleaning franchise stands out as an exceptional opportunity. "The carpet cleaning industry in the US generates approximately $5 billion per year." With its proven track record, innovative cleaning solutions, and established brand presence, Chem-Dry offers a compelling avenue to enter the thriving carpet cleaning industry in the Lone Star State.
In the spirited realm of cleaning and maintenance franchises, harnessing the subtle nuances of franchising can metamorphose your trajectory into one of unceasing growth, sustained profitability, and enduring success. By melding established business paradigms, comprehensive backing, and resonant brand identity, you wield a potent arsenal to adeptly navigate challenges and cement your stature as a true industry luminary.
Seizing the Opportunity
Aspiring franchisees eyeing Texas should consider this data as a roadmap for success. Armed with insights into the current market dynamics, entrepreneurs can tailor their franchise offerings to match the demands of the Texan clientele. This means going beyond the conventional and exploring innovative ways to engage potential customers, whether through specialized services, exceptional customer experiences, or leveraging the state's vibrant communities.
In Conclusion
Texas stands as a vibrant canvas of opportunity for those looking to establish a foothold in the cleaning and maintenance franchise industry. By understanding the nuances of the market and tailoring their franchise approach, entrepreneurs can position themselves for success in the Lone Star State and create a lasting impact on the cleaning and maintenance landscape.
---