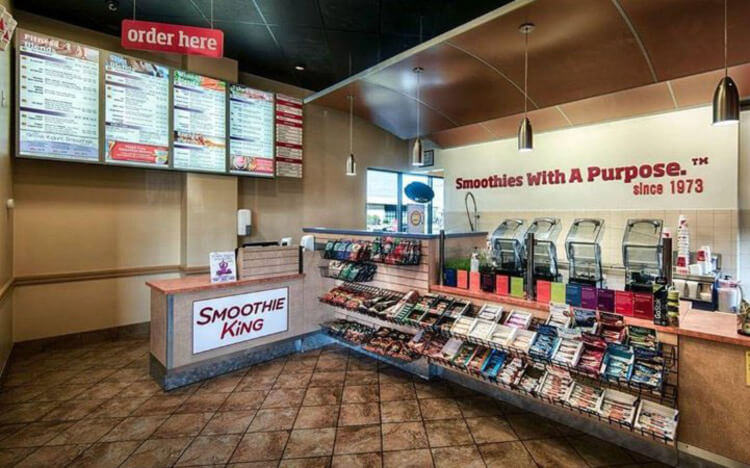 Considering becoming your own boss? There can be a range of questions and concerns you may have about leaving the stability of your current job and going out on your own. A franchise opportunity can be an ideal way to give you the best of both worlds—the freedom of being your own boss, with the support of a proven franchise system. But finding the right franchise opportunity for you can be a challenge. Here are two franchisees who merged their passions and skills to find the business that was best for them.
Meeting business goals
Paul and Paula McCulloch have discovered firsthand the many benefits of being their own bosses as Smoothie King franchise owners. The couple signed their first franchise contract in 2005, and, since that time, have expanded to a total of 14 locations throughout Nashville, Tennessee, and the surrounding area.
For the McCullochs, the decision to pursue a franchise opportunity checked off several of their business goals. First, it allowed them to go into business for themselves, but without the pressure of starting something from the ground up. Paul says, "I knew that becoming a franchisee in a proven system was the avenue for me." The pair particularly liked the Smoothie King business model because it was a cash business with no receivables to collect and a proven formula to follow that has been perfected over many years. "From a personal perspective, I like the product we sell and take pride in the fact that it helps people," Pauls adds.
Smoothie King's business model offered the McCulloch's a relatively simple operation, with low inventory and low food waste. Best of all, it allowed them to grow their business quickly. And the McCullochs found the support of Smoothie King invaluable, even now after they have expanded to 14 locations and been franchise owners for more than 10 years. Paul says, "Now I appreciate that the franchisor is continuing to reinvest into building the brand and improving our products, which translates down to the unit level."
A love of nature
For Kevin and Jen Lair, a love of nature helped guide them to the ideal franchise business. More than 15 years ago, the pair were finishing their master's degrees in wildlife biology at the University of Montana and trying to determine what to do next. They shared a deep love of nature and interacting with people, but weren't sure that teaching or a government job, for instance with a wildlife service, was the right answer.
About that time, the Lairs started talking to a family friend who had a Wild Birds Unlimited franchise. The idea piqued their interest.
Kevin Lair explains, "The more we looked into a Wild Birds franchise, the more it matched our interests. We would be able to interact with nature and people." The other aspect of franchising that appealed to the Lairs was the guidance and support Wild Birds Unlimited would provide them. "We didn't have a strong business background," Kevin says. "We felt comfortable with our knowledge of nature, and it was great to have access to folks that could provide input to running a business."
But owning your own business, even a franchise, is not without its difficulties. Kevin cites human resources as the area that is most challenging. He says, "We have a great crew, but human resources and staffing is one of the most difficult aspects of my job." He adds, "We emphasize going above and beyond on our customer service—we want to keep people coming back." As a result, finding good employees and training them to bring their A-game all the time can be trying. "It's some of the stuff I enjoy the least. And the downside of being your own boss is the buck does stop with you. So if someone's out of town or ill or can't come to work that lands in your lap."
Finding your own path
The Lairs encourage anyone considering franchise opportunities to reach out to other franchisees in the system they are considering. "Speak to them to find out what support they get from the franchisor and speak to them about the freedom and flexibility they have," Kevin recommends. He has found the franchisee interactions he has with fellow Wild Birds Unlimited franchise owners to be a huge benefit. "We share ideas with each other about different products and promotions," he says. "If we have ideas, we can interact via the phone or online and get input from each other."
A successful franchise owner has to not only investigate the growth potential of a franchise opportunity, but they also have to be well-rounded. Afterall, just because someone has a strong business background doesn't mean they also possess the communication skills needed to interact with employees or the public. Paul recommends potential franchisees be sure they can communicate clearly, manage a team and listen to their employees. "An array of problems will always arise, and you'll need to be able to conquer them while dealing with day-to-day operations," he explains.
It's also important to only consider franchise opportunities that you will enjoy. The McCullochs were attracted to Smoothie King because of the health benefits of the franchise. Paul says his son actually first recognized the potential franchise opportunity. "He raved about Smoothie King and said, 'Dad, you should open one of these.' After I conducted my own research, I felt that Smoothie King was going in the direction where the rest of the country was headed in terms of living a healthy lifestyle."
Finally, before you decide to embark on a franchise opportunity, it's smart to consider the strengths and weaknesses you bring to the table. For the McCulloch's, the strengths included Paul's financial and real estate background, while the Lairs were able to share their deep knowledge of birds and nature with their customers.
---
About the author:
Eric has been in franchising for well over a decade, wearing many hats along the way. His original stint was as a franchisee, where his most valuable experience was not as a business owner but rather helping others to buy a franchise of their own. Its that experience that has served him well at Franchise Gator, where he started in 2005.

Eric was appointed as General Manager of Franchise Gator in December 2013. Prior to that, Eric's chief role was as Director of Sales and Service, consulting with franchisors in an effort to help them connect better with those using Franchise Gator to find the perfect opportunity. Eric's expertise in this area was a driving force behind the Gator Dashboard, a platform that assists prospective franchisees during the exploration phase.

When not in the office, tends to his home based franchise, which consists of his wife Stacey and 2 kids, Presley and Spencer. Eric is currently working towards his Certified Franchise Executive (CFE) certification through the International Franchise Association (IFA).
---