Introduction
Georgia, known for its Southern charm and diverse landscapes, is also home to a thriving wellness revolution. As the health and fitness industry continues to flourish nationwide, Georgia stands out as a hub for innovative franchise ventures that cater to the well-being of its residents. In this blog, we'll delve into the dynamic world of health and fitness franchising in Georgia, uncovering the opportunities, trends and factors that contribute to its unique landscape.
The Flourishing Landscape
Georgia's health and fitness franchising scene is a testament to the state's commitment to wellness. From bustling cities to tranquil suburban enclaves, a diverse range of communities contribute to the demand for innovative wellness solutions. Entrepreneurs keen on making an impact in this sector have a fertile ground to sow their aspirations. With a population that values healthy living and holistic well-being, Georgia's residents are not just consumers; they're active participants in the pursuit of wellness.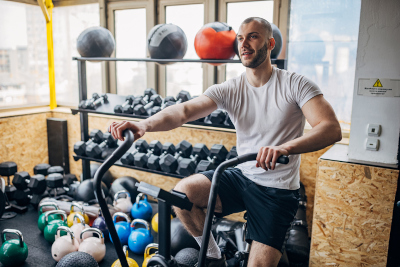 Gym, Health & Fitness Clubs in Georgia Statistics
Here are some key statistics for the gym, health and fitness industry in Georgia:
Georgia Market Size: $697 million
Number of Businesses in Georgia: 3,529
Georgia Industry Employment: 18,055
Trends and Opportunities
The wellness revolution in Georgia is characterized by a multitude of trends and opportunities that pave the way for entrepreneurial success. With Georgia accounting for just 4.3% of our total page views on health and fitness pages, this untapped potential holds the promise of a thriving wellness market ready to be harnessed and cultivated. From boutique fitness studios and wellness centers to nutrition-focused establishments, the landscape is diverse and responsive to evolving consumer preferences. 
The rise of personalized fitness experiences, online wellness platforms and innovative tech-driven solutions further underscores the industry's adaptability. As Georgians embrace wellness as a way of life, there's a consistent demand for franchises that prioritize physical health, mental well-being and community engagement.
Entrepreneurial Possibilities
For aspiring entrepreneurs, Georgia's health and fitness franchising landscape offers an array of possibilities. Whether tapping into established franchise models or bringing innovative concepts to life, the state provides a platform for entrepreneurial endeavors to flourish. With a population that values well-being and an environment that encourages business growth, Georgia presents a canvas where entrepreneurial visions can be realized, nurtured and expanded.
Sport Clips shines as an exceptional franchise option in Georgia, offering a winning combination of specialized grooming services and a sports-centric atmosphere that resonates with the state's active and engaged community.
Conclusion
Georgia's wellness revolution within the health and fitness franchising sector is a testament to the state's commitment to holistic well-being. From embracing community wellness to fostering innovative ventures, Georgia offers a promising landscape for entrepreneurs looking to make a meaningful impact. As wellness becomes an integral part of the state's fabric, health and fitness franchises have the opportunity to shape the future of well-being, one community at a time. Whether you're a resident seeking wellness solutions or an entrepreneur eager to contribute, Georgia's health and fitness franchising scene invites you to be a part of this thriving revolution.
---