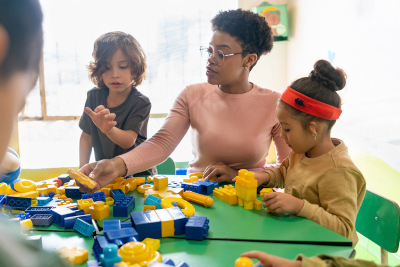 Georgia's sunrise paints a canvas of opportunity, where the echoes of children's laughter intertwine with the aspirations of visionary entrepreneurs. In this dynamic landscape, children's franchising emerges as a harmonious symphony, composed of data-driven insights and the melodies of success stories waiting to be written. As the sun ascends over Georgia's picturesque landscapes, a different kind of growth story unfolds—one where the trajectory of aspiring entrepreneurs intersects with the boundless potential of the Peach State's thriving family-oriented atmosphere. Here, in this convergence, lies a unique narrative—a narrative steeped in insights, benefits, and the promise of a prosperous journey into children's franchising.
The entrepreneurial spirit thrives in Georgia's diverse communities, each with its own rhythm and charm. From the vibrant streets of Atlanta to the serene neighborhoods of Savannah, the demand for children's services resonates deeply. With a population that embraces innovation and values family well-being, Georgia sets the stage for children's franchises to flourish. As parents seek trustworthy solutions that cater to their children's needs, franchising emerges as a compelling avenue—an avenue that is as promising as the sunrise that bathes Georgia's landscape.
Georgia's Thriving Ecosystem for Children's Franchising
Bathed in southern hospitality and pulsating with the energy of urban life, Georgia stands out as a beacon for children's franchising. The state's strong focus on family, bolstered by the presence of numerous young families, provides a robust foundation for entrepreneurial endeavors. Georgia's notable emphasis on education, combined with a rich tapestry of entertainment and child-centric development initiatives, aligns perfectly with what children's franchises offer.
Meanwhile, Atlanta, Georgia's bustling capital, is recognized as a linchpin in the franchising industry. "I'm talking about franchising, where Atlanta is already a national capital due to its reputation as a distribution hub, its vibrant and diverse universities, key investors, recognition as a fast-growing tech hub, and business-friendly legislation." Such distinctions not only heighten Atlanta's role but also spotlight Georgia's overarching appeal for children's franchising. The synergy of Georgia's economic vibrancy and its family-friendly ethos opens a world of possibilities for those eager to delve into the realm of children's franchising.
Data Insights: Illuminating the Path Ahead
In Georgia, our website data paints a promising outlook for children's franchises. The average engagement time, extending beyond a minute and a half, points to an audience enthusiastic about exploring the intricacies of franchising opportunities. Complementing this, the 28% bounce rate highlights the alignment of content and franchise offerings with the audience's interests in the state. The surge in interest evident from our Georgia pages should serve as a catalyst for franchisees to take proactive steps. The urgency stems from the potential of a rapidly evolving market landscape. Acting promptly becomes paramount, as delaying might lead to entering a saturated market. Seizing this opportune moment is crucial to harness the full potential before this window of advantage begins to narrow.
Unveiling the Franchising Advantages
Within Georgia's thriving landscape, the franchising advantages amplify their impact:
Proven Business Model: The scaffolding of uncertainty is dismantled as franchising offers a tried-and-true framework in the face of market dynamics. In the realm of proven business models, the School of Rock franchise stands out, successfully merging music education with performance experience, demonstrating consistent growth and resonance with students and parents alike.
Brand Recognition: Established brand equity forms the cornerstone of immediate trust and credibility, priming the canvas for fruitful relationships. One shining example of brand recognition in children's franchising is Huntington Learning Centers, a revered name in the education sector known for its commitment to student success and personalized tutoring programs.
Training & Support: A commitment to training and operational support equips franchisees with the tools for sustained growth and excellence.
Localized Offerings: Georgia's diverse tapestry of communities provides the palette for tailored offerings, resonating with regional nuances.
Community Engagement: The warmth of Georgia's communities invites franchisees to not just serve but also immerse themselves, nurturing bonds of trust.
Early Mover Advantage: The canvas of children's franchising in Georgia is being painted, and the early strokes spell opportunity for pioneers.
Charting a New Frontier
As the sun sets on our exploration, the path ahead becomes clear. The journey into children's franchising in Georgia is one of pioneering spirit and purpose. Amidst the harmonious interplay of data insights and franchising's potential, you're not just crafting a business—you're shaping a legacy. As you navigate this frontier, remember that the canvas is vast, the colors are yours to choose and the masterpiece you create will influence the lives of the young minds you touch. In Georgia's embrace, your franchise venture intertwines with the dreams of families, paving the way for a future where innovation meets impact. As the sun rises and sets on Georgia's horizon, your journey into children's franchising stands as a testament to the spirit of entrepreneurship and the promise of growth.
---