Introduction
In the realm of health and fitness franchising, a dynamic force is revolutionizing the industry – the 25 to 34-year-old franchisees. Equipped with a distinctive combination of life experience, technological savvy and a dedication to wellness, these young entrepreneurs are redefining the landscape of fitness business ownership. This blog takes a deep dive into the world of 25-34 year-old franchisees within the health and fitness domain, unveiling the qualities and insights that position them as catalysts of innovation in this thriving sector.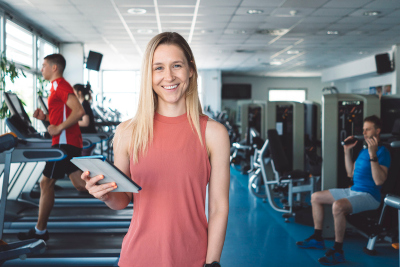 Advantages of 25-34 Year-Olds in Health and Fitness Ventures
The marriage of the health and fitness industry with the 25-34 age group brings forth a range of advantages that contribute to the industry's growth and transformation. Here's a closer look at how these franchisees are reshaping wellness ventures:
Balanced Experience: Individuals aged 25-34 often have a combination of youthful energy and a few years of professional experience. This balanced experience translates to effective management of fitness operations, strategic decision-making and fostering a supportive fitness community.
Tech Integration: Growing up in the digital age, 25-34 year-olds seamlessly integrate technology into their fitness franchising endeavors. "According to Fortune Business Insights, the fitness tracker market size has been increasing every year and is expected to reach $114.36 billion by 2028." Their familiarity with the growing prevalence of fitness tracking apps, virtual training platforms and data-driven insights enhances the overall fitness experience for customers.
Holistic Wellness: This demographic embodies the trend towards holistic well-being. 25-34 year-old franchisees can expand fitness offerings to include wellness workshops, mindfulness sessions and nutritional guidance, addressing the broader spectrum of wellness needs.
Innovation in Training: Armed with knowledge of modern fitness trends, 25-34 year-olds can introduce innovative workout regimes, customized training plans and creative group fitness classes that cater to diverse fitness preferences.
Engaging Marketing: Their understanding of social media and influencer culture empowers them to create captivating marketing campaigns. They can harness the power of visuals, testimonials and online communities to attract health-conscious clients.
Health Advocacy: This age group places a strong emphasis on healthy living. 25-34 year-old franchisees are not just business owners; they're advocates for well-being, inspiring their customers to embrace healthier lifestyles beyond the gym.
Franchise Spotlight: Medi-Weightloss presents an excellent franchise opportunity for the 25-34 age group in the health and fitness industry. With its tailored weight loss and wellness programs, advanced technology integration and alignment with the wellness aspirations of this demographic, Medi-Weightloss offers a platform for young entrepreneurs to make a substantial impact in fostering healthier lifestyles.
The Vision of 25-34 Year-Old Franchisees in Wellness Ventures
The vision of 25-34 year-old franchisees extends beyond running fitness centers. They aspire to create hubs of wellness, places where individuals transform not only physically but also mentally and emotionally. With nearly 30% of total page views on our health and fitness pages, the 25-34 age bracket has shown serious interest in the health and fitness sector. Their innovative approaches promote inclusive fitness cultures, sustainable practices and community engagement. These franchisees foresee the evolution of wellness to encompass not just physical fitness, but also mental resilience, nutritional intelligence and overall holistic vitality.
Conclusion
In the domain of health and fitness franchising, 25-34 year-old franchisees stand as beacons of change and innovation. Their blend of life experience, tech-savvy prowess and commitment to holistic wellness sets the stage for a new era of fitness ventures. As they step into leadership roles, 25-34 year-olds are not just shaping the future of wellness; they're crafting spaces where individuals thrive, communities flourish and well-being takes center stage. Whether you're considering a wellness venture or seeking to be part of this transformative journey, embracing the vision of 25-34 year-old franchisees opens doors to a world of health, vitality and transformative entrepreneurship.
---