With a low investment requirement of just $10,000, Franchise Coach Network is one of the most budget-friendly retail franchises you can buy into. Acting as your guide to retail franchising, this franchisor provides a valuable platform to learn from experienced coaches. Not only that, they empower you to be your own boss and set your own schedule—that's a win-win in our book!
A couple of other low-cost retail franchises under 20k include:
Keep reading for some more cost-effective franchise options and financing ideas!
What Is the Cheapest Franchise To Own in Fast Food?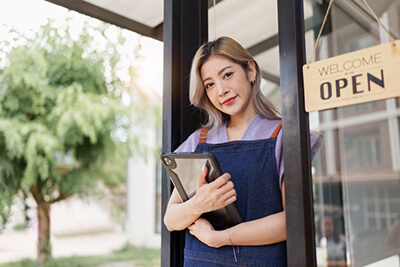 While many people think the Chick-fil-A franchise is the cheapest fast-food franchise to buy because of its low initial fee of $10,000, there's more to the story. Why does it only cost 10k to own a Chick-fil-A? Unlike other franchises, Chick-fil-A covers nearly all the costs of opening each new restaurant, including real estate, equipment, and inventory. This arrangement allows Chick-fil-A to retain ownership and, in return, they take a significantly larger share of the profits—15% of sales plus 50% of any profit, which is considerably higher compared to other franchises like KFC that take only 5% of sales. Over the life of the franchise, franchisees typically invest $130,975 to $1,044,200.
Some alternative fast food options that are less expensive over time include the following:
How To Get Money To Open a Franchise
If you're looking into opening a franchise but are worried about the finances, there are several ways to secure the necessary funds:
Savings: The traditional route for many is to use their personal savings. This might involve dipping into long-term savings accounts, retirement funds, or even liquidating some assets.
Grants: Some franchisees apply for grants to start a franchise business. The key advantage of grants is that they don't need to be repaid if you meet certain obligations. Various organizations and government bodies offer grants, but they often come with specific qualifications and competition can be fierce.
Franchise Financing: There are many franchises that offer financing or have partnerships with third-party lenders. These arrangements can significantly ease the financial burden of starting a franchise.
Government-Backed Loans: The U.S. Small Business Administration (SBA) provides loans specifically for small businesses and franchises. These loans often have competitive rates and terms, making them an attractive option.
Crowdfunding: This is a modern method of raising capital where you present your business idea on a crowdfunding platform and individuals contribute small amounts towards your goal. Websites like Kickstarter and GoFundMe have made this a viable option.
Angel Investors: These are individuals or groups willing to invest in promising businesses in exchange for equity or debt repayment. Angel investors often provide mentoring and advice in addition to funds.
Venture Capital: These are high-stakes, high-reward investors looking for businesses with a bright future. If they think your franchise is the next big thing, they might be willing to invest.
Friends and Family: Never underestimate the power of your personal network. Friends and family might be willing to support your franchise journey with a loan or a gift.
Remember that each of these options comes with its own risks and rewards, so it's essential to thoroughly research and consider each option before making a decision. Consulting with a financial advisor can be beneficial in understanding what's best for your unique situation.
How To Open a Franchise in the Retail Industry
Before you take the leap into the retail franchise world, it's essential to understand exactly what you're signing up for. You'll need to start with a robust business plan, an appropriate budget, and a little bit of grit. But don't stop there.
You know what they say, knowledge is power. Investigate potential franchisors, set up meetings with active franchisees, and never shy away from getting some legal input before you put pen to paper on any agreements. Laying down this groundwork will pave the way for a successful entry into the retail franchise sector.
Now, remember, you're not embarking on this journey alone. Franchise Gator is here to help make this journey a smooth one. We're your one-stop shop for researching all kinds of franchise opportunities. Need to figure out financing? We've got your back. Want to learn about the different business tools and resources out there? Check out our guide here. And of course, you can search for franchises by investment level, location, and industry to find the best fit for you. With our wealth of knowledge and helpful tools, you'll navigate the franchise world like a pro!
---