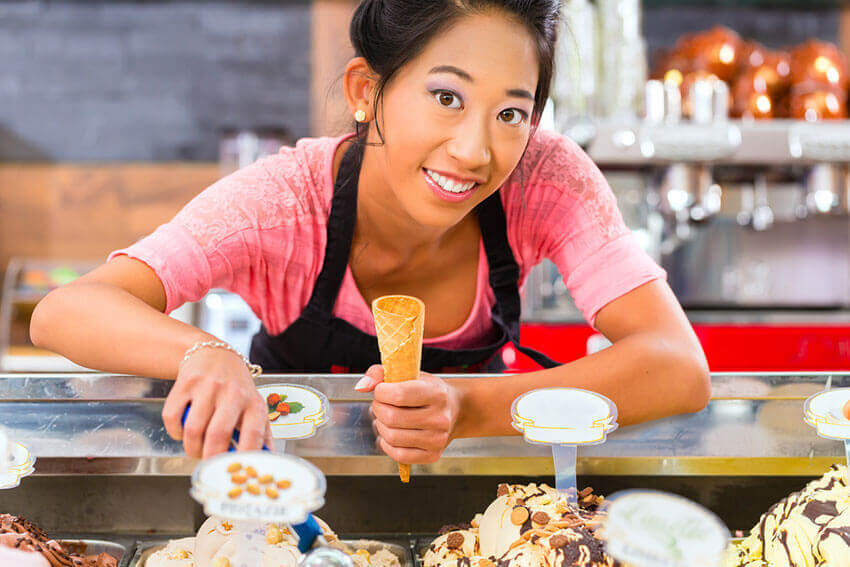 Have you always wanted to start a small business, but worry about the risks involved in succeeding with a startup? You may want to consider getting your feet wet by starting a franchise.
Purchasing and running a franchise, whether it sells sandwiches or offers repair services, allows individuals to become franchisees. A franchisee can invest in a franchise they are passionate about or have experience working in its industry. Starting a small business often requires additional funding and time and energy spent on marketing the company to consumers. Franchisees, meanwhile, may invest in low-cost franchises, many of which come with built-in branding and name recognition.
All of these perks just make it all the more appealing to start a franchise, especially during the spring and summer months. Starting a seasonal franchise provides advantages like a boost in foot traffic and revenue for services that are hot, hot, hot. From landscaping to vacation planning, start out with these five franchises perfect for any industry.
Landscaping
Whether you're looking into your home pool cleaned or the grass mowed at your office's commercial property, there's never been a better time to start a franchise in landscaping than during the spring and summer. Try this handful of options, ranging from pest control to weed control, on for size.
Spring-Green. For more than 40 years, Spring-Green has worked to maintain and beautify residential and commercial properties all over the country. This includes a sprinkling of everything from insect control to lawn fertilization. As a franchise opportunity, becoming a Spring-Green franchise owner means following seven key steps which start by meeting with a Discovery Guide and ending by signing your franchise agreement.
Pool Scouts. A day at the pool is far from relaxing when the pool water is murky and the pool itself is dirty! Pool Scouts advertises itself with the tagline "perfect pools, scout's honor." Their franchise, and talented team of pool service experts, work to go above and beyond in ensuring you only swim in clean, well-maintained pools all summer long. Feeling hesitant to go into the pool franchise industry? Pool Scouts offers up six refreshing reasons to become a Scout on their website with a franchise model that promises low startup costs and training and support.
Mosquito Shield. Remember your summertime pals, the mosquitos? They're back, and hungrier than ever! With over 18 years in business, Mosquito Shield quite literally works to shield humans from hungry mosquitos using tested proprietary barrier sprays. What's the buzz on getting started with this franchise? Mosquito Shield offers a three-step process to becoming a franchisee, starting with an initial meet-and-greet, access to their Prospect Portal to learn the ins and outs of running a Mosquito Shield franchise, and a "Discovery Day" visit to meet with and join the team.
Frozen Desserts
I scream, you scream, we all scream for ice cream — and frozen yogurt, and shaved ice! Spend the summer starting a franchise that specializes in frozen desserts and enjoy the cool success that comes with it.
McDonald's. While not strictly an ice cream only establishment, McDonald's holds the number one place on Entrepreneur's Franchise 500 ranking. It's a huge investment — $1.1M to $2.2M — with a 40% initial down payment required to become a franchisee. However, it's worth the payoff if you want to run a franchise beyond the summer months — and there's no better brand recognition around than their golden arches.
Sonic. Dreaming of having a drive-in ice creamery (with plenty of additional tasty eats on the menu)? Starting a franchise with Sonic can make that dream come true! Sonic boasts that its franchisees reap the benefits of a franchise support team, increased revenue, and open territory for a unique business model. All you have to do to get started is "press to order" to learn more about what it takes to financially open a Sonic (license fees are $45,000) and run the drive-in experience on a day-to-day basis.
Menchie's Frozen Yogurt. Seeking a non-ice cream alternative to beat the summer heat? Franchisees may consider going into the froyo business. Menchie's Frozen Yogurt notes for interested franchisees that startup costs range from $300k to $350k, covering fees like furniture and fixtures to store construction.
Exercise
Ready to get fit during the summer months? Starting a franchise for fitness buffs in spring gives everyone, from customers to the franchisee, a head start toward success.
Pure Barre. Seeking a boutique fitness franchise that prides itself in always innovating and its national brand? You've found it in Pure Barre. Starting a franchise with Pure Barre requires a franchise fee of $60,000 and initial startup cost of $191kl to $439k (including the franchise fee).
Orangetheory Fitness. Ranked at #25 on Entrepreneur's Franchise 500 ranking, Orangetheory Fitness packages an hour of total body workout with professional coaches to guide you and track your results. Franchising options are available in the United States, Canada, and even internationally for fitness studios! OTF franchisees benefit from comprehensive corporate training, studio spaces designed to produce results, and a membership base of more than 800,000 — and growing!
---
About the author:
Deborah Sweeney is the CEO of MyCorporation.com. MyCorporation is a leader in online legal filing services for entrepreneurs and businesses, providing start-up bundles that include corporation and LLC formation, registered agent, DBA, and trademark & copyright filing services. MyCorporation does all the work, making the business formation and maintenance quick and painless, so business owners can focus on what they do best. Follow her on Google+and on Twitter @deborahsweeneyand @mycorporation.
---