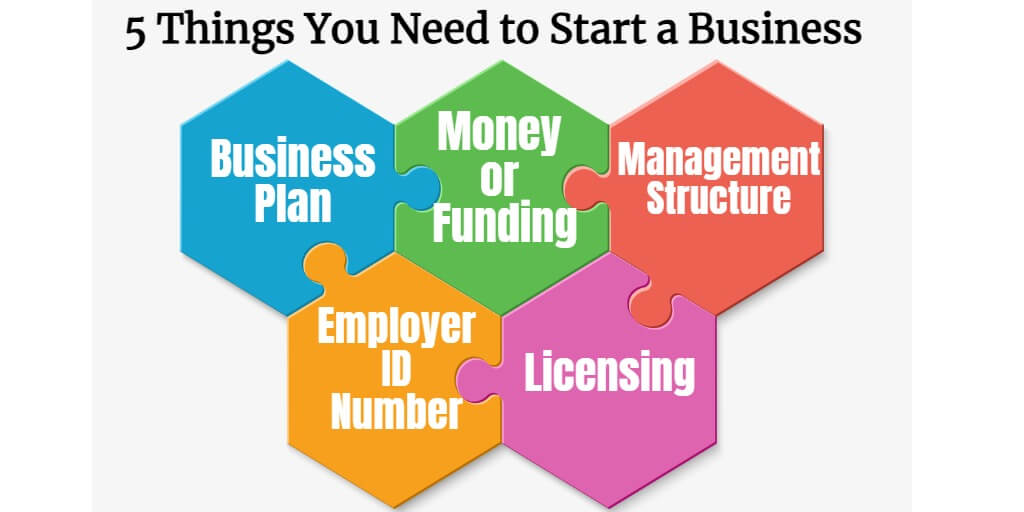 Are you thinking about starting a business? Congratulations! Your entrepreneurial spirit is certainly something to be proud of, but you might also find yourself unsure about the requirements to start a business. This article will highlight 5 major things you need to start a business.
1. A Well-Written Business Plan
Starting a business takes a lot of planning. A business plan makes it concrete. While you're not legally required to have a business plan, you'll likely need to provide a written plan to lenders when trying to secure funding.
Plus, a business plan can keep you and any business partners on the same page about the direction of your company and your respective roles in it.
A good business plan should include:
An executive summary (highlights of key points)
A description of your business
An explanation of your management structure
Your marketing strategy
Financial projections
A breakdown of your funding requirements
An appendix with additional data (optional)
Naturally, it takes time to put this document together, and your business plan may undergo revisions as you proceed. Establishing a clear-cut plan early on can save you headaches down the line, and you'll thank yourself for your hard work.
2. Funding
It may sound cliché, but it really does take money to make money. In order to get your business off the ground, you'll need the working capital for things like:
Real estate
Supplies and equipment
Marketing
Covering emergency expenses
Most small business owners opt for a business loan of some type. You might start by checking with your local banks for lending options, though the U.S. Small Business Administration provides loans to small business owners through participating financial institutions.
Be advised, however, that eligibility requirements can vary, and SBA loans are known for having stringent requirements. You'll likely be asked to submit your business plan and provide your personal financial details before your loan can be approved.
3. A Business Name and Management Structure
Before you slap your company logo on everything, you'll want to register your business name with the state or local government. This registration is known as your "Doing Business As" (DBA) name or your "Fictitious Business Name" (FBN).
Otherwise, your business will default to your personal, legal name, which can create confusion when working with lenders, vendors, and other business associates.
You'll have to register your business structure with your business name. You can structure your business as one of these common types:
C Corporation
S Corporation
Sole proprietorship
Partnership
Limited Liability Company (LLC)
The business structure you choose will greatly impact your day-to-day operations, as well as impacting your tax liability, so contact an advisor if you're uncertain which structure is right for you.
4. An Employer Identification Number (EIN)
One of the basic requirements to start a business involves the way you pay taxes. You'll need to register for an Employer Identification Number (EIN) with the IRS if your business operates as a corporation or a partnership or if you hire employees.
What is an EIN? Think of your EIN as the Social Security number for your business. It helps the IRS identify your business and makes it easier to pay taxes.
It can also save you from having to put your own information (such as your SSN) on business documents, so even if you aren't required to have an EIN, it helps to have one anyway to make things smoother.
5. Federal and Local Licensing
Some businesses will be required to carry specific licenses and permits, depending on your location and industry. Federal licenses are required for businesses that operate in sectors governed by a federal agency, including:
Alcohol
Firearms
Tobacco
Fireworks
Certain types of agricultural supplies
Additionally, your state may have additional requirements that you'll have to meet before starting a business in your area.
These licenses can be particularly important for restaurant owners who wish to serve alcoholic beverages. You'll need to display your licenses inside your establishment at all times, and failing to do so can result in fines or other penalties.
Consider Starting a Franchise
Keep in mind that these are just some of the requirements to start a business, and you may also need to consider such things as human resources requirements and business insurance depending on your area, industry, and long-range plans.
Why not consider starting a franchise? A franchise offers all of the benefits of running your own business, but the initial startup requirements are made easier thanks to guidance and research performed by the parent organization.
You can find franchises near you by searching the listings on FranchiseGator.com. If you have any questions, contact our knowledgeable team today.
---