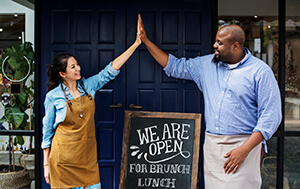 Sometimes the most successful small business ideas are the ones already in operation. Franchising is a great way to launch your own business; you not only have the freedom to pursue your entrepreneurial dreams, but also the guidance of an established corporation.
The following are just a few of the most successful small businesses available right now, each of which could provide a path toward a rewarding future.
Healthy YOU Vending
Vending machines have long been associated with junk food and sugary sodas. But Healthy YOU Vending wants to change all that. Their line of health-based vending machines is among the first of its kind, carving out a unique niche in the vending market.
The best part about taking part in a vending machine franchise? The machines do all of the work. Healthy YOU helps franchisees find the best locations for a vending machine and also provides some basic technical support for maintaining your equipment.
Franchisees should expect to invest a minimum of $50,000, but after that, you'll earn passive income from every machine you operate. This could be ideal for someone looking for a side business — the only time commitment involves basic maintenance and restocking.
Wings Etc.
When you hear the word "franchise," you likely think of fast food. But burgers and fries are hardly the extent of restaurant franchising. Just look at Wings Etc. This chain of sports-themed restaurants offers a diverse menu that includes burgers, salads, craft beer, and — if you hadn't guessed it — a full line of award-winning wings.
What makes Wings Etc. a good investment? Startup costs are relatively low, and franchisees only need a minimum of $200,000 to get started. In addition to these low costs, franchisees get the benefit of continual support, ranging from initial training to the grand opening and beyond.
Currently, Wings Etc. operates over 75 locations in 10 different states, with many opportunities for entrepreneurs on the eastern side of the Mississippi.
Bruster's Real Ice Cream
Who doesn't love ice cream? Bruster's Real Ice Cream stores can now be found in 20 U.S. states, with new locations opening up around the world.
Serving ice cream sounds simple enough, but the real selling point is the community impact that the franchise allows. Bruster's provides opportunities for supporting local, neighborhood organizations such as sports teams and church groups.
To get started, you'll need at least $100,000 in liquid capital, but the franchising fees come with a significant amount of training and support, making Bruster's an excellent choice for new entrepreneurs and anyone interested in becoming a staple in their community.
Ace Hardware
Many homeowners are already familiar with the massive hardware stores that dominate the home improvement market. But Ace Hardware has remained resilient by positioning itself as a more local, neighborhood supplier of tools, hardware, and more.
In fact, Ace Hardware's inventory can be adapted to suit the needs of your local market, making it more flexible and locally based than larger chains.
Franchisees need at least $250,000 to get started, with a total investment ranging from $650,000 to $1 million. But Ace also offers a 10% discount to military veterans, and all franchisees benefit from Ace's exemplary training and support system.
One of the best parts of Ace Hardware is that they don't charge royalty fees, which means that franchisees can keep a larger percentage of their profits. And since the home improvement market has always been a popular one, franchisees can count on a stable career for years to come.
Mathnasium
Do you enjoy helping children succeed? Then you might consider a career in Mathnasium, one of the nation's leading tutoring franchises. No; you don't have to be a math teacher to open your own Mathnasium location, though you will be leading a team that provides top-notch math instruction to your clients.
Enrollment functions very much like a gym membership, which means you'll likely see the same students for the course of the year.
Startup costs are low, and franchisees need only $112,750 in liquid capital to begin, with a total investment of $149,000, making it one of the best valued franchises for the cost and brand recognition. Franchisees also benefit from support and training, to say nothing of the smiles from students who gain confidence in a challenging subject.
Find Your Dream Today
Have you always dreamed of owning your own business? Franchise Gator can turn this vision into a reality. Use our search tool to find franchise opportunities in your area, and start your journey today.
---