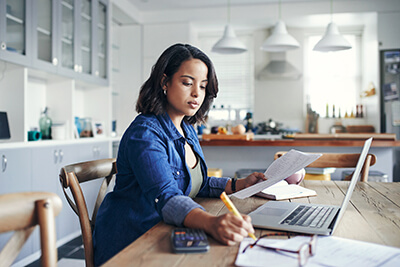 Sometimes, starting your first business doesn't even demand leaving the house. Here are ten great ideas for starting a business out of your home office or garage:
1. Freelance Writing
Companies are always looking for skilled writers who can help them with web content, blog posts, or more. It also helps to know about search engine optimization (SEO) and other digital practices that can help clients gain conversions. The best part is that you can work from your home office, deck, or anywhere you have WiFi access.
2. Tutoring
Starting a business as a tutor is easier than ever in the digital age. If you have some background in a particular subject, you can offer online tutoring services to students through web-based video platforms. You might also offer your services to parents at neighborhood schools for some in-person sessions as well.
3. Photography
Photographers will have to leave their house to take their photos, of course, but beyond a camera, you won't need any real overhead when starting a business as a photographer.
You can always upload some of your favorite shots to a stock photography website, which will give you some passive income every time a user downloads your work.
4. Travel Planning
Many travelers want to make the most of their vacation. You can help them do exactly that by becoming an online travel planner.
You'll do the necessary research to highlight specific sites, events, and other points of interest and arrange them into packages that your clients can choose from. They'll pay for the vacation and an additional fee for your services.
5. Event Planning
When it comes to major events like weddings and big parties, few people have the head to handle all of the stress. Market yourself as an event planner, and help orchestrate these major events, coordinating caterers, DJs, florists, and more.
As a bonus, you might find yourself invited to a lot more parties, and your reputation will spread thanks to word of mouth.
6. Social Media Manager
Digital marketing is all the rage, but many businesses haven't updated their social media profile since the Obama administration. Why not consider starting your first business by running the social accounts of small businesses?
You'll have to manage content and stay on top of customer comments, but handling these responsibilities can be done from your home office or even your smartphone.
7. Cleaning
Starting a cleaning company can be a great way to earn extra money. This is especially true if you specialize in a particular type of cleaning, such as carpets or if you specialize in assisting with pets.
There are more overhead expenses with this type of business, but the good news is that you have greater potential for repeat clients that you can use to scale your business.
8. Landscaping
During the summer months, you can use your yard equipment to mow yards in your community and even provide some landscaping or gardening work as well.
You can feature your finished work on your website to attract future clients, and as your business grows, you may even be able to add employees to help cover more territory. During the winter, you might even maintain momentum with snow removal services.
9. Accounting/Bookkeeping
Many small businesses choose to outsource their financial needs rather than try to handle the books on their own. That's where you come in. You can help them maintain their books each month and provide reports that help them stay on budget.
If you have accounting training or certification, you can even perform specialized tasks such as preparing financial documents or helping your clients prepare their taxes.
10. Bed & Breakfast
Starting your first business might be as easy as converting a spare room into a guest room and advertising your home through one of the popular travel websites, like Airbnb.
This might be particularly attractive if your home is located in a popular area such as the beach or a major city. The best part is that most of these online booking sites have built-in reviews, so you can manage your reputation simply by offering quality customer service.
Why Not Start a Franchise?
While these are great ideas for those who want to start a business in their home, they're not for everyone. That's why Franchise Gator provides resources to help potential business owners get started with a new business opportunity. Use the locator tool to find franchises in your area and tap into new business possibilities.
---