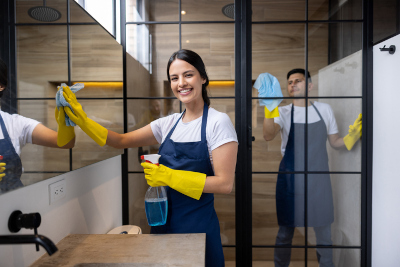 If you're between the ages of 18 and 24, you might not have thought about entering the cleaning and maintenance franchising world. This sector offers stability, growth, and the chance to build something meaningful—making it a perfect match for young, ambitious individuals looking to make their mark.
The Data: A Green Light for Young Entrepreneurs
When it comes to interest in the cleaning and maintenance sector, young adults are showing up. Nearly 13% of all page views in our Cleaning and Maintenance category come from this age group. Combine that with an average time spent on page of 51 seconds and you have a market that's ripe for the taking. These numbers clearly indicate a high level of interest but a lack of commitment, presenting an open field for newcomers. So, what are you waiting for? This is your cue to act today.
Why Cleaning and Maintenance is the Right Choice, Right Now
You might wonder why cleaning and maintenance is the right sector for you. The answer is simple: it offers a stable and continuously growing market. Especially in these times, where hygiene and cleanliness are more important than ever, this sector is not just surviving—it's thriving. "The commercial cleaning services industry in the United States maintained a large market share in 2022 and has continued to employ a significant portion of the American population. In 2022, there were over three million people working in the cleaning services industry in the United States." The time to step into this industry is not tomorrow, next month, or next year—it's now.
The Benefits of Choosing a Cleaning and Maintenance Franchise
In the cleaning and maintenance sector, franchising presents a golden opportunity for young adults. Not only do you get to leverage a proven business model, but you also receive ongoing support and training, reducing the typical risks of entrepreneurship. Imagine stepping into a business that already has operational guidelines, marketing strategies, and a customer base. That's what this industry offers, and it's why you should seriously consider it.
Example: Sure Step, known for its non-slip floor treatment services, offers a business model that could align well with the entrepreneurial spirit of those in the 18-24 age bracket. Its focus on safety and prevention addresses a universal need, making it a viable option for young adults looking to enter the cleaning and maintenance sector.
Your Next Steps: How to Break Into Cleaning and Maintenance
Given that the 18-24 age group is generally in an exploratory phase, now is the time to investigate cleaning and maintenance franchises that offer low initial investment options or flexible business models. These options can serve as your launchpad into the business world, allowing you to gain real-world experience while also tapping into a stable and growing market.
Conclusion: Don't Miss Your Chance
If you're in the 18-24 age bracket, the cleaning and maintenance sector is beckoning. The market is ripe, and the opportunities are plentiful. This is your moment to leap into a promising future. Hesitate no longer; your future in cleaning and maintenance franchising starts now.
---