Franchising, traditionally a realm of experienced entrepreneurs, is undergoing a transformative shift. The catalyst? The fresh perspectives, digital acumen and unparalleled enthusiasm of the younger generation. While many industries have been quick to harness the potential of this demographic, children's franchising stands out as a sector ripe for their innovation.
Diving deeper into this age group reveals two distinct brackets: 18-24 and 25-34. Each brings its unique blend of strengths and aspirations, painting a promising picture for the future of children's services and businesses.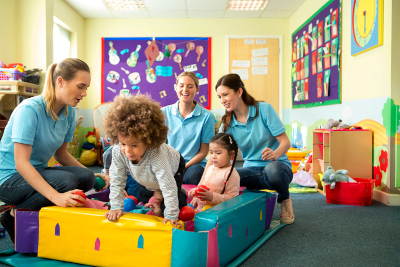 The Spark of Ages 18-24
Fearless Innovators: Fresh out of academia, their minds are buzzing with new ideas and the willingness to take risks.
Digital Natives: Having grown up in an entirely digital age, their comfort with technology offers a competitive edge in online marketing, e-commerce and digital engagement.
Passion & Purpose: Many in this age group are driven by a desire to make a difference, and children's franchising offers a direct path to impactful work.
The Momentum of Ages 25-34
Experienced & Adaptable: With a few years of professional experience under their belts, they bring a balanced approach, merging innovation with practicality.
Network Builders: They understand the value of building and maintaining professional relationships, a vital asset in the franchising world.
Value-Driven Entrepreneurs: This segment is keen on aligning their business ventures with personal values, making sectors like children's franchising particularly appealing.
Franchising: A Beacon of Opportunity
Embarking on an entrepreneurial journey can often be daunting, especially for younger individuals looking to establish themselves in the business world. "One of the best ways for young entrepreneurs to become new business owners is to join a franchise. This allows them to get up off the ground quickly with an established market, product, and process without a steep learning curve." By opting for a franchise route, they not only secure a proven business model but also gain access to invaluable support, mentorship, and a readymade customer base, fast-tracking their path to success.
Structured Entrepreneurship: Franchises offer the freedom of entrepreneurship with the guidance of a proven model, particularly appealing to younger individuals starting their business journey. School of Rock stands as a testament to a proven franchise model, consistently delivering quality music education while fostering a community of passionate young musicians across the globe.
Community & Mentorship: Joining a franchise means access to a community of seasoned professionals, offering mentorship and shared experiences.
Brand Leverage: Established franchises reduce the hurdles of building brand trust, a significant advantage for younger entrants into the business world. Sylvan Learning Center, with its widespread brand recognition, has become synonymous with quality education and personalized tutoring, making it a trusted name among parents and students alike.
Data Insights
Fresh Perspectives: Engagement Patterns of Ages 18-24
Our website data indicates that the 18-24 age group has the fewest page views relative to other age brackets, hinting at an uncharted conversions or perhaps a lack of awareness in children's franchise opportunities. Yet, this age group's position as true digital natives offers them a clear edge. Born and bred in the digital era, these individuals have innate technological skills. By capitalizing on their deep-rooted familiarity with digital platforms and the latest tech innovations, there's a golden chance for them to establish a distinct presence in the market. Through innovative digital marketing approaches and leveraging technology, they can effectively close the awareness gap, setting themselves up as emerging leaders in the children's franchising scene.
Emerging Leaders: The Drive of Ages 25-34 in Franchising
The 25-34 demographic showcases an impressive depth of engagement on our Children's pages, with an average time spent of 1 minute and 17 seconds on each page. This points to a more in-depth exploration and potential research-oriented approach towards children's franchising. However, data also brings to light a noticeable bounce rate coupled with moderate total page views, hinting at a curious yet cautious exploration pattern. While many within this age bracket appear to be investigating children's franchising avenues, immediate commitments may be sparse. This pattern represents a valuable opportunity. With their natural aptitude for adaptability and thorough research, the 25-34 age group has the potential to differentiate themselves and seize the vast opportunities within their demographic's segment of the children's franchising landscape. 
Conclusion
The youthful exuberance of ages 18-34 is more than just a demographic shift; it's a tidal wave of change, redefining how children's franchising is perceived and pursued. As the 18-24 group brings in fresh, groundbreaking ideas, the 25-34 bracket fortifies these with experience, adaptability, and a drive to innovate.
Together, they're not just participants in the children's franchising narrative; they're the authors of its next chapters. As they blend their unique strengths, aspirations, and insights, the horizon of children's franchising gleams with boundless possibilities and promises of lasting impact.
As we've explored, the youthful vibrancy of both the 18-24 and 25-34 age brackets holds immense potential in reshaping the children's franchising domain. Their unique attributes, combined with the opportunities the sector offers, create a promising landscape for success. If you fall within these age ranges, or even if you're just inspired by their potential, now is the moment to act. Dive into the world of children's franchising, leverage the insights shared, and carve your path to success. Opportunities like these are rare and fleeting—don't hesitate, seize your chance today and shape the future of children's services!
---