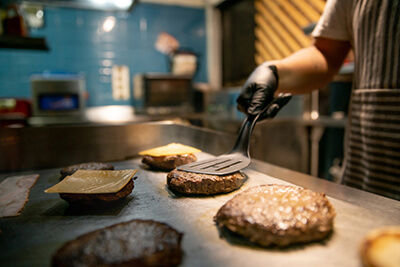 It's about the journey, not the destination. But what is it that makes the journey so much better than where you're going? For many travelers, it could be the food. After all, it's tough to beat the smell of coffee and a breakfast sandwich as you pull onto the highway with only the sunrise in front of you. Or maybe it's the delicious taste of a cheeseburger after hours on the road. Whichever you prefer, it's hard to deny that fast food and road trips go hand-in-hand.
And that's just one of the reasons why fast food restaurants are an ideal starting point when researching franchises for sale. In fact, 31% of Americans eat fast food one to three times per week, and 25% do so even more frequently. This high demand is what made fast food franchises some of the best franchises to own in 2022.
But are food franchises profitable? The short answer is yes. Keep reading for the long answer—and for where to find the best fast food franchises.
Is Owning a Fast Food Franchise Profitable?
Yes, because fast food franchises tend to operate on low costs with high profit margins. Here's how:
Low-Cost Inventory: Fast food restaurants turn cheap ingredients—like potatoes and soda—into profitable yet still reasonably priced fare. For example, soft drinks can provide a 90% profit margin.
Simple Menus: These franchises offer narrow options that they do well. This limits food waste that can eat away at restaurants' profits. Franchises like Crazy King Burrito realize this and emphasize inventory management training for new franchisees.
Enticing Prices: Fast food restaurants draw in customers with lower prices than full-service restaurants. Value options do this especially well, and once customers are in the door, they're more likely to purchase more profitable items like combo meals and drinks.
Quick Service: Convenience sells. Short wait times and drive-throughs attract customers who want a quick bite to eat.
Which Fast Food Franchises Make the Most Money?
The fast food franchises that make the most money have strong brand recognition and appeal, ideal locations, and comparatively low royalty fees. So how can you find and grow a profitable fast food franchise? The answer isn't always as simple as picking the franchise with the biggest name. Let's take a look at each of these factors and what you can do to get the best return on your investment:
Brand Recognition and Appeal: People are more boring than they like to believe. According to The New York Times, people like to think they prefer novel experiences. However, over the long run, they tend to stick with what they know. Whether it's movies, music, or a favorite burger, familiarity is appealing. That's why household brand names like McDonald's and Burger King are successful.
However, you don't need national recognition to make a profit. Consider franchises like Pickleman's Gourmet Cafe that have a strong local presence in the midwest and "fans" instead of "customers."
Location, Location, Location: Where you operate your business can make or break your success. If you're in a high-traffic area, such as a busy part of town or a popular highway rest stop, then you're already in a position to get more traffic than if you were on the edge of town.
When choosing a franchisor to work with, consider that some take a more active role than others in helping you find a profitable location. For example, Charleys Philly Steaks prioritizes site selection, helping you secure placement in high-traffic areas like food courts and gas station locations.
Royalties and Fees: Startup and overhead costs can eat into your profits. To own a franchise, you'll need to pay a one-time franchising fee. You'll also need to pay ongoing royalties to continue operating with the franchisor's brand and business processes.
Minimizing these costs will improve your bottom line. Once again, Charleys Philly Steaks is an excellent choice for a profitable franchise. The first unit requires a fee of $24,500, and additional units only cost $15,000, which is ideal for franchisees looking to expand their portfolio. Veterans also get 50% of their first unit.
What Is the Best Fast Food Franchise To Own?
The best fast food franchise to own in 2023 is one with a proven business model that operates within your area, matches your interests, and fits your budget. Where can you find all of this information, all in one place? At Franchise Gator! Find the perfect franchise to meet your goals by filtering for:
Industry
Location
Investment Level
Don't say "See ya later, alligator" to low cost franchises with high profit. Start searching for fast food franchises or top franchises in 2023 in your area today!
---